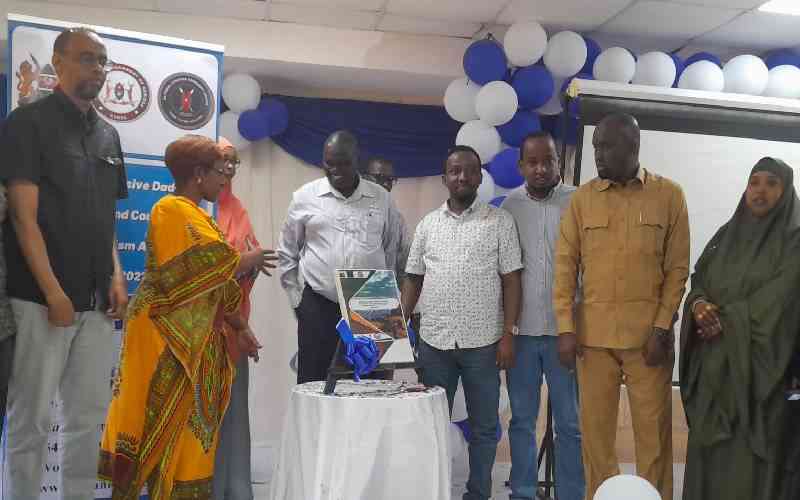 A gender-responsive action plan aimed at preventing and countering violent extremism was launched in Garissa County.
An initiative produced by Woman Kind Kenya and supported by UN Women and the people of Japan also saw the unveiling of an action plan on localization of the United Nations Security Council Resolution 1325 on Women, Peace, and Security, at the sub-national level.
Speaking during the launch on behalf of the Country Representative of UN Women in Kenya, Anna Mutavati said women's participation in building and sustaining peace is first and foremost a matter of their right to participate noting that the local action plans will help increase the participation of local women in the peace and security efforts.
"As UN Women we urge the County government to include the Women Peace Agenda in the CIDP to ensure that we will see tangible results of our efforts in advancing this agenda," she said.
The launch of Dadaab action plans Mutavati said are true testaments of what it means to localize the Kenya National Action Plan on Women, Peace and Security agenda which serves as the foundation of Kenya's commitment to ensuring women are at the center of peace and security.
The Garissa County Action Plan highlights the key gender-specific challenges facing women and girls in the context of peace and security in the county, it also outlines specific strategies and interventions that will be implemented to address them.
Womankind Kenya's Chief Executive Officer Abdullahi Mohamed said violent extremism has cost the highest damage to the country's well-being noting that the safety of Kenyans cannot be left to the government alone.
"Women play a vital role in peace and security, they are oftentimes victims and involving them on such critical matters will definitely yield positive change," he told the gathering in Garissa Town.
Njenga Miiri, Head of Prevention, at the National Counter Terrorism Center, said the specific action plans for specific counties aim to localize prevention of extremism into precise areas instead of generalizing noting that different areas have different issues.
"We believe that when we have communities with us, this work will become very easy, we don't have to have very much investment on patrols and operational engagements and safe cost so as to have other development agenda," he said.
Garissa Deputy Governor Abdi Dagane who was the chief guest at the event said extremist violence does not simply threaten the peace and stability of our communities, but it shatters the very social fabric that binds us together.
He said Garissa like other counties have borne the brunt of violent extremism adding that by focusing on prevention, they seek to address the root causes of violent extremism-be it socio-economic deprivation, political marginalization, or ideological manipulation.
"By localizing this resolution, we are making a firm commitment to fostering an environment where women's voices are heard, where they are part of decision-making processes, particularly those related to peace and security. We are not just promoting inclusion but we are dismantling barriers to equality," he said.
Dagane noted that peace, when nurtured by all segments of society, is stronger and more sustainable emphasizing that when women are included in peace processes, the peace that follows is more likely to last.
"They bring unique perspectives, ensure inclusivity, and prioritize social welfare, they transform societies by building bridges where there were once divisions," he added.
The Deputy Governor said the Action Plans are not merely strategies on paper but are a call to action for all stakeholders urging for active participation in its execution.
The United Nations Security Council Resolution (UNSC) 1325 on women, peace and security builds on a body of international Human Rights laws and legal instruments, the resolution recognizes women's role as peacebuilders and agents of change and calls United Nations, UN member states, Civil Societies and the international community to ensure women's increase participation in conflict prevention, conflict, and post conflict situation.
The localization is therefore aimed at promoting systematic coordination between national and local government authorities in the Implementation of UNSCR 1325.
It's also meant to raise awareness and understanding of UNSCR 1325 and related international instruments and national policies among local government officials and traditional leaders.
Related Topics