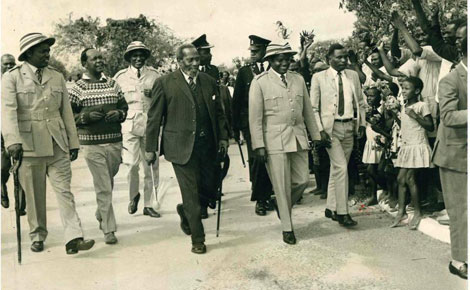 Coast Provincial Commissioner Eliud Mahihu walks with Jomo Kenyatta on his arrival in Coast in December 1970. [PHOTO: FILE/STANDARD]
When Dr Eric Mngola announced that President Mzee Jomo Kenyatta had died at around 2.30am at State House Mombasa, he triggered off a series of chain reaction which thrust a Kenya Police inspector into extra-ordinary circumstances.
Today, 36 years later, Uhuru Kenyatta will for the first time lay a wreath on his father's grave as the commander-in-chief of the Kenya Defence Forces and the President of Kenya.
Uhuru, who was 17 years when his father died, will lead other family members in laying the wreath at Jomo's mausoleum at Parliament Buildings before proceeding for a memorial service at St Andrews Church on State House Road.
On August 22, 1978, when Dr Mngola, who was Kenyatta's physician, pronounced the death, the then Coast Provincial Commissioner Eliud Mahihu was at State House, Mombasa, from where he started breaking the news to senior officials.
Police Inspector Simmone Wambugu was at Police headquarters in Nairobi when Mahihu's curt call came.
As soon as Wambugu connected Mahihu to the then Commissioner of Police Benard Hinga, the top cop demanded that a plane be made ready to fly him to Mombasa.
This was the first in a string of instructions and orders that Wambugu would handle before day break.
One of the most extra-ordinary developments of the day was when Mahihu called Wambugu and demanded that he get hold of the Commander of the Air Force, Col Dedan Gichuru.
Curiously, State House had a link to him but for some reason they did not use it.
When Wambugu woke Col Gichuru at the ungodly hour and communicated the instruction from Mahihu, he was not amused and demanded to know his rank and retorted: "Since when did police inspectors start giving orders to colonels."
At one point, Wambugu was overwhelmed as he tried to organise transport for Hinga, CID boss James Kanyotu, Chief of Staff and Secretary to the Cabinet Geoffrey Kariithi, First Lady Mama Ngina Kenyatta and Udi Gechaga to fly to Mombasa. These were the instructions which had been relayed by Mahihu.
When he realised that the first plane, a police Cessna, was already full, he organised for another one.
Gichuru was to fly a military Caribou plane to Mombasa from Eastleigh Air Base to ferry the body of Mzee.
At Wilson Airport where the team that included Hinga and Kanyotu were to be flown by the Kenya Police Air wing, things were quite dramatic.
There were no air controllers at night and the runway had no navigation lights. Thinking on his feet, Wambugu told the pilots to line up cars so that they could light up the runaway.
According to Wambugu's account published in Kenyatta Cabinets, things were developing at such a rapid pace that he could not properly record them.
When the Police Commissioner finally arrived in Mombasa, he too called Wambugu and told him to instruct all stations across the country to fly flags at half mast.
"Imagine the number of telephone calls I had to make, including to Mombasa where Hinga was," recalled Wambugu.
The most dramatic moment came at around 9am, when Attorney General Charles Njonjo called the duty officer from State House, Nairobi.
"There will be a Cabinet meeting at State House, Nairobi, at 11 O'clock. Can you convene it!" were Njonjo's terse instructions.
Wambugu tried to reason with Njonjo that the President's body was at State House, Mombasa, but the the AG responded: "Do as you are told. Questions later!"
The duty officers faced difficulties in tracing Cabinet minsters since those were the days of land lines.
The most difficult to trace was Stanley Oloititip, the minister for Natural Resources. He had many wives and homes and was finally traced to a remote village at the Kenya-Tanzania border.
"I wanted to send him a plane but there wasn't an airstrip nearby," said Wambugu.
He told him to do his best and drive to Nairobi and "join the meeting at whatever stage you find it".
The other problematic man was the Minister for Housing and Social Services Zachary Onyonka, who was "very drunk and rude".
Apparently, Mahihu had somehow traced Kenyatta's Vice-President Daniel arap Moi, although his phone had rang for a long time before he picked it.
"I was shaking as I went to the phone to do what I thought I would never have to do. I placed a call to Moi.
"I told him even before he had finished with the greetings "the eyes of Kenya have been closed," Mahihu recounted in his memoirs.
As the PC implored the Vice President to travel to Nairobi immediately, Njonjo was adamant that the Cabinet meeting could not take place before Moi arrived.
When the meeting finally took place, the Cabinet decided that a message be broadcast to the nation that the President had died.
More drama was to follow when the head of Presidential Press Unit Kinyanjui Kariuki called the editor of the state-run Voice of Kenya with the news.
The editor flatly refused and the message was only relayed after the intervention of James Kangwana, the director of Broadcasting and assurances from Kariithi that indeed the message was from State House, Nairobi.
"It has been announced from State House, Nairobi, that His Excellency the President, Mzee Jomo Kenyatta, father of the nation, who is also the Commander-in-Chief of Kenya Armed Forces died peacefully in his sleep at 3.30am at State House, Mombasa. The government requests all Kenyans to remain calm at this moment of national shock. All flags are to fly at half mast."
As all the communications were going on, security agents had devised a way of transporting Kenyatta's body from State House, Mombasa, in a hearse, without arousing curiosity and pulled the same trick in Nairobi.
The news of his death was greeted with disbelief and when a close Kenyatta ally, Njenga Karume, who was at the time in London heard it, he asked: "How could Kenyatta die? I talked to him yesterday."
Related Topics