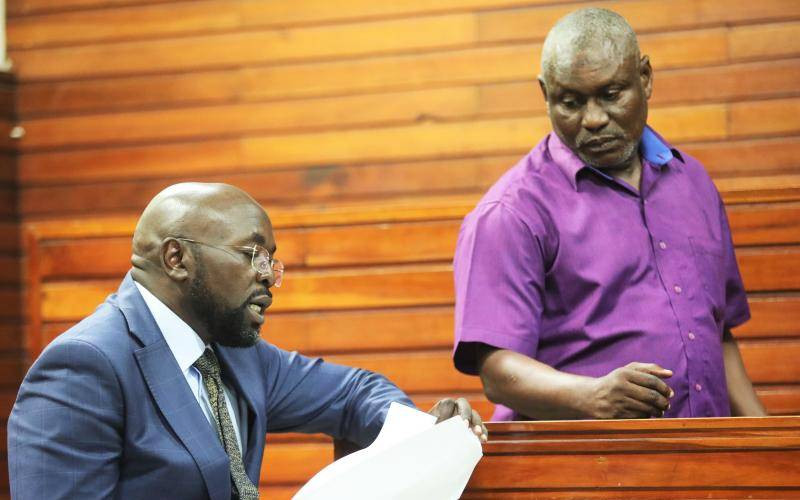 A witness in a graft case involving Malindi sub-county education office building was at pains to explain a policy that requires only a public works officer in the national government to approve tendering and construction of any national government project.
Paul Mwangunya, a public works officer at Coast regional office while testifying before Mombasa Chief Magistrate Martha Mutuku, said he was not involved in drawing, approval or construction of the education office that has landed six accused persons in court.
Public Service, Gender and Affirmative Action Cabinet Secretary Aisha Jumwa was among the accused persons but the office of the public prosecutions late last year expunged her name from the charge sheet.
During cross examination, Mwangunya admitted that he did not have the name of the policy document that says no other public works officer apart from the one attached to the national government can approve construction of any government project.
He said two of the accused persons, Kennedy Otieno and Margaret Faith Kalume could not approve such a project since they are attached at the county government.
Wachu Omar Abdalla, Kennedy Otieno, Benard Riba Kai, Sophia Saidi Charo, Margaret Faith Kalume and Robert Katana are charged with conspiring to commit an offence of corruption namely fraud through the payment of Sh19,007,539.60 to Multiserve Contractors Limited in respect to tender number MLD/NG-CDF/01/2017/2018 of National Government Malindi Constituency Development Fund (Malindi NG-CDF).
During construction of the building, Mwangunya said he was the Malindi District Public Works officer.
He told the court that when devolution came to effect, he was working in the Ministry of Public Works with Kennedy Otieno and Faith Kalume who are among the accused.
"Kennedy, Margaret and I worked at the Ministry of Public Works and when devolution came to effect, we were all seconded to the county government for three years. After the three years, I was returned to the national government as the Malindi District Public Works officer while Kennedy and Margaret were left at the county government.
"Our policy demands that only I, who is attached at the national government, can approve a project of such kind and not the two accused persons since they are attached at the County Government," said Mwangunya.
Mwangunya admitted to seeing the construction of the building but could not take any action, claiming it was not his mandate to launch any complaint as to why the building was under construction without his approval.
Related Topics