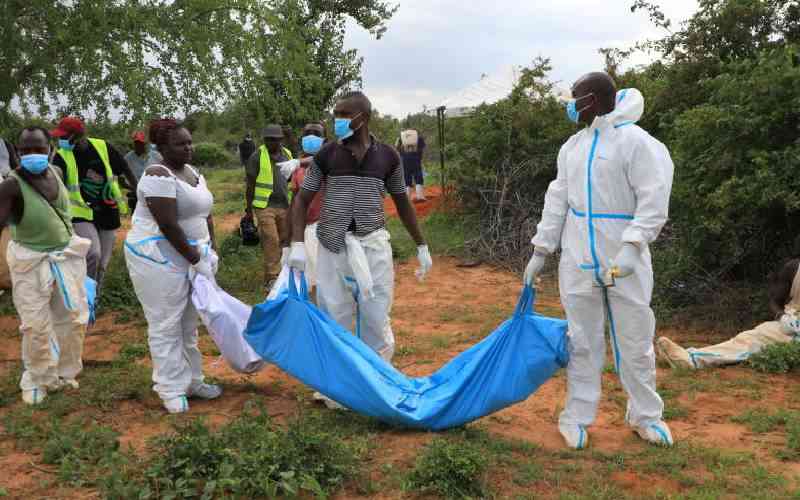 Salama Masha, 28, walked for kilometres with her five children out of the expansive Shakahola Forest. Her act of bravery is the reason she and her children are alive today.
Masha believes her husband Kahindi Katana must have died in the forest because she left him in the forest in a bad state after he refused to leave.
The Shakahola cult-like church linked to pastor Paul Makenzi has left many families broken and desolate.
Since the probe into the Shakohola deaths started, many families have come out to recount how their loved ones disappeared without notice.
Masha who hails from Majengo in Malindi Sub-County has relocated to her rural home as she could not fend for herself and her five children.
She said that her husband who hails from Sabaki village on the outskirts of Malindi town was the one who introduced her to the Makenzi-led church before it was closed down in 2019,
In 2020, her husband travelled to Shakahola where he allegedly bought land.
He later came for his family so that they could stay together as they farmed, but matters took a turn for the worse when Makenzi asked his followers to start fasting.
Masha said what took her to the Shakahola church, 78 kilometres from Malindi town, was the picture her husband painted for her.
She said they used to eat and drink but things changed when drought set in.
They were told "to fast to meet Jesus". She initially welcomed the idea but later changed her mind.
Writhed in pain
"I fasted for a while, but when my husband asked me to subject the children to fasting I was disturbed. The cry of my second last-born daughter, aged two and a half years old, broke my heart after I subject her to fasting for a day. She writhed in pain and I changed my mind and told my husband that I was leaving," she said.
According to Masha, she was isolated inside the farm and was not allowed to mingle with the rest for fear that she could reveal the secrets of the fast.
"By the time I was leaving the farm, I was weak, my children were also frail and I had to breastfeed my one-year-old despite the fast and that weakened me more. I fasted for four days before I took a break and then for seven days before I gave up after a session of prayer that revealed I was doing the wrong thing," she said.
"The hunger was biting so harshly but we were told to persevere until the end times when we shall meet our maker. I could not stand my children fasting as they could cry for water which I had to give them and luckily enough, I hail from near here and it was easy to escape," she added.
Her firstborn is eight years old, the second born is seven years old, the third born is five years old, the fourth is two and a half years old and the last born who did not fast is one year old.
She is now appealing for help from the government and philanthropists so that she can educate her children.
Seventy-eight kilometres away at Muyeye village in Malindi town, Robert Katana Mwakwaya, 43, does not know the whereabouts of his 42-year-old wife and three children.
He said that the wife escaped with their 19-year-old twin sons and a 16-year-old daughter in early January.
"My 19-year-old twin boys were to sit their KCSE examination in November this year while my daughter was also due for her KCPE examination. I have followed up on the matter and the DNA process is taking too long. I was told the tests might take one month. The government should make the process faster so that we can calm our souls," he said.
He added that the government should come up with ways of making the DNA verification and marching process faster to relieve families of agony and costs.
"There are families that are spending resources to travel and stay in Malindi and the DNA process is slow. The government should try and offer faster services so that those families that have travelled from far and wide can be relieved of the costs they are undergoing currently including paying for hotels and transportation," he said.
At the same time, the security operations team has unearthed eight more graves.
"We will make sure we comb every inch of the land and we shall also increase personnel," said Interior Cabinet Secretary Kindiki Kithure.
Kindiki said the government will open several security roads within the Chakama ranch to divide the ranch into smaller components to enable ground and air surveillance.
He said that the dusk to dawn curfew and all other restrictions have been extended for 30 days.
Kindiki said that they have written to the Communications Authority of Kenya and related agencies to remove any online content related to Makenzi. He said that it was the responsibility of the government not to leave anybody who could still be hiding in the forest.
Related Topics