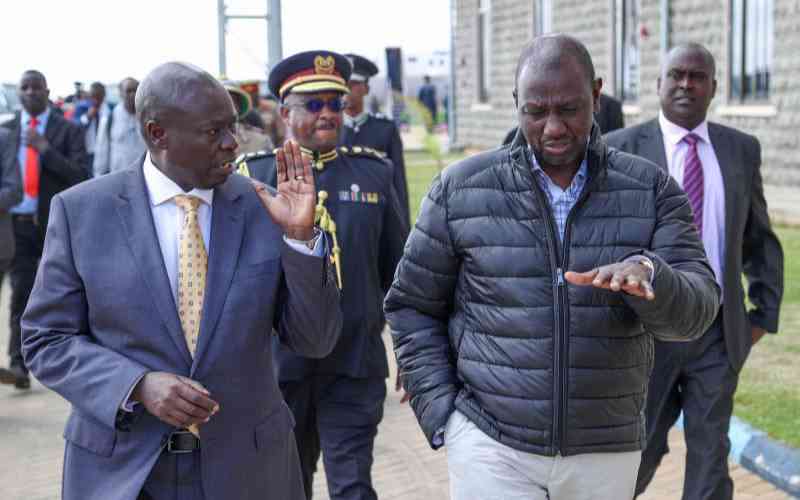 Deputy President Rigathi Gachagua has revealed President William Ruto was under "immense pressure" from the international community to hold talks with Azimio leader Raila Odinga to end the weekly demonstrations.
Speaking in Mombasa on Thursday, March 30, Gachagua, said Ruto will not bow to pressure to accommodate Raila in government in any form and "any dialogue can only be anchored on grounds that Raila exits politics permanently".
The DP claimed Raila has formed a habit of piling pressure on the government after every election loss and hence, he must be stopped from trying to get into Kenya Kwanza administration through the backdoor.
He said local clerics have also reached the Kenya Kwanza government on the same matter.
"There is pressure from the international community and churches for us to engage Raila in talks but this must be on condition that he (Raila) exits politics," he said, adding, "This year, he is trying to use violence to get into government. But we are saying no."
Gachagua was speaking when he was flagging off 500 seafarers at Bandari Maritime Academy and was accompanied by Nyali MP Mohamed Ali and Mining, Blue Economy and Maritime Affairs Cabinet Secretary Salim Mvurya.
The DP noted that the demonstrations have impacted Kibra and Kisumu noting that normalcy has returned to the rest of Nairobi.
Gachagua claimed the Azimio supremo used threats to get into former President Daniel Arap Moi's government, then Mwaki Kibaki and later, Uhuru Kenyatta's Jubilee government, but this will not be allowed in the Kenya Kwanza government.
"Raila has assembled people in the streets to cause violence for him to get into government. He will not get into this government," he vowed.
He applauded Coast residents for maintaining peace and their refusal to participate in Raila's demonstrations.
"I commend Coast residents for their decision not to participate in the demonstrations. I want to tell Raila that it is very unfair to this country to lead protests and destroy businesses. He has no respect for other people's property because he has a lot of wealth," Gachagua said.
Meanwhile, Mvurya said his Ministry will partner with county governments so that the recruitment of seafarers is done transparently by the licensed agencies.
"In the next six months, the Liwatoni fisheries processing ecosystem will be ready and will create 2,500 direct jobs," he said.
Related Topics