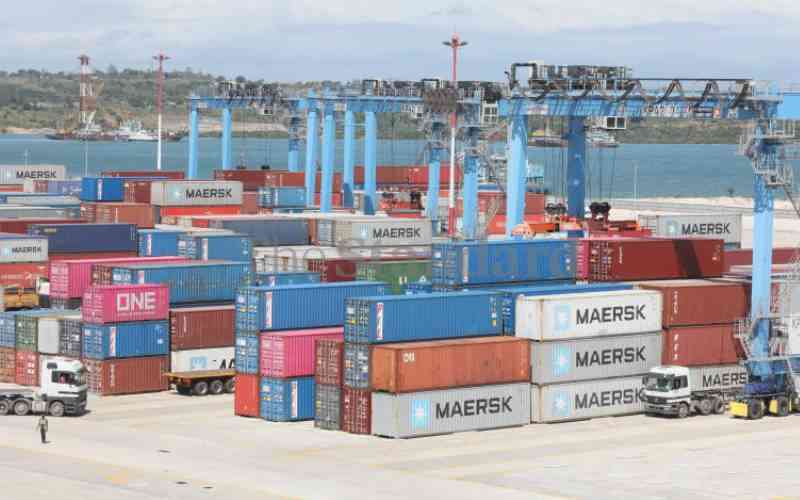 Transport CS Kipchumba Murkomen has said a task force will be put in place to discuss the modalities that will ensure Mombasa County gets a share of the revenue generated at the port of Mombasa.
Murkomen said the team will discuss how the county will benefit from the port without increasing the cost of using the facility and burdening importers.
Speaking in Mombasa, Murkomen said President William Ruto had directed that they move with speed to make sure that Kenya Ports Authority (KPA) avails the much-needed funds to the county.
This marks a departure from past governments' policies that rejected any attempt by the county to levy port services claiming it will make the facility expensive for importers, and uncompetitive.
Governor Abdulswamad Nassir has for the last 10 years agitated for the introduction of the levies saying the port was the biggest resource for the county.
Nassir has held meetings with President Ruto and his deputy, Rigathi Gachagua, to discuss the development of Mombasa and ways to unlock the impasse on the sharing of port revenue.
In an interview, Nassir said the port levy bolsters the county budget, and will solely be used for the development of critical sectors like health, education, water funded projects among others.
According to the Finance Bill, currently, in the Assembly, Mombasa seeks to collect levies from imported vehicles, containers, loose cargo, and health services from local and international ships.
The county authorities want to impose port cess for containers at the rate of $10 (about Sh1,210) per 20-foot equivalent units (TEUs) and port cess for loose cargo at $0.5 (about Sh60) per tonne.
Last year, Mombasa Port handled over 1.4 million TEUs. TEU is the standard measurement of containers. The port handles an average of 6,000 containers a day at the port.
If the levy is accepted by the task force, then Mombasa will collect an extra revenue of Sh7.3 million from the containers handled at the port every day.
The county seeks to charge international ships $1,000 (Sh121,000) for port health services while local vessels will pay $20 (Sh2,420) if the proposed levies are approved.
Related Topics