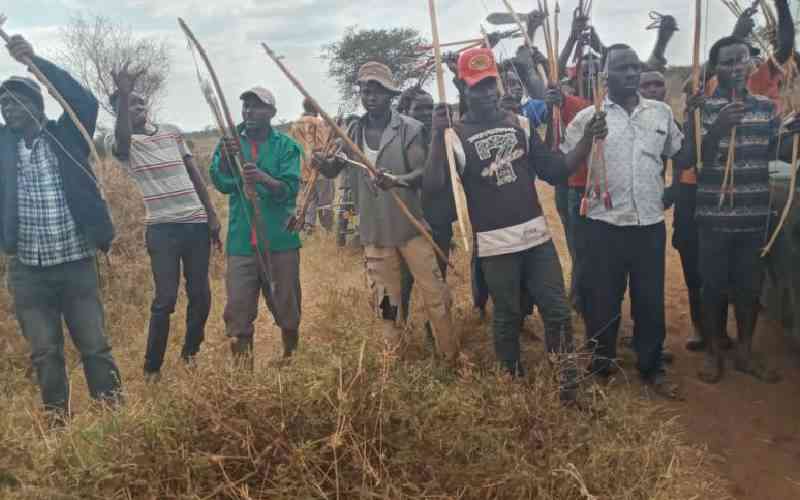 Armed youth disrupted a public participation exercise organised by the Taita-Taveta County government in Mtito-Andei.
The youth were allegedly from Makueni County. A boundary dispute has been simmering between the two counties.
Chief Officers Leonard Langat and Christine Mwakera among other county officials had to flee to save their lives.
Mtito Andei has been at the centre of a conflict between Taita-Taveta and Makueni County, with both counties claiming it.
Taita-Taveta Governor Andrew Mwadime confirmed that the Community Integrated Development Programme (CIDP) had been disrupted, but vowed to deploy revenue clerks in the town soon.
"There was a commotion in the town but the police intervened. I have a court order authorising my administration to collect cess in the town and no amount of intimidation will deter my government from doing what is legally binding," said the governor at Wundanyi Stadium.
"We have a court order in place and we will soon deploy revenue officials to start collecting revenue at the disputed Mtito-Andei and Mackinnon Road townships," said Mwadime.
Makueni Governor Mutula Kilonzo Jr recently said the boundary between his county and Taita-Taveta is at Man Eaters while Taita-Taveta County maintains it is at Mtito Andei River.
On October 10, the Environment and Lands Court in Mombasa ruled that the County Government of Taita Taveta will continue to issue business permits and collect taxes in Mtito Andei and Mackinnon towns.
The ruling followed an application by Makueni and Kwale counties that the two towns are within their borders
Justice Lucas Naikuni ruled that the applications lacked merit and that he was not satisfied that it warranted setting aside conservatory orders as per the wishes of Makueni and Kwale counties.
The judge noted that the boundary dispute was being used by the three counties to subject the residents to double taxation.
"The border dispute between Taita Taveta and Makueni counties is a long-standing issue. It has also been taken up by the Council of Governors, which is expected to summon the governors of the concerned counties.
Related Topics