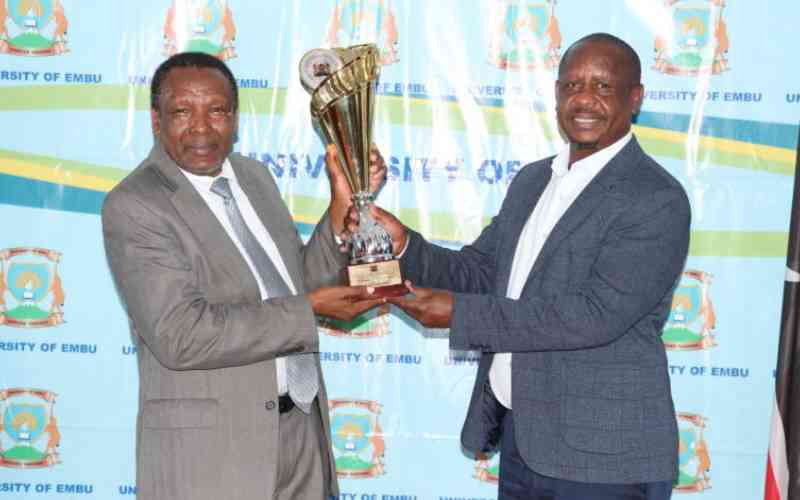 Cost cutting, utilisation of available resources and focusing on the core mandate of the university are some of the factors that have helped The University of Embu to stay afloat and emerge the best in the State corporation awards despite financial challenges.
The university's Vice Chancellor Prof Daniel Mugendi noted that many universities were facing financial challenges and had to individually come up with innovative and creative ways to stay afloat.
"Despite the challenges as a university, we have remained afloat through austerity measures we put in place among them; prioritising to ensure our staff members are paid, paying our suppliers and remitting the statutory deductions on time. we have also embraced a bottom-up approach to our staff members," Prof Mugendi said.
He observed that the university has been implementing performance contracts since its inception and has been in the excellent category since the financial year 2014/2015.
"This is the second time we have achieved the recognition, the first time being the financial year 2019/2020 and in the year 2020/2021, we were the second best State corporation but the best in the category of universities," Prof Mugendi noted.
Speaking at the university during the unveiling of the award as the best State corporation to the staff members, Prof Mugendi noted that public universities are advocating for increased government funding among other initiatives.
The VC urged the State to increase the differential unit cost from 48 per cent to 80 per cent while encouraging universities to diversify sources of funding.
He rooted for an increase in university fees to cater for inflation and asked the Kenya Universities and Colleges Central Placement Service to place students in public universities up to capacity first, before placing them in private universities.
This, he noted, will help universities get more finances through capitation. "The current fees were set up in 1989 and inflation has gone up over time. It is my appeal to the government to also enhance Higher Education Loans Board (Helb) loans and bursaries to support the needy students," he noted.
The Director of Performance Contracting and ISO Implementation Dr Kirema Nganata said the university emerged as the best State corporation for staying to its core mandate.
He observed that during performance contracting, they look at financial stewardship, service delivery, complaints handling, implementation of presidential directives and among other issues.
Related Topics