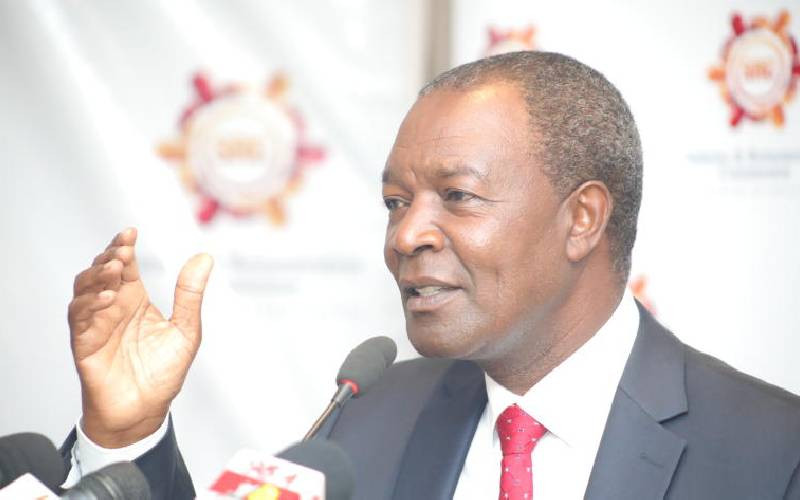 The National Treasury has warned traders who block customers from paying for goods and services in cash.
The warning comes at a time when the use of cashless payments has gained countrywide popularity. This week, the Treasury reminded traders who block customers from using cash payments are flouting the law.
The ministry said cash remains legal tender and they should not discriminate against those paying through it.
"Together, the Constitution, the CBK Act and the NPS Act, 2011 provide the legal basis for regulation of all forms of legally accepted payment instruments (both coin and paper-based as well as electronic instruments), which includes cash," said Treasury Cabinet Secretary Prof Njuguna Ndung'u before Parliament.
"Drawing from the overarching twin mandates of CBK espoused above relating to CBK's currency issuing mandate as well as CBK mandate on matters payments, clearing and settlement, it is important to observe that the CBK Act and the NPS Act, 2011 both recognise electronic and non-electronic payments instruments as the broad categories of payment instruments in Kenya."
Telecoms operator Safaricom dominates mobile payments with its M-Pesa platform, which has more than 20 million active users in a population of 47 million.
Mobile financial services users are now able to hold more money in their wallets and the total daily limit for transactions has also been increased.
The wariness of handling physical cash and the convenience of mobile apps have helped lift mobile money transaction volumes in Kenya.
This has, in turn, propelled the country into a world leader in mobile money, with consumers and small enterprises sending each other cash via mobile money options.
Prof Ndung'u said: "To this end, cash is a form of payment amongst other payment instruments that are recognized in law. While CBK recognises the recent developments that have increased adoption of electronic payment instruments (as an alternative medium of exchange) they are not aimed at replacing other existing payment instruments. Instead, they complement all other existing alternative forms of payments, including cash."
According to the Treasury, despite the popularity of cashless transactions and the risks involved in using cash, cash remains the most frequently used means of payment within different points of sale.
"In the long term, the users of cash for payments settlement do realise the cost and risk involved. The use of cash requires to carry cash to a point of service," said the CBK boss.
The government has been facilitating financial inclusion by making financial services more accessible to the unbanked through making digital payments (telco, banks) cheaper to make them universally acceptable, said Prof Ndung'u.
"For instance, mobile money transactions below Sh100 are not subject to any charge. This invariably reduces the end consumer transaction cost for both cash and cashless transactions across all mobile money providers in the country and makes cash accessible to consumers who do not necessarily have access to digital payments systems," said the CS.
"The Central Bank of Kenya has been on a journey to improve interoperability of payment services in Kenya to foster seamless and efficient payment transactions in line with international standards and best practice."
He added: "The CBK has pronounced itself through the National Payments Strategy 2022-2025, on the direction it seeks to see interoperability where customers are presented with payment options and channels that promote trust, usefulness, security, choice and innovation."
Related Topics