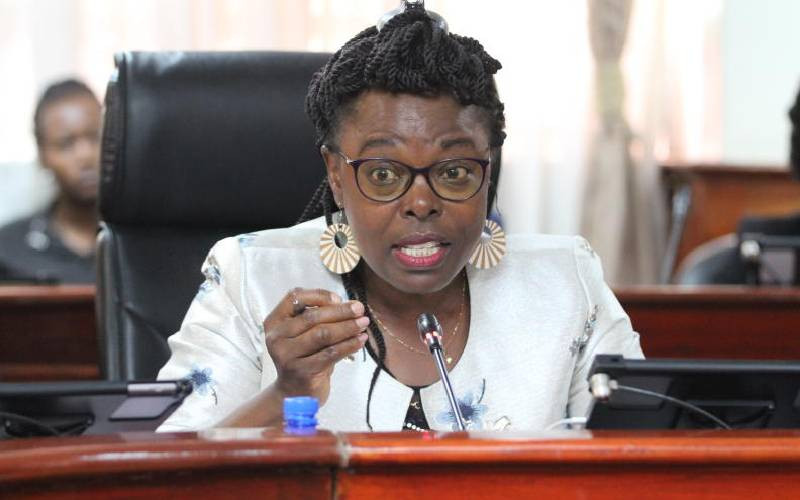 Governors spent Sh195.09 billion or nearly half of their annual budgets on salaries and personal expenses last year, a new report shows.
This highlights skewed spending priorities amid rising pending bills and a biting economic crisis.
This contrasted with the Sh97.98 billion the county bosses allocated to development expenditure during the period, which they did not absorb fully.
The latest report from the Office of the Controller of Budget (CoB) details the billions of shillings splurged on personal expenses by wasteful county officials.
The report shows personnel emoluments running into billions of shillings were notably processed by governors and other county officials through manual payroll, elevating the risk of graft.
The Controller of Budget Margaret Nyakang'o notes this is despite the manual payroll being prone to abuse and often leading to the loss of public funds where there are no proper controls.
"Overall, county governments spent Sh195.09 billion on personnel emoluments, which accounted for 45.5 per cent of the total expenditure of Sh428.90 billion and 41.9 per cent of the realised revenue of Sg466.01 billion in financial year (FY) 2021/22. This expenditure increased from Sh190.11 billion incurred in FY 2020/21," says Ms Nyakang'o in a new report tracking spending by the devolved units over the year to June 2023.
The report shows that only five counties' spending on personal expenditure was within the 35 per cent ceiling set in the law. These were Turkana, Tana River, Mandera, Kwale and Samburu.
While the county government have imposed high taxes on businesses that operate within their jurisdictions, they continue to register poor performance for their own source revenue.
During the year to June 2023, county governments generated a total of Sh37.81 billion from own-source revenue (OSR).
While this was an improvement compared to Sh35.91 billion generated in the previous financial year, it was underperformance when compared to the target of Sh57.37 billion for the year.
Twenty-eight counties, according to COB, recorded below 75 per cent performance in this parameter. The analysis by COB shows that only three counties exceeded their annual own-source revenue collection target.
These were Lamu, Kirinyaga and Kitui counties, which outperformed their annual targets at 119.8 per cent, 112.3 per cent and 110.6 per cent respectively.
Another seven counties recorded below 50 per cent performance. These were Nyamira, Marsabit, Mandera, Murangá, Wajir, Kisumu and Kericho.
"The underperformance of own-source revenue collection implies that the counties could not implement some planned activities due to budget deficits. The Controller of Budget advises county governments to enhance revenue collection strategies to realise the OSR targets and fully implement the approved programmes," says the report.
"The Office of the Controller of Budget recommends that the 44 counties that did not achieve their OSR (own-source revenue) target should develop strategies to ensure the target is realistic and achievable in the next financial year to avoid pending bills in the coming financial year."
Meanwhile, governors are on the spot for continued refusal to pay contractors that have delivered on various projects, with pending bills surging to Sh164.74 billion.
The most notorious of the counties is Nairobi, which owed suppliers Sh107.33 billion, which accounted for 65 per cent of the pending bills by counties as of June 30 this year.
"As of 30th June 2023, county governments reported outstanding pending bills of Sh164.76 billion. The Nairobi City County reported the highest pending bills at Sh107.33 billion," says COB.
Counties that have high levels of pending bills above Sh1 billion were Kiambu, Wajir, Mombasa, Murang'a, Mandera, Machakos, Kilifi, Tana River, Laikipia, Kisumu, Busia, Vihiga, Embu, Kajiado, Kisii, Narok, Trans Nzoia, Homa Bay and Taita-Taveta.
COB notes that many counties may be in breach of the law, with the Public Finance Act requiring counties to make debt service payments a priority. The law also requires counties to pay contractors for projects that have been finalised before they can consider new projects.
Related Topics