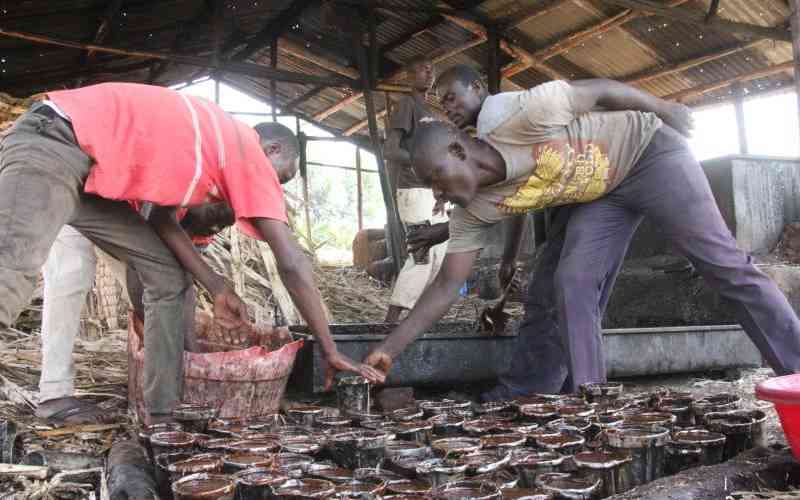 The biting sugarcane shortage has led to the suspension of the production of sugar in the country for three months to allow millers to engage farmers on how to rapidly develop cane for crushing.
The directive by the Agriculture and Food Authority (AFA) which was issued on Thursday during a stakeholders meeting chaired by AFA Ag Director (sugar directorate), Jude Chesire, has led to major sugar millers suspending operations, leaving a skeleton staff to run essential duties.
The shortage also led to a spike in cane poaching cases, with cane prices retailing at a historic Sh5,500 per tonne, and sugar at an average of Sh220 per kilogramme.
A memo by a compliant company seen by The Saturday Standard reads: "All staff with an exception of those working in critical areas will be required to proceed on paid leave up to July 31, 2023. The company will use this period to run a consultation process after which you will be advised on the way forward."
A survey in western Kenya roads where giant cane trailers of major players like Nzoia, Mumias Sugar, West Kenya, Butali, Chemelil and Sony dominate, indicated minimal to zero transportation of cane to respective millers just hours after the directive was read.
Kenya Association of Sugarcane and Allied Products (Kasap) chairman Charles Atyang termed the directive as timely, saying it would have come earlier as there was a severe cane shortage following the sub-sector's neglect for years.
"The sugar shortage problem is not a surprise. The truth is the National Government has never factored substantial amounts to develop the sugar sub-sector in the National Budget for the past four years. This has frustrated the efforts of cane development, especially by the five State-owned millers," said Atyang.
He said their efforts to reach politicians to champion for substantive allocation to the sub-sector has now moved them to table a private Sugar Bill (Through Navakholo MP Emmanuel Wangwe) which they feel would turn around the fortunes of the dwindling sub-sector.
Kenya Sugarcane Growers Association Secretary General Richard Ogendo said most members had cane between 10-15 months which needed at least three months to mature.
He said due to the shortage, some millers were harvesting immature cane for crushing, making farmers lose out as such cane cannot produce recommended tonnage.
Like Atyang' he feels the cane shortage problem could be discerned from last year after his association advised AFA to shut down millers but the political situation could not allow as it was an election year.
"But the elephant in the room is that about 400,000 small-scale sugarcane farmers who supply over 90 per cent of the cane to millers have limited access to credit facilities to help us get fertiliser, hire farm hands and till our farms after the Sugar Development Levy was scrapped," he said.
"The Commodity Fund under AFA is not doing justice to us as it specialises in loaning private millers money for factory refurbishment but ignores the major players in the sugar sub-sector who are the farmers," he said.
Mumias operations manager Stephen Kihumba said they were majoring on developing their 21,000 acres nucleus estate to cut in on the shortage as Chief Executive Officer of West Kenya Sohan Sharma said the shut-down would be reviewed after two months should the cane they invested in be ready for crushing.
The shortage has reduced the country to a net importer of sugar, a product which it could sufficiently produce in 1980 and 1981 when well-run mills abound with strict guidelines that among other things banned millers from importing sugar.
Today 52 per cent of the sugar consumed by Kenyans is imported as the sub-sector suffers from myriad challenges including high cost of production, low productivity, inefficiencies across the value chain, weak regulatory framework and extension support, and delayed payment to farmers.
Related Topics