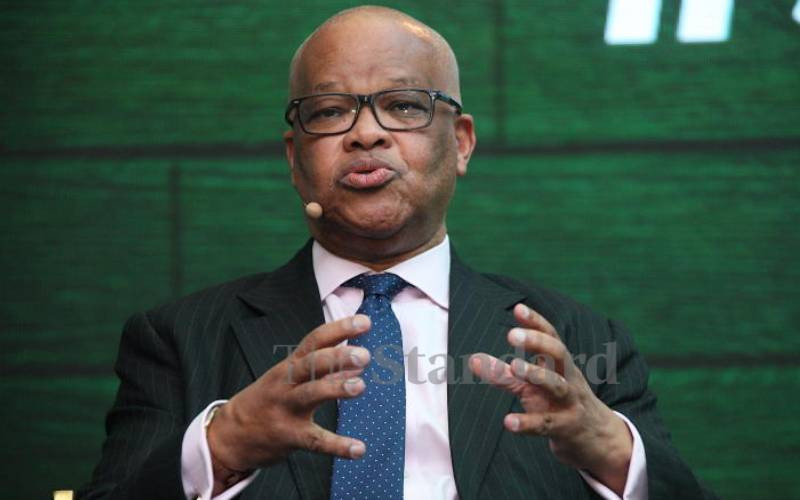 For a man who has brokered deals worth over Sh1 trillion, controversy comes with the territory.
And after almost 40 years in the corridors of influence and power, John Ngumi is experiencing a bout of self-introspection after hitting the headlines again.
On Friday, Kenya Airways announced his resignation as a non-executive director quoting him saying that his work at the airline was done and dusted.
Chairman Michael Joseph thanked for his "unwavering dedication, and for his immense and invaluable contribution to KQ" while also celebrating his association with the airline since 1977 as a frequent flyer, its banker and financial advisor.
"I am now resigned to the fact that I will be gravely unpopular in Kenya until people are able to take a long-term view," he says matter-of-factly.
"Many media practitioners prefer being sensational, the bloggers of course will have their day, so the best thing I can do is just be me."
The investment banker has occupied a larger-than-life figure with many Kenyans lost between myth and reality whenever his name is mentioned. After all, he was there just when Kenya's capital markets were being carved out and facilitated multi-billion deals boasting of Africa's blue-chip firms and governments as clients.
To use his words, he survived by eating what he caught in Kenya's financial jungle.
In 2001, he was the sole arranger and joint lead manager of the Sh4 billion Safaricom bond which at the time was Kenya's largest-ever corporate bond issue. He was also the lead banker for the country's infamous Eurobond.
However, it has been in the last decade, during President Uhuru Kenyatta's regime, that he's blown into full-time notoriety.
Phrases like "Uhuru's blue-eyed boy" have been used to describe him owing to his various high-profile positions in the previous regime and in cash-rich parastatals.
These include as chairman of the Kenya Pipeline Company (KPC), Industrial and Commercial Development Corporation (ICDC), Safaricom and a director of Kenya Airways (KQ).
Being labelled as a blue-eyed boy seems to water down much of his accomplishments.
For example, he did a paid-for interview with a local daily tracking his career just before his appointment as Safaricom chairperson.
"This is the end of a regime people like me have been associated with it ... that was an attempt to bring up what we've done and why? To show that there was logic and method and thought and results behind it."
This must be annoying for a man whose first government appointment was by the late President Daniel Arap Moi in 1997 as director at ICDC where he helped with the demerger of the firm leading to the creation of blue chip firm Centum.
Moi also tapped him in the inaugural board of the then Communications Commission of Kenya (CCK) tasked to deconstruct the country's telecommunications sector.
The late President Kibaki also tapped him as the inaugural board chair of Konza City, Kenya's attempt to create a Silicon Savannah.
"I haven't served an individual. Moi, Kibaki and Uhuru were all different people, why would they all appoint me?" posed Ngumi.
Recently, he even had to take a court order blocking any possible arrest as a precautionary measure.
Ngumi captured headlines when it emerged that the National Treasury on August 5 paid Sh6.1 billion for a 60 per cent stake in Telkom Kenya from UK firm Helios Investment Partners without first seeking approval from Parliament.
Ngumi brokered the deal and got paid Sh400 million ($3.7 million) as compensation for his expertise. Many, including MPs, couldn't fathom how one person would be paid so much.
"I was paid because I was the best in business, I had helped the UK firm save money and make a better decision. The money will come back into Kenya and I will spend the money, but I will pay 30 per cent," Ngumi told MPs. "The purpose is to maximise returns. It needs the highest advice so that it does not make mistakes, so you go and get the best in business."
This is no surprise from a man who describes himself as "enormously self-confident, possessed with a copious amount of drive and will to win"
In Ngumi's line of work, such kinds of fees aren't unusual, he says, as one works on a contingency basis meaning that the advisor risks it all to do the work and gets nothing if the deal fails.
The deal raised suspicion as payments coincided with the nearing of last year's general election. Ngumi notes that it began in 2021 and had already stopped advising on it by the time he was appointed Safaricom chairman and payments had already been done.
"People underestimate, for a company that's deploying billions of dollars to need to be told that they are going down a wrong track that would greatly jeopardise their ambitions in Africa that in itself is a serious piece of advice … it's almost impossible to put a number to it because that is strategic advice of the highest order," he says.
By July, he adds, he'd already left the negotiations table and says it's a misconception that he was doing the deal while being Safaricom chairman. He was appointed the giant telco's chairman last August.
Ngumi is no stranger to Helios having been their banker when he worked in Stanbic and has been their formal advisor since 2016.
Payments for such deals depend on their nature and he says he'd get between one and two per cent when he was doing debt deals and about three per cent for mergers and acquisitions.
"This was what's called a boutique deal and not your regular banking finance bill. They are comparing apples with oranges."
"All they wanted to be honest was my brain, all they wanted was for me to give them confidence."
Helios Investments Partners Chief Finance Officer Paul Cunningham, in March, told a joint sitting of the Finance and Planning and ICT and Innovation committees that it paid out more than Sh585 million in fees to Ngumi and corporate law firm Anjarwalla & Khanna in the deal.
Cunningham told MPs he knew Ngumi as a lawyer and banker and had dealt with him on several occasions over the past five years.
In a previous interview with this writer, Ngumi said that his working in government was not about being politically connected but pure merit and "reckoned that the government knows him."
"I've been working with the government for a very long time as a banker including raising funds for the coffee board, financing for treasury and was one of the two creators of the Treasury bond programme that you see now. I was the lead banker for Eurobond and also syndicated loans," he said terming it a "myth" that he chairs many entities.
Ngumi explains that he has influence rather than power and credits his success to experience and ability to get the job done rather than connections.
"People I worked with in govt to do those coffee board deals are gone. Networks are dynamic. Now, there's a whole new network, younger with different experiences," he says.
"I never had power but influence in the public sector. I was the chairman. The power was with the chief executive," he says blaming the media for creating a larger-than-life figure.
At the beginning of the year, Ngumi resigned as Safaricom board chairman in new changes seen to align the company to the new William Ruto-led administration.
Since then, Ngumi, who's an executive director at Eagle Capital Investment Partners, has been slowing down.
And the 68-year-old admits that it's perhaps time to slow down and take stock of an exciting life.
"For people like me, it's time to gracefully withdraw, help or advise or comment when asked to but let another new generation do things."
"It's time to reflect, think through, wonder what contribution one has made."
But what next for him?
"It's teaching, counselling and offering advice when you are asked. It's not butting your head like a bad smell that won't go away," he explains.
Ngumi's biggest regret is the decline of Loita Capital firm which he co-founded with four others and aimed at being the first indigenous-owned investment bank
"We would have built our own Goldman Sachs," he reflects.
Ngumi and his partners lived fast in a world of high finance without the capital to support the lavish lifestyle and weren't afraid of high risk, he said in a previous interview.
The aftermath of the Loita's failure saw Ngumi borrow heavily under his name eventually sinking into debt.
"Kenyans had come in because of me, we had a staff of about 34 and I felt it upon me to ensure that I kept paying them until they found other jobs but it meant I borrowed heavily. I ended up mortgaging my house three times."
"I paid back but boy that was one seriously tough time," sighed Ngumi.
Despite the failure, Loita is largely credited for the shape of Kenya's financial markets today, then the only other asset managers were foreigners such as Barclays Trust and Standard Chartered Investments.
He cites his best deal as the sole arranger of the Sh500 million Faulu Kenya medium-term note issue, the only bond issue for a microfinance in Africa that showed the capital markets' power even in addressing those viewed as unaddressable.
He says he has no regrettable deals with all of the issues paid off in the end including the ARM bond after the firm collapsed. However, the Telkom deal was his most controversial yet, he admits. He's received extreme flak and wall-to-wall coverage mainly owing to its timing to the general election.
"I've always done things by the book and that's why I have no problem with Jahmhuri and Helios disclosing how much I was paid I'm proud of that deal it was a good deal the money was legitimately earned," he said of the Telkom deal.
Ngumi says he's learnt to rise above the hate and negative views he elicits at times and is "slowly trying to readjust his life" and "take a breather and just be still and listen to my inner self."
"People have talked written levelled accusations they would love me to be hauled in court etc. I think the things that must bother them is that I still go on in my life and thoughts and even today if I lost everything - and I did once I'd just go back and start again - and I know it's scary to those people that ability to rise above that noise and it's a lot.
With finality, Ngumi says he's developed immense fortitude and strength of character that has enabled his staying power.
"The allegations bother me but I allow them to pass as long as you know yourself what you've done, why you haven't done or done. You should be clear," he told this writer.
"My attitude to life is that life unfolded and I rode it as best as I could."
Related Topics