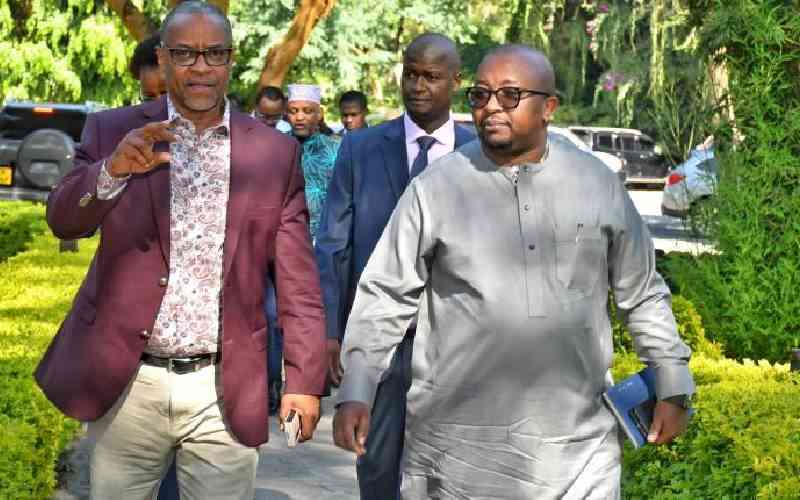 No proposal in President William Ruto's first Finance Bill has elicited as much debate and raised as many objections as the three per cent Housing Fund levy.
The levy is being fronted as a route to helping Kenyans acquire homes through the Affordable Housing Programme (AHP).
Since the establishment of The National Housing Corporation (NHC) in 1953, which replaced the Colonial Government's Central Housing Board, Kenya has constantly sought solutions to a housing shortage, often for its civil servants.
There are many civil servants who long settled in housing schemes constructed by the government where, prior to July 2001, the government was providing subsidised housing to its employees.
House allowance
This was through the provision of government-owned or leased housing or payment of house allowance to those not provided housing by the government.
But there were problems such as inequity in that subsidised housing provisions benefited only 12 per cent of the workers while 88 per cent were left to market private housing, notes The Civil Servants Housing Scheme Fund (CSHSF).
There was also a disparity between officers receiving house allowances and those receiving owner-occupier house allowances which were much higher. "In July 2001, the government commenced the implementation of a new housing policy for civil servants. One of the key objectives of the policy was to divest the government of the responsibility of direct housing of its employees except those involved in essential services, and instead encourage them to own their own houses," says CSHSF.
This pursuit was given serious prominence by the Jubilee government which, in 2017, listed affordable housing as one of its four pillars in the Big Four Agenda, alongside affordable healthcare, food security and manufacturing.
President Ruto's regime announced a plan to construct 200,000 affordable houses a year through public-private partnerships and, in the Finance Bill 2023, introduced the levy, arguably the main bone of contention in public discourse today.
Paul Syagga, a professor of land economics formerly at the University of Nairobi, has seen some of the schemes introduced in the past get executed as urban dwellers suffer a dearth of both the quality and quantity of housing units.
However, the problem of the shortage of housing has never been properly addressed, and many people still live in substandard facilities without the necessary amenities.
"The minimum requirements for a house for a household or family, according to the Kenya Housing Policy, should be a minimum of two rooms, a cooking area and a toilet," he says.
Prof Syagga was part of the team that developed these regulations and guidelines on the back of a realisation that households had an average of five persons. The minimum floor space of such houses should be 40 square metres.
Middle class
Prof Syagga says that since independence, the NHC has strived to put up "very good quality housing" for the middle class. For others, they have provided sites and service schemes. Here, they allocate plots and let people put up houses slowly through loans, such as from the World Bank.
"For the rural areas, they (The National Housing Corporation) gave rural housing scheme loans. They gave a maximum of Sh3 million. This is a loan like any other and one has to be assessed if they have the ability to repay. So this is why teachers and other civil servants were the main recipients. One was assumed to own land and a consistent income source had to be if one were to service loans," he says. "One can put up a toilet, a cooking area and then rooms, for those who cannot afford to construct homes at once. This is called incremental housing."
NHC itself prides in what it calls assisting "wananchi and local authorities in building decent affordable houses through its various schemes such as tenant purchase, outright sale, rural and peri-urban housing loans and rental housing."
On its website, it lists some of its past housing projects as Amalemba Kakamega, Nairobi West Flats, and Madaraka Nairobi Flats.
It also offers services such as rental property, tenant purchase housing schemes, mortgages, rural or peri-urban housing schemes, EPS (expanded polystyrene sheet) panels, partnership services, and consultancy services. NHC has looked like the statutory body doing the right thing but not quite getting there.
The new move to enforce contributions to the housing fund to speed up home ownership has faced a lot of criticism, and the logic behind it has been questioned, even as the permanent secretary responsible, Charles Hinga, insisted on the importance, and feasibility, of the levy.
Capped at Sh5,000 a month, the highest-earning Kenyans will pay Sh2,500, with their employers topping up a similar amount. "So when we put this all together as a country, we will be able to go out to the market and tell investors that the government is providing land at no cost for Kenyans to own homes, build houses in mass, give me the keys and go. If I don't have the housing fund, they will refuse to build," said Hinga.
He also said that the housing levy should be driven by law and should not be voluntary "because if it is driven by law, we can call investors because there's an assurance of collecting money even after three years, so long as the law is there".
But experts, and a faction of political leaders, have faulted the government's approach, saying that the levy burdens Kenyans already suffering from the high cost of living, and that a good number of them may not be interested in saving for housing, with more immediate needs to address in the interim, especially for those living from hand to mouth.
Environmental Architect Prof Alfred Omenya, who is also an expert in sustainable urbanism and development, said the government should be primarily concerned with creating an enabling environment for housing to develop.
"Where are the 54 million Kenyans living? Who has built those houses? GoK (Government of Kenya)? No! All we need from GoK is good planning, regulation, infrastructure and services, to ensure that estates like Pipeline in Nairobi, housing some one million people, built by ordinary Kenyans, are well built," he tweeted.
He followed up with a raft of questions interrogating the levy. "Why is the national government driving this yet housing is a devolved function? Why is the Housing Fund being lumped together with the Finance Bill?
Why force the poor to pay for a house - not the top priority - for 30 years? Social housing is based on subsidised rentals. Kenyans don't save? What about Sh700 billion in Saccos? Why forced savings? Why should I get my money back after seven years if all I needed was a house?
A 30-year mortgage is not tenable for the majority of employees. Why a housing programme with no guarantee of houses to contributors? Why did the government drop the provision of houses to Civil Servants in favour of house allowance in the first place?
Prioritise infrastructure
What are the implications of this levy on the cost of doing business in Kenya? Can GoK build 250,000 houses per year? Where is the evidence? Why not prioritise infrastructure and services? Why not prioritise the security of tenure? People will build houses for themselves."
A section of Kenyans expressed fears that the preoccupation with the housing levy could be deliberately used to create a distraction from other taxes proposed in the Finance Bill 2023, which will then be easily passed by the legislators.
Mungai Kihanya, on Twitter, said that he was "beginning to think that this National Housing Fund thing is a red herring… intended to divert our attention from other more serious and punitive tax measures in the Finance Bill 2023. As we're engrossed in the housing fund, other taxes will slip through." And even as they defend the government's decisions, some legislators have disagreed with the execution of the housing levy.
Kakamega Senator Boni Khalwale called the intention to help Kenyans own houses through the housing levy "excellent because it is futuristic and is an acceptance of the world standard that populations will continue to migrate from rural to urban areas".
He, however, faulted the process of enforcing contribution. "What I don't like about the housing fund is because it is a savings, to me it looks like a national Sacco. Let people go in voluntarily and slowly," he said.
Related Topics