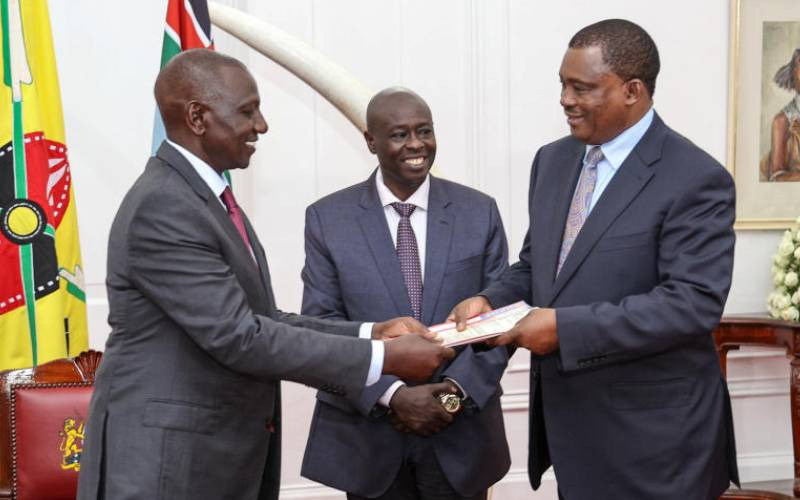 Kenyans are staring at tougher financial times if the Finance Bill, 2023, which proposes a flurry of new levies, if passed by Parliament.
Amid a biting cost of living, President William Ruto's government proposes to increase VAT charged on fuel, which will lead to higher fuel, electricity and other commodities prices, even as the National Treasury proposes new deductions.
The National Assembly Finance Committee has called on Kenyans to present their views on the Bill that has already sparked widespread dissent. Yesterday, Azimio leader Raila Odinga urged his supporters to reject the proposed Finance Bill for the 2023-2024 financial year.
He called on members of the public to submit their objections in writing to the clerk of the National Assembly as part of the public participation process.
Raila, who spoke in Nairobi, criticised the Finance Bill calling it a "piece of punishment that Kenyans should be deeply concerned about."
The former prime minister claimed that the taxation proposals in the Bill will bury everyone, especially the jobless youth and the poor struggling at the bottom.
"We are shocked that anybody living in Kenya and who understands and appreciates what Kenyans are going through can come up with the taxation proposals the Bill is making," Raila said.
"It is even more shocking that a regime that promised to lessen the burden of the so-called hustlers, mama mboga, watu wa mjengo, can turn its back so soon on the same people," added the Azimio leader.
Azimio has vowed to try its best to ensure that what they call the "anti-people" budget is not passed by the National Assembly.
"In the event that Kenya Kwanza uses its hired majority and passes the Bill as it is, we want the people of Kenya to understand that it is Kenya Kwanza's Bill. It is Kenya Kwanza's budget. It will be Kenya Kwanza strangling Kenyans. We will instruct our MPs to have nothing to do with it," Raila said.
With the Opposition appearing to wash its hands off the Bill, Kenyans will be left on their own as Raila and his team did nor provide alternative measures on taxation.
Hitting at proposals made in the Bill, Raila disapproved several proposals including a threefold increase in turnover tax which the Bill proposes to apply tax based on sales from as low as Sh500,000 instead of the current Sh1 million.
The Azimio leader added that tax is being raised from one per cent to three per cent and will be pegged on gross sales, whether the seller makes a profit or not.
"The biggest casualties here will be small and medium-sized businesses. Those businesses are the heart of the hustler nation. They are struggling. The same businesses are already being taxed by counties," said Raila.
The coalition's stand is that the tax should remain at 1 per cent and should be applicable on sales of Ksh1 million and above.
Similarly, Azimio criticized the income tax adjustment from 30 per cent to 35 per cent for those earning Sh500,000 and above.
"Direct taxation as a means of raising money usually has unintended consequences. The shock will be felt down the chain. Typically, a single pay slip supports entire villages and communities in Kenya," said Raila.
The Bill proposes to deduct 3 per cent of basic salaries to finance an affordable housing scheme. Azimio claims that this will reduce the amount of disposable income available to the economy and that it is unclear why an employee who does not need a house would have their money tied up in a housing scheme.
The coalition further disapproved the proposal to deduct 3 per cent of basic salaries to finance the National Housing Development Fund arguing that Kenyans are already grappling with reduced incomes and the soaring cost of living.
"We find it curious that while not everyone is qualifying for the proposed affordable housing regime, everyone is expected to pay. This is illegal borrowing," said Raila.
Raila criticised the proposed Bill for leaving many questions unanswered, including lack of mention of the interest accrued on the money contributed by those who do not qualify for affordable houses. He pointed out that while such contributions would be refunded, the Bill does not specify how the accrued interest would be handled.
The Bill also proposes a 15 per cent tax on payments related to digital content monetisation, which Azimio contends "will be killing innovation and leaving our youth with too few options."
He also opposed the proposal that companies or individuals must deposit 20 per cent of disputed tax amounts with Kenya Revenue Authority before any appeals can be heard. Odinga called on the government to review the Bill and reduce the tax burden on Kenyans.
The coalition is now demanding that the government must put a stop to non-essential government expenditures, such as the appointment of Chief Administrative Secretaries.
It is also calling for a reduction in the size of government, arguing that there are too many Cabinet secretaries, principal secretaries, directorates, advisors, aides and departments.
In addition, Azimio is demanding that the government abolish "political operations" disguised as relief food distribution or fundraisers.
The coalition claims that it makes no sense for Kenya Kwanza operatives to spend millions of shillings on choppers to distribute small amounts of food or to deliver small amounts of money at fundraisers.
The coalition demanded that State ends corruption and reduce domestic and international travel, conferences and training. It also wants a freeze on ministerial out-of-station allowances, ministerial house allowances, and domestic allowances for Cabinet secretaries and principal secretaries.
Related Topics