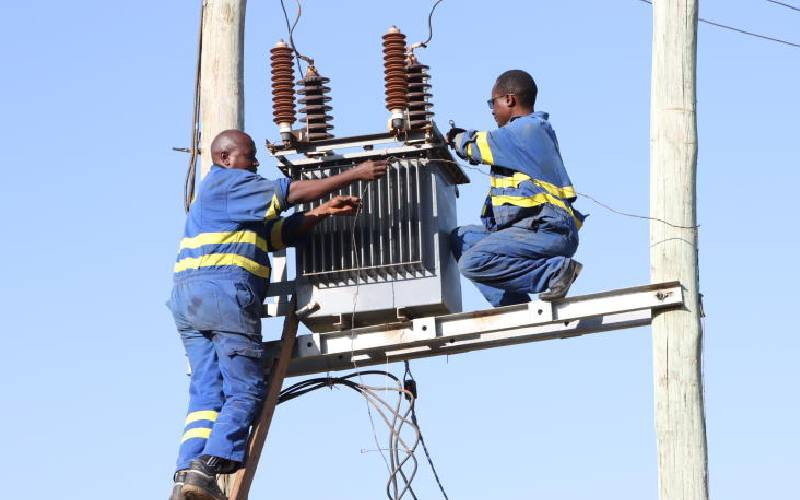 Kenya Power is seeking to pay some of its foreign currency-denominated obligations in local currency as it grapples with a US dollar shortage.
The power utility firm, which is among the largest consumers of foreign exchange in the country, noted that while it had adequate cash flow to pay power producers, the dollar shortage could see it skip payments to Independent Power Producers (IPPs) as payments fall due.
The company needs to convert its revenues, which are all in local currency, to foreign currency – mostly dollars and euros – to pay the power producers as well as service loans.
Kenya Power Finance General Manager Stephen Kinadira said the firm was in talks with IPPs to accept proportions of their payments due from the company in Kenya shillings.
He noted that the firm has adequate cash to pay for the power taken from the power producers, but the dollar scarcity had slowed down the rate at which it has been paying the producers.
"The challenge is that due to the unavailability of US dollars, we are not paying IPPs as per schedule. You may have noted that in our half-year report, we had quite some liquidity not because we have excess money but because we have not been able to get the forex to pay these obligations," he said.
Delayed payments
"There is the risk of delayed payments but this we are managing by talking to the IPPs because it is a market challenge that they are aware of. We are also engaging them with the possibility of paying a portion of the money due to them in Kenya shillings if they are agreeable."
"Over the years, there has been stability in terms of forex. There has never been a situation where there is a serious scarcity of US dollars as we have seen in recent months. The exchange rate has also skyrocketed. It is a unique situation that we are in," Kinadira added.
About 65 per cent of the money paid to IPPs is made in either dollars or euros, according to the Power Purchase Agreements (PPAs) that the producers have with Kenya Power.
This covers nearly all power producers with the exception of small ones such as the tea farms that have set up hydro plants using local resources such as loans from Kenyan banks.
KenGen, the largest power producer in the country, also has most of its PPAs with Kenya Power in local currency, although Kinadira explained there were a few plants that had been set up using foreign funding, and in turn the PPAs are denominated in foreign currency.
The firm needs $50 million (Sh6.5 billion) and another $30 million (Sh4.14 billion) every month to pay power producers. It also needs $60 million (Sh7.8 billion) to service debts, with 85 per cent of its loan book being foreign currency denominated.
The firm has not missed on loan repayments, with a moratorium on government on-lent loans - having helped ease the requirements on Kenya Power.
"We have not missed any repayment; all loans are up to date. But then the government on-lent loans are on a moratorium that was granted in 2022 during Covid-19 but has been extended to June 2024," said Kinadira. Government on-lent loans account for about 65 per cent of the company's total debt.
The firm recently said it planned to start collecting money from some of its clients, such as foreign missions, in dollars.
Kinadira explained that the billing would be in local currency but collection from clients who are in agreement would be in dollars.
Dollar flows
This, he said, would help the firm generate cash in dollars and help in meeting some of its dollar-denominated obligations.
"Trying to get internal dollar flows is another measure of dealing with the challenge. We will not bill in dollars, we are billing in shillings as per approved tariffs but collecting in dollars where possible… giving customers the option to pay in US dollars," he said.
"There are a few issues we have to deal with like opening dollar collection accounts and in the next month or so to start engaging with a few clients."
Kenya Power has in the past said there was potential to collect Sh1.5 billion monthly in form of dollars from some of its clients.
He added that the company's dark fibre clients whose contracts are in dollars have also been talking with Kenya Power, seeking to pay in local currency due to the dollar crisis.
Related Topics