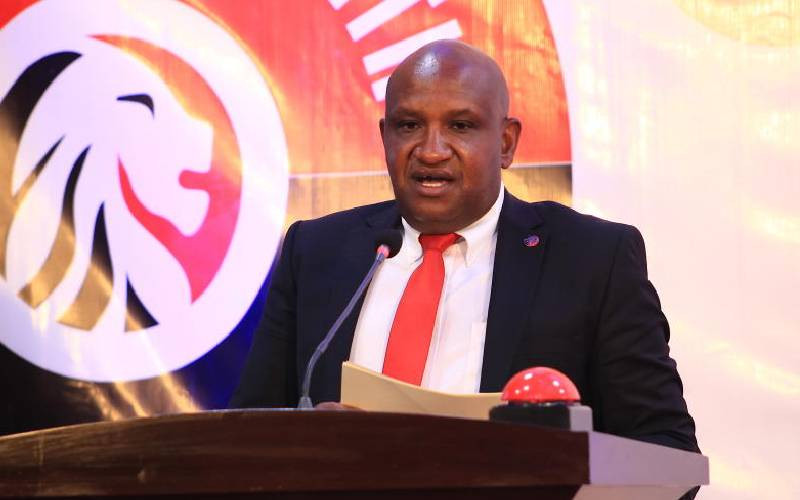 The government on Thursday announced radical changes at the Kenya Revenue Authority (KRA) that saw its top boss leave to pursue personal interests.
The move marks the latest reorganisation in top State agencies as President William Ruto tightens the leash on the levers of the State since he was sworn into power 160 days ago.
Dozens of Uhuru-era power men have since been replaced by Ruto allies.
The KRA board yesterday said former spy boss Commissioner General Githii Mburu had resigned.
Mburu, a former intelligence boss at the KRA, took over the corner office at Times Towers following his appointment by former Treasury Secretary Henry Rotich in 2019.
Until his appointment three years ago, to one of Kenya's most coveted public offices, Mburu headed KRA's covert intelligence arm, serving as the commissioner for Intelligence and Strategic Operations.
In yesterday's changes, communicated by the newly picked Antony Mwaura-led Board, Mrs Rispah Simiyu was picked to be the acting Commissioner General with seven acting commissioners involved in the changes.
"The board has today received the resignation letter of the Commissioner General FCPA Githii Mburu MGH, CBS who resigned to pursue personal interests," said the board.
"Following the resignation, the Board has appointed FCCA, CS Rispah Simiyu (Mrs), Advocate, EBS to be the Acting Commissioner General KRA with effect from 23rd February 2023 until the position is substantively and competitively filled."
The board also appointed Pamela Ahago as the acting Commissioner of Domestic Taxes and David Mwangi as the acting Commissioner of Customs and Border Control.
Other changes were that of David Yego who was appointed as the Commissioner in charge of Intelligence, Strategic Operations, Investigation, and Enforcement while Nancy Ng'etich was appointed as the Acting Commissioner of Corporate Support Services.
Meanwhile Dr Mohammed Omar was retained as Commissioner of Strategy Innovation and Risk Management alongside Dr Fred Mugambi Mwirigi (Commissioner Kenya School of Revenue Administration) and Paul Matuku (Commissioner Legal Services and Board Coordination).
The changes saw the offloading of Edward Kinyua Karanja and Lilian Nyawanda who were serving as Commissioner of Investigation and Enforcement and Commissioner of Customs and Border Control respectively.
The two were appointed in March 2021 in what Mburu said was part of key roles in spearheading and sustaining revenue mobilization and institutional transformation agenda.
Intense pressure
The changes come at a time KRA is under pressure from the government to seal revenue leaks and boost State coffers to enable Treasury wean itself off reliance on debt.
The government earlier said KRA will end its controversial aggressive pursuit of tax cheats marked by raids on premises by its officers and property auctions, under the new administration.
Ruto and his deputy Rigathi Gachagua said earlier the taxation system under their leadership will be reformed to ensure "fairness" and "equity" adding that all potential taxpayers will be brought on board as they move to expand the tax base and boost compliance.
"We will make KRA more professional, efficient, responsive and people friendly," Ruto said.
Signalling the KRA is faced with an overhaul, the Deputy President further said the tax agency will end its aggressive actions in enhancing compliance.
"We want a good working environment where we don't criminalise enterprise," said Gachagua.
The new policy announcement comes amid an aggressive pursuit of suspected tax cheats marked by the raids on premises by KRA officers and property auctions.
The taxman has hinged its aggressive action on the Tax Procedures Act, which empowers it to seek taxes directly from third parties like banks, employers and suppliers as well as seize and auction property to recover unpaid tax.
The KRA under Commissioner-General James Mburu has been using various technologies and data bases to pursue suspected tax cheats.
KRA has consequently been tightening the noose on taxpayers after President Ruto set a target to double tax collections by the end of his first term in 2027.
It is during Mburu's reign that the KRA broke its tax collection record to hit the Sh2 trillion mark. However, data shows that tax collection in the six months of the current financial year fell short of the new government's target by Sh43.2 billion.
KRA is expected to collect Sh2.57 trillion in the 2023/24 financial year, which is 17 per cent more than the Sh2.19 trillion it is projected to collect over the current financial year to June.
Related Topics