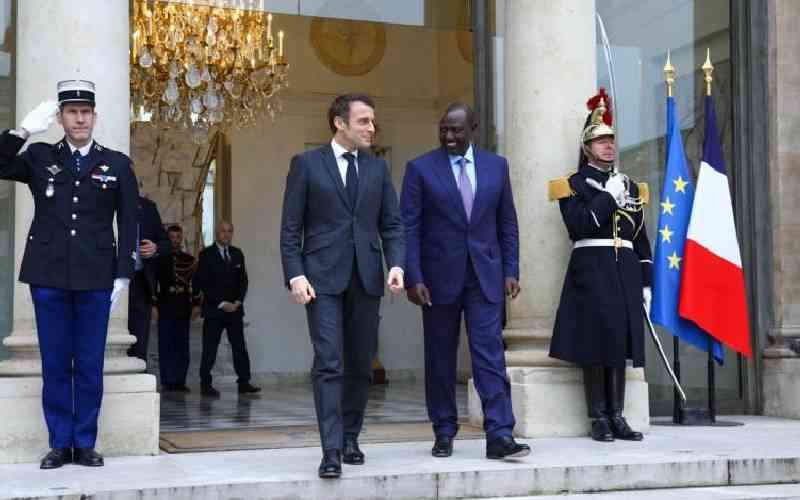 Olivier Becht, the French Minister for Foreign Trade, Attractiveness and French Nationals Abroad, believes that Kenya-France economic ties remain strong due to shared values and strong cultural, scientific and academic partnership between the two countries.
Ahead of the EU-Kenya Business Forum in Nairobi, he spoke to The Standard on these ties, and the opportunities that the forum presents:
After China, Kenya owed France the most monies by any bilateral lender (KNBS' Economic Survey, 2022) at Sh91.9 billion in 2021. France has also donated significantly to Kenya, especially recently, including to fight hunger, GBV and poverty. What makes Kenya a big, or strategic, target for France's funding/lending?
Kenya is a key strategic partner for France. Ours is not a purely economic relationship. Kenya has the status of a regional hub, with a vibrant private sector, a base of innovative SMEs, a highly-educated population and a highly-qualified workforce. It also contributes to regional stability, economically and politically. This is the case, for example, in Ethiopia and DRC.
We also have a deep relationship in terms of cultural, scientific and academic partnerships. We need strong voices in Africa to find effective solutions to the global challenges of security, climate change, biodiversity and gender equality. Kenya's presence on the United Nations Security Council (2021-2022) was therefore unanimously welcomed. The relationship of trust between Presidents (Emmanuel) Macron and (William) Ruto is an advantage.
Kenya is France's biggest trade partner in East Africa. Kenya does not, however, export as much produce to France as it does to a few other countries in the EU such as The Netherlands. Are there opportunities identified that can increase Kenya's exports between the two countries and reduce the balance of trade?
The economic partnership between our two countries must not just be measured in terms of balance of trade figures. Kenyan exports are popular in France: for example, most of the roses bought in France on St Valentine's Day come from Kenya, and Kenya exports its agricultural products such as green beans and avocados to France.
Since it has a more diversified economy than its neighbours, Kenya is also increasingly attracting French capital. The European Union accounts for 30 per cent of foreign direct investment in Kenya, while France is the fifthth largest foreign investor in the country, with Foreign Direct Investment (FDI) nearing €1 billion. This shows the growing appeal of French investment funds and companies, many of which have set up in Kenya over the past five years, including Saint-Gobain, Peugeot and L'Oréal.
France now has an economic presence in Kenya of 130 value-creating companies, which are contributing to "Made in Kenya" production and generating 24,000 direct jobs and 47,000 indirect jobs for Kenyans.
The value of imports to Kenya from France is also reducing by the year. Does that signify any marked interruption in trade between the two countries?
French exports to Kenya have indeed seen a slowdown but we still have a vibrant trading relationship, particularly in the area of agriculture. For example, Kenyan imports of agricultural products have more than doubled in the past 10 years. Furthermore, about 40 French companies are now working in this sector in Kenya, and over the past two years, major French agri-food groups such as Roullier/Timac Agro in the area of fertilizer manufacturing, Lesaffre for yeast, and Olvea for avocado oil have invested in production units in Kenya, creating hundreds of jobs.
Most of these imports are manufactured goods. How is France contributing in improving Kenya's manufacturing sector to also help it grow and anchor exportation, and to contribute more, maybe in double digits, to Kenya's GDP?
The French Chamber of Commerce in Kenya is on the board of Kenya Private Sector Alliance (KEPSA) in order to develop partnerships between French and Kenyan companies. Many French companies have recently invested in production or distribution networks in Kenya (Schneider Electric, L'Oréal, Rubis, Total, etc.). Renault Trucks, for example, has begun assembling its Hilux pick-ups in Mombasa, in association with Associated Vehicle Assemblers (AVA). These partnerships between French and Kenyan companies are also contributing to technology transfers between our two countries.
What is the French government's reaction to the disruptions on, including the halting of, the construction of the Rironi-Mau Summit Road?
Kenya needs modern infrastructure to support its growth and enhance its position as a regional hub. France wants to build partnerships in these areas by using its expertise, its private sector and adequate funding.
In the project which you mention, which would help ease traffic congestion towards the Rift Valley and Western Kenya and improve road safety, French companies are pursuing discussions with Kenyan authorities on the details of establishing a public-private partnership, with improved environmental and social standards. Other French companies are interested in projects with the same format in areas such as energy, water supply, the environment and mobility.
What is France's main agenda for Kenya in the European Union-Kenya Business Forum?
France's relationship with Kenya falls under a broader partnership between Kenya and Europe. Europe is Kenya's leading trade partner but also represents a huge market for Kenyan products. Europe is also the leading investor in Kenya's key sectors including agriculture, agri-food, energy, infrastructure and the circular economy. The European presence in Kenya is a major driver of green growth, a circular economy and production processes that are more concerned about their environmental footprint.
My visit to Kenya is therefore timed with the opening of the EU-Kenya Business Forum, which will give me a chance to speak and share viewpoints with Kenyan private sector stakeholders.
I am also visiting Kenya as a French Minister, with the aim of building on in-depth discussions held by our two Presidents during President's Ruto's visit to Paris on 24 January. I will speak with members of the Kenyan government.
I will go to see local communities, for example in Eldoret, where I will visit the Moi Teaching and Referral Hospital, one of our main partners in the health sector. I also will also have the pleasure of meeting the leaders of the company Baraka Fertilizers, a fertilizer manufacturing plant that was bought last year by the French Timac Agro Group, a world leader innovating in soil fertility. It is a wonderful example of investment working to improve food security, a theme that we feel is particularly important and that France supports through the European FARM Initiative.
What do you think are the greatest areas of collaboration and cooperation between the two countries that could be forged, or strengthened, in this forum?
Water, energy and urban planning have long been the sectors in which the Agence Française de Développement (AFD) has taken action in Kenya, with more than €1.7 billion currently invested. The private sector has also been supported by Proparco, an AFD subsidiary, with nearly €1 billion dedicated to improving the vitality of Kenya's private sector.
Today we would like to invest more in the agricultural sector in order to bolster the country's food security, while making sure to involve all the public and private stakeholders. Sport, and particularly the modernization of sport infrastructure, is also a promising sector for cooperation between our two countries.
Finally, health is an area in which France has recognized expertise, which will help us to build partnerships in the supply of medical equipment, cancer detection and mother and child health.
Are there any exclusive opportunities the French government is extending to Kenyan professionals, or students, amid the many bilateral ties forged by past governments, and in the wake of rising unemployment among educated youth in Kenya?
I am delighted that some 50 higher educational and vocational institutions from our two countries are developing partnerships and joint initiatives promoting education and research.
Student and teacher exchanges are an important feature of these collaborations. We are very committed to promoting mutual exchanges between our young people, our schools and universities and our research institutes.
This year, some 100 Kenyan undergraduate and PhD students and researchers will study in France. A total of 120 language assistants from across Kenya have received specific support to teach English to young pupils in France. Every year, some 20 young French people go to Kenya to work in French companies doing business there. They stay a year or two, gaining unique professional experience and thereby becoming economic ambassadors for the France-Kenya partnership.
This dialogue between our young people generates possibilities for fostering ties strengthening the relationship between our two countries. I hope that we will step up our action and experiences in our respective countries to deepen our partnership.
Related Topics