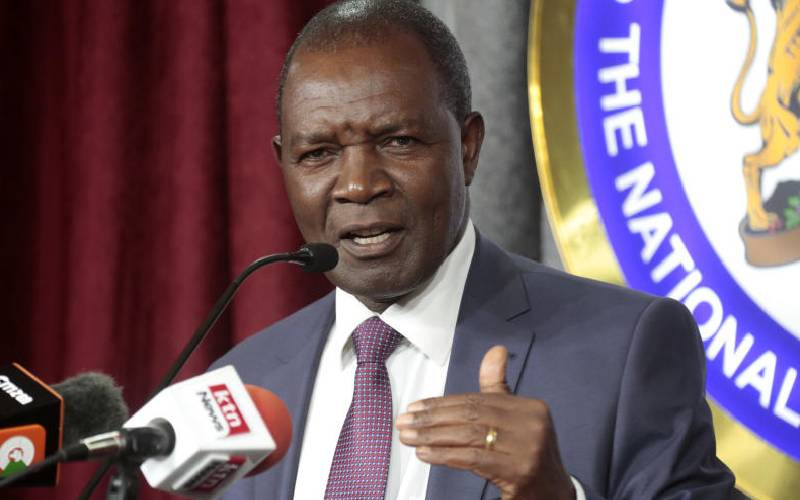 The National Treasury has warned Kenyans of tough economic times ahead as energy and food costs soar and inflation rages in the fall-out from the war in Ukraine.
Cabinet Secretary Prof Njuguna Ndung'u signalled yesterday Kenyans should brace for a new round of belt-tightening as the new Kenya Kwanza administration moves to stabilise its finances.
The economy has in the last two years been hit hard by the lingering effects of the coronavirus pandemic and the war in Ukraine, events that have wreaked havoc on global markets as seen in skyrocketing oil and food prices.
"There are clear signals that the New Year 2023 is likely to shape up to be a rough one for the global economy," said Prof Ndung'u in Nairobi when he presided over the launch of public hearings on President William Ruto's administration's maiden budget for the upcoming 2023/24 financial year.
"Multiple factors are likely to come into play and affect the growth prospects across the globe. For instance, if the Russia-Ukraine conflict continues to escalate, the global supply chains will continue to be affected, thereby causing supply disruptions and a surge in inflation..."
The Covid-19 pandemic remains a threat with rising infections in China where it all started, while the Russia-Ukraine war continues and surging inflation elicits aggressive central bank rate hikes even locally, raising the prospect of economic slowdown.
As a result of the Russia-Ukraine war, the supply of oil, gas and food grain is severely affected and is tipped to continue for the foreseeable future. "Indeed, some parts of the world are already in an economic crisis. Low-income countries have been hit hard by these supply disruptions, debt, surges in food and commodity prices, the devastating effects of climate change, and limited access to foreign finance," said Prof Ndung'u.
"Even in middle- and high-income economies, a combination of factors is hitting hard on the cost of living. We have witnessed here in Kenya that food security and climate change have produced severe crises compounded by these supply disruptions, inequality, poverty and social conflicts." New economic managers at Treasury led by Prof Ndung'u face the uphill task of stabilising government finances and bringing living costs under control.
Related Topics