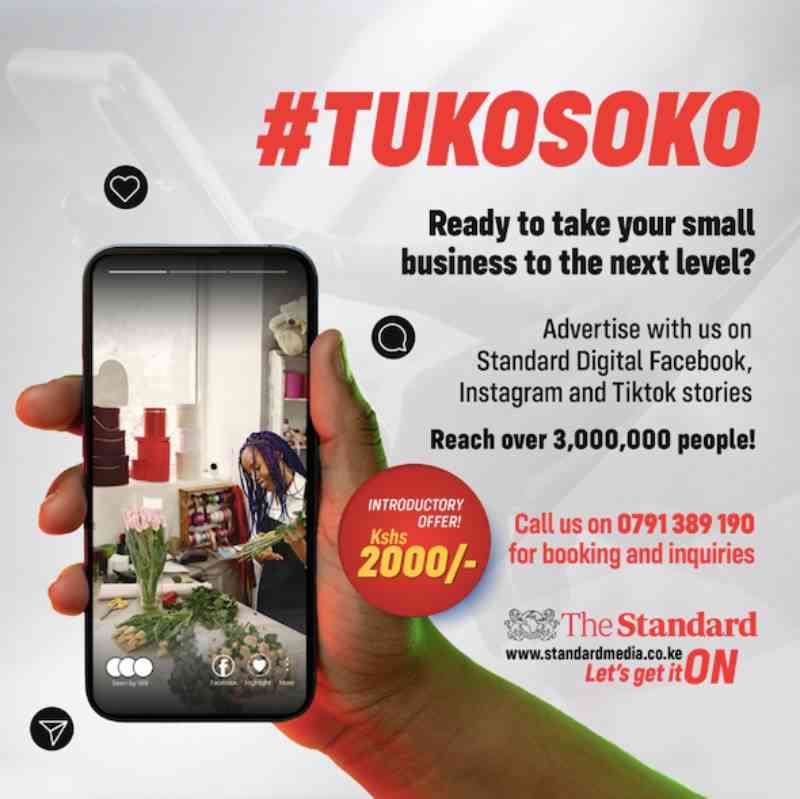 A few weeks ago, there was a slideshow on Instagram highlighting the ads we grew up watching in what is referred to as the golden age of advertising.
You may remember, with the sharp clarity of nostalgia, the catchy "I see colours" song that was Crown Paint's pièce de résistance, Dr Maragi of Duracoat Paints and the many memorable Coca Cola adverts that played on our television screens day in and day out.
When many people think of advertising, they think of newspaper, radio and television adverts that are unachievable for most small business owners. The age of social media has made advertising more achievable for small business owners.
At the click of a button, businesses can access new audiences at an affordable rate. Besides attracting new customers, it is now possible to track audience social media activity and use that information to better target potential leads.
The Standard Group has just launched an online marketplace called Tuko Soko; a fusion of mainstream and social media advertising.
What is Tuko Soko?
Tuko Soko Is an online marketplace where businesses can advertise their products and services to Standard Digital's 3 million+ followers across its platforms. Standard Group through Tuko Soko guarantees that the advertiser's brand will have increased visibility. Getting on board is simple; advertisers pay Sh2,000 for a poster of their product or service to be put up on Instagram, Facebook and TikTok stories, where it will be visible for 24 hours.
Which businesses can advertise on Tuko Soko?
Small-sized enterprises are highly encouraged to make use of the platform. Advertising agencies sometimes charge very high rates for their services, which may be unreachable to the small supermarket, the local shop, the salon, or the hardware that's just starting out.
This is made even more clear in the harsh economic times the country is facing. The only criterion is that you have a product or service that you believe should be exposed to a bigger audience.
How will Tuko Soko help your business?
Every day, the stories Standard Digital posts across its platforms garner no less than 100,000 viewers. This audience can be yours for 24 hours, which will place your products in front of new budding customers.
Besides that, any business that advertises with Tuko Soko automatically has the backing of the brand that is Standard Media, and the audience's faith in it. This means that more people will try your product or service out.
What does a good advert on Facebook, Instagram or TikTok stories look like?
A good advertisement is clear, concise and to the point. It has all the information pertaining to the business in bold letters. The title should be short and interesting, and it should make good use of graphics and fonts. For this case, it is best to submit a poster that is 1920 pixels in height and 1080 pixels in width with an aspect ratio of 9:16.
How much are you paying?
For this service, all a business owner must do is pay Sh2,000 per story. You read that right, all you need is Sh2000 for a 24-hour story on all 3 platforms; Facebook, Instagram and TikTok. For more information, WhatsApp Charles on 0791-389-190.
-Written by Grace Njeri Gikonyo.
Related Topics