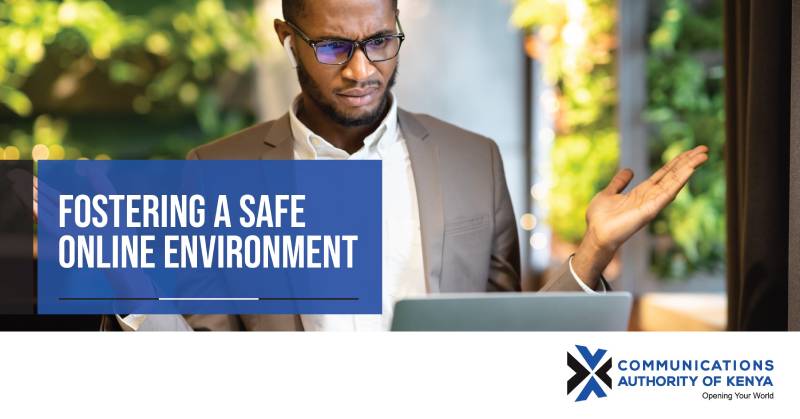 The internet has proven to be one of the biggest changes to our way of life. From communicating, to doing business, to e-learning and more. Today, Kenyans can connect to anywhere on the globe with the touch of a button and the click of a mouse, all thanks to the Internet. Datareportal reported over 11 million social media users in Kenya as of January 2022
However, like a lot of tools meant to benefit, the internet does have its drawbacks. Cybercriminals, online fraudsters, fake news, online harassment and more are all threats we face every day on the internet.
The Communications Authority of Kenya (CA) is dedicated to protecting our rights as consumers and working towards ensuring that we can enjoy quality communications safely and securely. This is why they have spearheaded multiple initiatives to both educate and protect consumers online.
They have established the Kenya Computer Incident Response Team (KE-CIRT), which is a multi-agency collaborative framework which coordinated Kenya's cyber-security on a national level as well as forming the key contact point for Cyber Security Matters. Since August of 2017, the KE-CIRT has worked to detect, prevent and respond to various different cyber threats across the country on a 24/ basis. The initiative works according to the framework set in the Kenya Information and Communications Act 1998, which mandated The Communications Authority of Kenya with developing a national framework through which they would fight cybercrime.
The National KE-CIRT includes cutting edge systems designed for national cyber threat detection, prevention and analysis, digital forensics and automated threat response reporting and helplines to help in the fight against cybercrime.
The functions of The National KE-CIRT include (but are not limited to)
Implementation of national cybersecurity policies, laws and regulations. Cybersecurity awareness and capacity building. Early warning and technical advisories on cyber threats on a 24/7 basis. Technical co-ordination and response to cyber incidents on a 24/7 basis in collaboration with various actors locally and internationally. Development and implementation of a National Public Key Infrastructure (NPKI). Research and development in cybersecurity. Proactive Cyber security advisories Incident Triage: Assessing and prioritization of Cyber Incidents Incident Coordination Incident Resolution
The initiative has so far been successful. As of December 2021, The National KE-CIRT has successfully identified;
66,765,638 Malware threats 28,238,957 Denied-Distribution-of-Service (DDos) and Botnet threats 223,720 Web application attacks 33,883,205 System vulnerabilities
This is not the only initiative The Communications Authority of Kenya (CA) has spearheaded in the fight against cyber-threats. The Authority has created several campaigns aimed at educating and informing Kenyans about online safety.
From Kikao Kikuu, to Be The Cop, to Child Online Protection, The Authority understands that one of the best ways to fight cybercrime is through prevention, and all of these initiatives work to achieve this by spreading awareness and educating consumers about how to stay safe as they explore the Internet.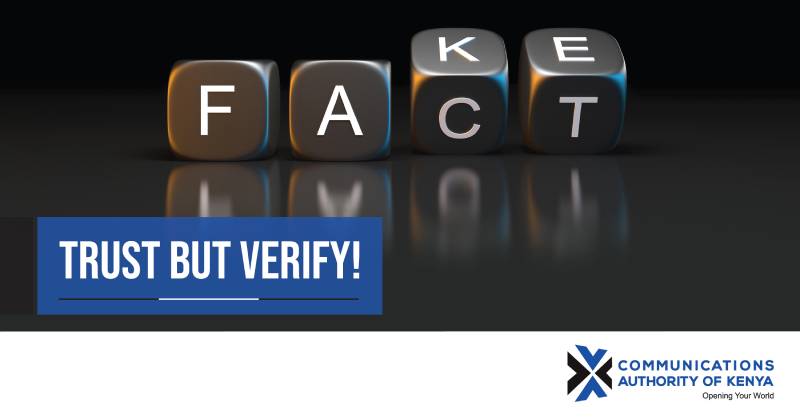 All of these come into play during the election period. As the regulator for Kenya's communications industry, The Communications Authority (CA) will diligently monitor Kenya's cyberspace to assist in detecting and preventing cybercrimes including;
The spread of fake political news and defamatory propaganda on social media and online news platforms Cyber-bullying and harassment through social media and online news platforms Fraud, Ransomware and hacking
These are some of the ways that the Communications Authority of Kenya (CA) work to protect Kenyan citizens against cyber-threats. You can learn more about how to keep yourself and your loved ones safe online by visiting www.ca.go.ke and learn more about the Kenya Cyber Incident Response Team (and also report any incidences of cyber-crime) by visiting https://ke-cirt.go.ke
Related Topics