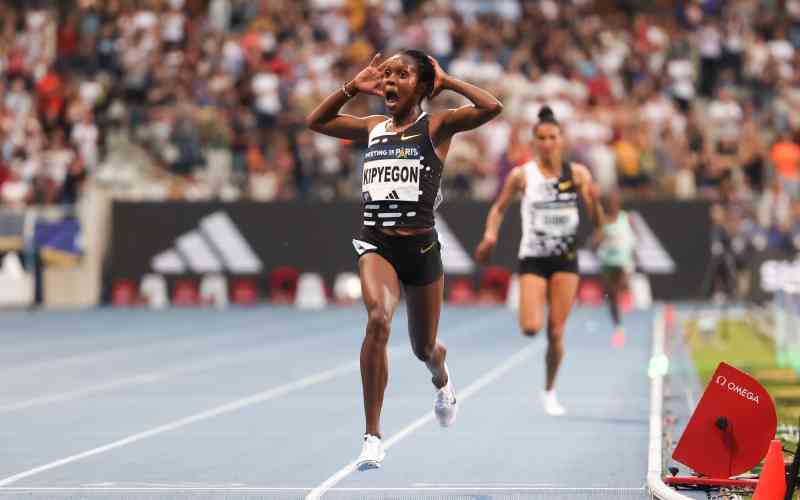 Faith Chepng'etich Kipyegon - the once barefooted girl from Keringet, Nakuru County did it again; this time it was even more sensational.
Make no mistake. The world's most sensational track star is undoubtedly headed for loftier achievements.
On Friday night, the country's golden girl astonishingly set the field ablaze to shatter the 5,000m world record at the Paris Diamond League staged at Stade Charléty stadium, only a week after setting the world's fastest time in 1500m.
The double Olympic and world champion charged to the finish line in a stellar field that had the world record holder over the distance Letesnbet Gidey of Ethiopia and other world-class track athletes such 3,000m record holder Beatrice Chepkoech (who was the pace setter), Lilian Kasait, Margeret Chelimo, Agnes Jebet Ngetich Ethiopian Ejgayehu Taye.
But Kipyegon's journey is that of faith. Since 2010 when she made long strides into the global stage, she was billed as the country's future cross country star.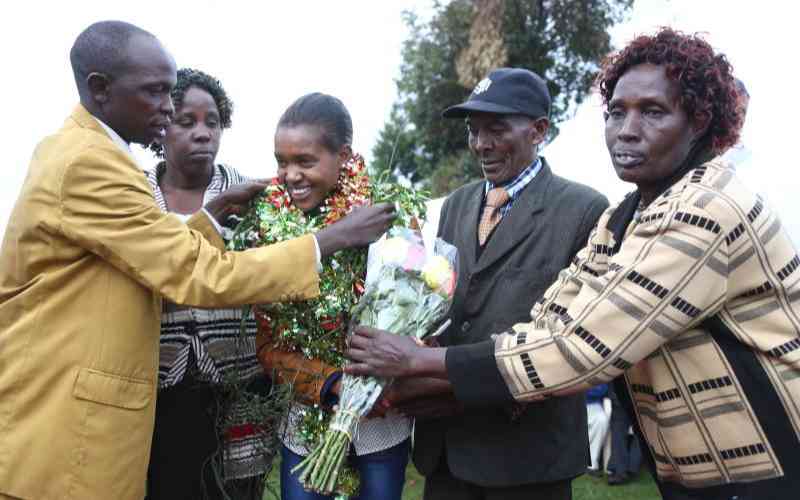 She was born on January 10, 1994 and she started off her career running barefoot and easily winning school competitions before 2010.
Her meteoric rise to stardom also saw her growth in confidence and style.
With two world records in a span of seven days, Kipyegon enters the history books.
Athletics enthusiasts are already declaring her the track's Greatest of All Time (GOAT).
Today, when Kipyegon lines up in a race, the world expects nothing but a huge surprise.
After the stunning 5000m world record in Paris, her training mates in Kaptagat, led by marathon record holder Eliud Kipchoge broke into a dance.
A short video featuring Kipchoge and a number of his training mates dancing to Kitoror (Let us praise God) song emerged yesterday.
During the initial stages of her career, Kipyegon made her entry to the big stage through cross country at the 2010 World Cross Country Championships in Bydgoszcz and she has never looked back.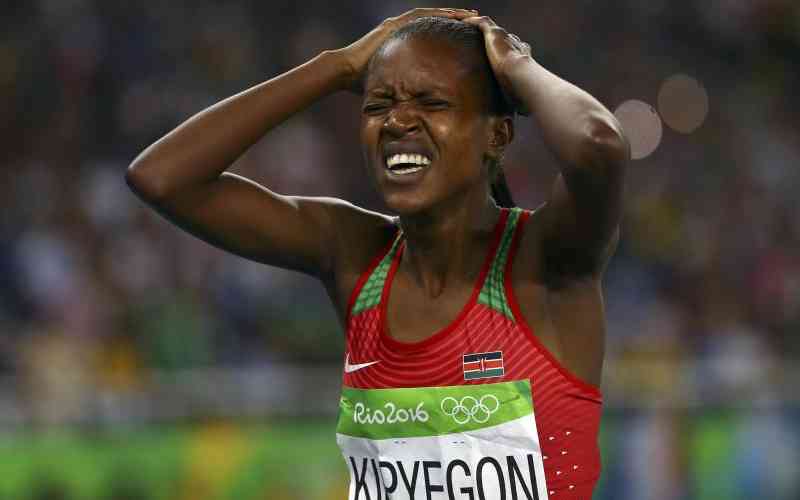 She has written one story after another in both track and cross country since then.
At 29 years, her wall cabinet is one of the most decorated with trophies from her 1500m and cross-country exploits.
From her two Olympic gold medals (2016 and 2020) to the two world titles (2017 and 2022) and a Commonwealth win in 2014 to three Diamond League crowns (2017, 2021 and 2022) among others, Kipyegon's wall cabinet tells of her historic medal haul.
The 5,000m world record is one of the indicators that Kipyegon was going for more titles in her athletics career.
In February this year, she sent a strong warning that her return to long-distance running was imminent.
She lined up at the 2023 edition of the Sirikwa Classic World Cross Country Tour gold meeting at the Lobo Village in Eldoret and easily cruised to victory on a hot, dusty afternoon.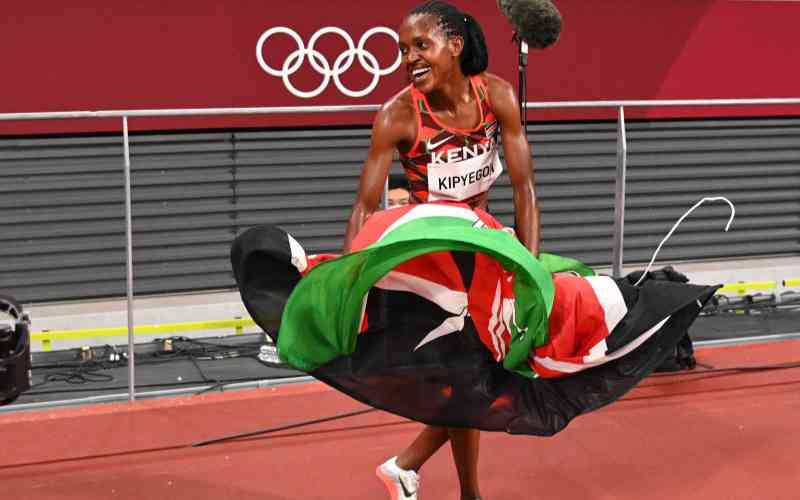 When asked what the win meant for her fast-rising career, she quickly responded that she was headed to longer distances in the future.
"I had some fears at first because I had not run 10km in cross country since 2017 in Kampala. Many of my fans were expecting a good performance and I was lucky to win.
"This (the win) means a lot in my career. It has given me hope that it could be possible to even run a marathon in the future. For upcoming races such as the World Championships, the cross-country tour is a boost to my endurance," Kipyegon said during an interview after the Eldoret show.
Former European 800m champion-turned-pacemaker par excellence Bram Som, who joined forces with Kipyegon in 2015 previously said: "Faith loves and enjoys running cross country; that is a very important aspect. Also cross country is a perfect way to do some quality mileage. It is very important for the last 800m of her 1500m."
As soon as the long-striding Kipyegon won the junior race at the 2011 World Cross Country Championships barefoot in Punta Umbria, many observers started billing her for great performances on the track.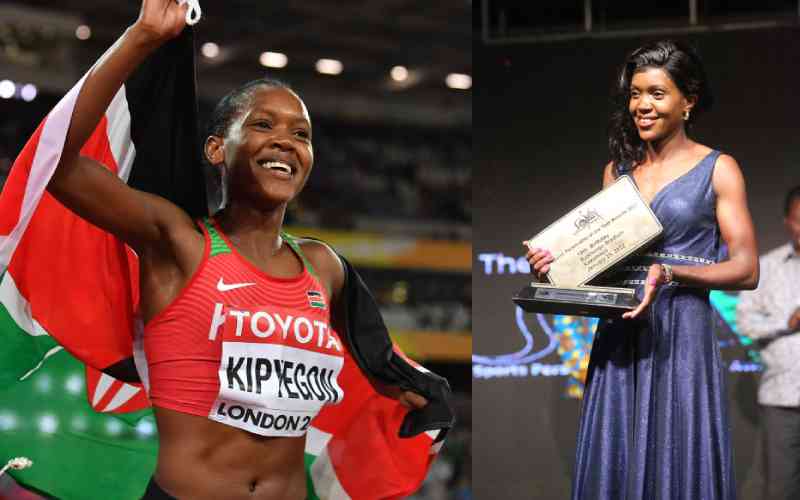 As her profile continued to rise, she got a surprise call-up to represent Kenya at the 2012 London Olympics after capping her then-budding career with back-to-back titles at the World Youth and World Junior events in 2011 and 2012.
After the 2016 Rio Olympics, she stayed in Europe for a number of races before returning where she continued her training under renowned coach Patrick Sang, who also shaped Kipchoge's career.
"There was a homecoming party (after her Rio Olympics win) in camp at Kaptagat with other athletes, my family and friends. It was a big party and we always celebrate by eating, singing, praying and saying thank you to God." Kipyegon said in a previous interview.
As she started her transition to the senior ranks a stylish Kipyegon pulled another surprise after she lowered her best time from 4:03.82 to 3:56.98 to make her breakthrough in 2013.
Her winning spirit remains extraordinary despite her measured speeches.
Before breaking the 1,500m record, she knew she was in top form but could not directly tell the world that she was going to set a new mark.
As she planned to run only her third race in the 12.5 lap event, she only said she wanted to see how it would play out, but when she took to the start line, she went off to a flying start and the result was a world record.
On how she would celebrate the two world records, Kipyegon said in Paris that she would celebrate the rare feat with training mates and coaches in Kaptagat and with friends and family members.
"I will celebrate it with my team at the camp in Kaptagat. I can't wait to celebrate it with family and especially my daughter Alyn," she told the press in the French Capital.
At her training base in Kaptagat, one would expect modern training facilities such as a tartan track, but that is not the case.
The famous training camp has a muddy track but Kipyegon and other elites training there don't complain about it. They say they are trained to be satisfied with whatever is available.
"Yes, we have a track in Kaptagat because we have to do speed works and fartlek. We often go to Kipchoge Keino stadium in Eldoret which has a tartan. Our track has served us well," Kipyegon said. The Kipchoge Keino stadium is about 30 kilometers away from Kaptagat.
Kipchoge, the marathon record holder, inspired Kipyegon to rise to the pinnacle of athletics.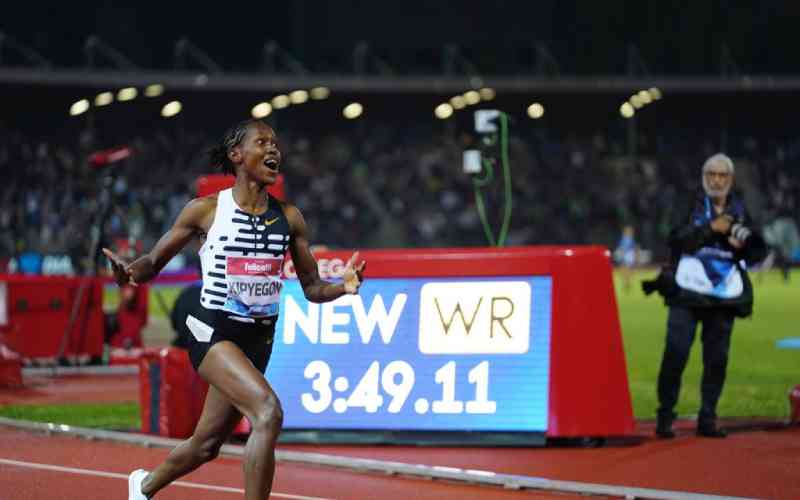 In April this year, Kipyegon told a meeting in Eldoret how Eliud's training regimen has influenced hers.
"At times during our training in Kaptagat, we get tired and do not feel like going for morning runs, especially during the cold and rainy seasons.
"Eliud has been like the big brother. From my window, I see Eliud waking up very early in the morning to train even when the weather conditions are harsh. I don't feel like getting out, but I quickly rush out of bed to join him because he inspires me a lot," Faith said during the meeting attended by nearly 30 athletes.
During local athletics events, Kipyegon often stands on the sidelines to cheer participants.
On many occasions, she is spotted with Alyn, her daughter. Her broad smile always adds splendor to sports events.
To break the 5,000m world record, observers said she only needed to run 23 seconds slower in every 1500m of the 12.5 lap race and reserve enough gas to sprint to the finish.
Related Topics