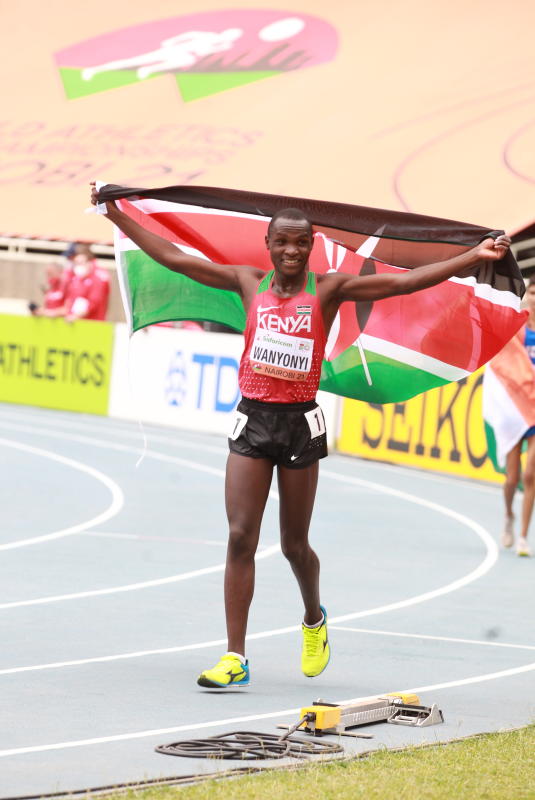 World U20 champion walk race Heristone Wanyonyi finished fourth at the World Athletics Race Walking Team Championship in Muscat on Friday.
Wanyonyi allowed Wang Hongren and Zeng Yu from Chin, the two fastest in the field on paper to beat him.
A terrific walk from Wang Hongren, sporting immaculate style, saw the Chinese cross first, but barely 100 metres earlier he was seemingly battling for third at best.
A dramatic finale saw leader Amit Khatri striding to gold only to be pulled in to the penalty zone and watch his hopes and India's quest for a first individual gold dashed.
However, a glance back revealed the remains of the leading pack were on him, and his race for a podium finish was all but over, even though he did gamely stay with the pack.
Mazium Demir from Turkey then took up the challenge and surged at 5.5km to put 30 metres between him and a loose group of three trying to hang on. That 4:25 kilometre was exactly the same as the opening burst from Moravek, and it told. Shouted on by Turkish coaches, Demir pumped his arms like a man on a mission, but the Chinese pair were moving quicker.
Almost as quickly as he had taken the lead, Demir lost it to Wang and Zeng. But Amit, silver medallist at last year's World U20 Championships behind Wanyonyi, refused to be daunted and slowly latched on to the Chinese duo before first passing Zeng and then Wang over the final kilometre. Wanyonyi, too, was quickly gaining ground and passed Zeng to be in with a chance of bronze.
If they were unaware the cruel fate that awaited them, they quickly discovered that a 60-second penalty was the difference between everything and nothing.
Wang went on to cross the line first in 44:06. Teammate Yu held on to the runner-up spot until the final few seconds when Italy's Giampaolo strode past to take second place in 44:14. Yu clocked the same time in third.
Wanyonyi, despite a one-minute penalty, finished in fourth place in a Kenyan U20 record of 45:18. Not realising he was on the final lap, he went on to complete another circuit after crossing the finish line.
[Jonathan Komen and World Athletics]
Related Topics