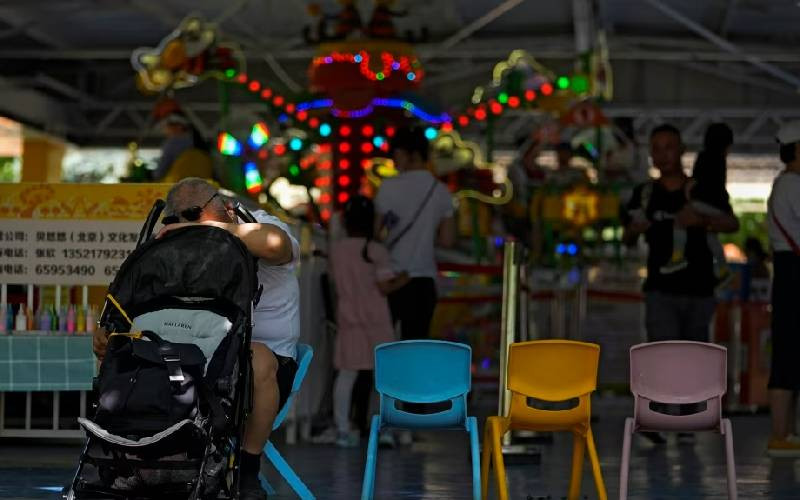 News of a hospital obstetrics department shutdown quickly became the number one searched topic on China's most popular chat platform this week, prompting discussions of what caused this, what comes next, and individual choices on having children — or not.
The topic was viewed more than 200 million times in 24 hours. Shortly thereafter, the topic was removed from microblogging site, Weibo, "in accordance with relevant Chinese laws and policies."
Pengpai News, a leading online publication under the banner of Shanghai United Media Group with hundreds of reporters across the country, reported that multiple hospitals' obstetrics departments in Zhejiang and other provinces have closed. A declining number of women were going to the hospital to give birth, some hospital workers were quoted as saying. The report was posted by Toutiao, a Chinese news and information sharing platform, on Weibo.
Readers speculate about domino effect
"What comes next? Kindergarten shutdown? Elementary school shutdown? Middle school shutdown?" Concerns of a domino effect were among the most immediate response posted on Weibo.
The report published by Pengpai News noted that hospitals in provinces including Jiangsu, Guangxi and Guangdong appeared to use the same line in explaining their obstetrics units' shutdown — to ensure the health and safety of pregnant women and newborns.
However, this line of argument was questioned. "When are they going to come clean and say the obvious?" social media users asked.
"A few years ago, some 17 million births were recorded each year, but the number fell drastically to some 9 million last year, it's only logical that half of the obstetrics departments be shut down. Accordingly, half of the kindergartens will be shut down, followed by many elementary schools, middle schools, colleges and universities closing their doors," read a message posted in group discussions posted under the topic.
Uncertain job prospects, a high cost of living, the government's tight control over childbirth and other disquieting aspects of life — emerged in this week's discussion on why young women and men have chosen not to have children, echoing sentiments expressed by the public in recent years.
China's population registered negative growth last year. The last time the country experienced negative population growth was during the Great Famine in the 1960s that killed millions of people. It followed the disastrous "Great Leap Forward" movement the communists pushed the country through soon after taking power in 1949.
China's shrinking population has been linked to constraints on its future power, ending speculation that China is "10 feet tall," while showing time may not be on China's side in the great power game, Michael E. O'Hanlon of the Brookings Institution and others point out.
A nearly identical message posted by two netizens who didn't seem to know each other was "liked" the most by the nearly 300 million viewers who saw the topic on Weibo. Their message was simple:
"If childbirth is to be done for the state, shouldn't the state be responsible for all costs involved? If it is to be a part of an individual's life, then please respect each individual's choice on this matter."
More than 8,000 people liked their message.
"What are we to do?' asks user
"It's always been said that 'country before family.' Gradually, you'll discover that only if there's man/woman, will there be family, and only if there are families, will there be country. The founding blocks of a human society is each and every individual; [the state] ought to treat people in a kinder manner …" This comment received more than 500 likes in the first few hours of it being posted.
A post that said, "it's certain [bad] foreign forces had a hand in guiding our young women to be too picky in finding partners to marry and have children" received a single "like."
A Weibo user who describes themselves as a "true offspring of poor peasants" shared his/her frustration at various official policies the communist party of China has rolled out: "[the government] complains that the number of newborns are too few, the number of college grads are too many, to be 35 is too old [to be hired], to retire at age 60 is too early … What are we to do?"
Topic disappears from Weibo
A young woman reiterated her vow on Weibo not to have children: "Thirty years from today, I will be rolling my own wheelchair when I move into an empty flat dwelling, fulfilling my vow to live out this life in flat dwelling." Her post received 2,912 likes in less than 24 hours.
While it's unclear what the young woman might have meant by "flat dwelling," "lie flat," or tang-ping, has been used by the younger generation of Chinese to mean choosing to "do nothing" with officially sanctioned social and commercial activities.
Last year, when China still exercised stringent COVID lockdown controls, a young couple told police who threatened to punish their offspring — should they continue to disobey lockdown orders — "there will be no more offsprings." That video clip was seen by many in the country, as Reggie Littlejohn, a longtime advocate for women and girls' rights, noted in a recent essay on China's one-child policy, which began in 1980 but has since been revised to a two-child and now three-child policy.
"[The country's] population advantage and associated profitability are now fading," noted messages left on Weibo this week.The topic "multiple hospitals' obstetrics department are shutting down" was viewed by literally tens of millions of people each hour since the article was posted Wednesday evening by Toutiao. By 6:30 a.m. Thursday, it had 140 million views. Less than three hours later, that number nearly doubled to 260 million views.
Later that day, anyone interested in the topic could no longer find it on Weibo. "In accordance with relevant laws, regulations and policies, this topic's content is not being shown, some results below" was the message that greeted those who went to the link.
By Thursday evening, the topic that ranked Number 1 on Weibo's search list was nowhere to be seen among the top 50 topics.
On Friday, some reposting of the news report by official media was still available, including those posted by Henan provincial government and Xinhua news agency's Guangdong provincial branch.
A number of commentaries that showed up earlier on a Chinese-language Google search were no longer available Friday.
Before the topic was taken down, China's police made their presence known to people paying attention to the topic on Weibo. The Guang-An district's public security bureau in Sichuan province posted a "good morning" message below the topic at 6:44 a.m. local time Thursday.
"If one's heart can't find a resting place," said the message, "he/she is [doomed] to be in exile wherever he/she is."
Related Topics