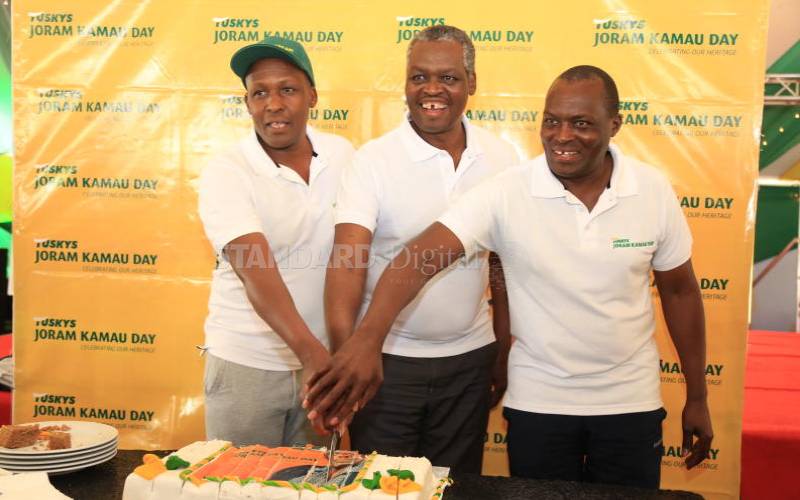 Stephen Mukuha, one of the siblings at the heart of Tuskys Supermarket's operations for the last four decades, has owned up to the mistakes that have brought the retail chain to its knees.
Mukuha's rare public admission comes as the retailer embarked on a "rebirth" on Friday after securing a Sh1.2 billion working capital from suppliers in the form of merchandise.
Mukuha, who owns a 17.5 per cent stake in the business, revealed on Friday how in the last few months he had "broken down" and expressed remorse at how close the siblings had come to losing the grip on the family jewel.
"There's a prayer I prayed many years ago that Tuskys would not be sold to foreigners, that Tuskys will be ours forever. We wanted to prove we can also do retail like others. It is a big thing for us to have Tuskys run by locals... regardless of colour," said an emotional Mukuha.
Mukuha was speaking at the Greenspan Mall in Nairobi's Doonholm where Tuskys started the process of revamping its business after a tough last couple of months that saw some suppliers pull their products off the shelves due to delayed payments.
The sibling shareholders at the event also attended by other stakeholders, including suppliers and bank representatives, agreed to cede a majority stake to a strategic investor in the coming weeks in a bid to save the business.
Tuskys is Kenya's second-largest supermarket chain, having been overtaken by Naivas, and once it secures an investor, it will mark the end of family-owned top-tier retailers in the country.
Naivas and Quickmatt have all since been partly acquired by private equity funds. Mukuha, who sits on the retailer's board, had until the appointment of Dan Githua been the managing director.
The media-shy Mukuha noted that Tuskys had been given a second chance and promised not to mess it up.
"I want to thank all of you because you have a heart of forgiveness... you are great people because you give others a second chance," he said.
"We have failed you, but today I want to promise you one thing, we'll remember this all the days of our lives when we were given a second chance," he added.
Tuskys traces its roots to Nakuru's Rongai area where it was started as a small outfit by Joram Kamau, Mukuha's father.
Mukuha, who started working at the supermarket straight from high school, said he owned up to the failure of the business "100 per cent".
"I own everything that has happened in this organisation... I own that 100 per cent; the success of this organisation is for us all, but the failure is mine, we are going to make it good because we are committed as a family," he said.
Mukuha said relationships with landlords, banks, employees and other stakeholders had turned sour when trouble started, but was glad they had been able to win them back.
"We want to pay suppliers on time, we want to go back to where we used to call our customers to come and pick their cheques and they'd refuse," said Mukuha.
The retailer, which has over has over 50 branches, has been in a restructuring process in the last five years, seeking to separate ownership and management.
It had also set sight on listing at the Nairobi Securities Exchange. This was, however, disrupted by fierce sibling wrangles that saw Githua ousted at some point.
Mukuha said the wrangles had since been settled, even though it was not an easy reconciliation.
In 2016, Mukuha was taken to court by his brother Yusuf Mugweru for allegedly slapping him.
"It is in the public domain that the relationship between the shareholders is not good... we've been working very hard to make sure that every one of us speaks in on voice. We all have families, and we all know the challenges facing families," said Mukuha.
"We are here because family, shareholders and suppliers have given us the mandate to bring Tuskys back."
Mukuha and another brother, George Gachwe, had also been arraigned in court to answer charges of stealing Sh1.6 million from the company.
Media reports claim Mugweru is opposed to the plan to cede the majority stake to a strategic investor, insisting that he wasn't consulted. He also wants the Sh1.6 million accounted for.
Experts blame internal fraud, sibling rivalry, aggressive debt-fuelled expansion and fierce competition as some of the reasons for Tuskys' present troubles.
Minutes of a July meeting obtained from Orakam Holdings Ltd - the investment vehicle for Tuskys - shows that the seven siblings were told that the retailer needs Sh2 billion to survive as it searches for a strategic investor.
This month, Tuskys revealed that it owed suppliers Sh6.2 billion and had signed an agreement to have the debts rescheduled for periods between eight and 24 months.
To woo back the jittery suppliers and fill up empty shelves, Tuskys opened a third-party escrow bank account linked to the supermarkets' tills that will solely handle suppliers' debt.
This is for suppliers who sign up to a portal that shows goods traded and how much each supplier earns based on their goods sold.
Tuskys Chairman Bernard Kahianyu said they planned to sign up 300 suppliers by the end of August, which would be 90 per cent of their trading partners.
Githua, who has put on a brave face in the face of the retailer's troubles, said the crisis was "an opportunity to re-engineer the business".
In the new "rebirth," Tuskys said it had received assorted stocks, customer discount vouchers and giveaway merchandise worth Sh200 million.
This will see select branches optimally stocked in a customer reward programme. Due to the retailer's weak financial position, customers have been unable to redeem their loyalty points.
The Retail Trade Association of Kenya (Retrak) Chief Executive Wambui Mbarire called for a change in how the retail business in the country is operated, adding Tuskys is now reinventing itself.
"This is an opportunity to reinvent. We've been under this pressure two times in the recent past with Uchumi and then Nakumatt. We are alive to the fact that we can't continue doing business the same way," she said.
She further noted that there is a problem with the retail supply chain, and retailers couldn't, therefore, be solely blamed.
"How are we then accused of not paying people and killing suppliers, yet those suppliers have remained in business even with the retailers closing shop. There's a dynamic that's missing," added Mbarire.
She said despite a few struggling retailers, the industry had grown in leaps in the last five years.
Due to low margins, retailers have to sell volumes to return a profit. This explains the aggressive expansion that ends up sinking them.
To protect loss of money from failed supermarkets, State agencies like the Competition Authority of Kenya (CAK) have beefed up their watchdog roles.
In 2018 CAK established the Buyer Power Department to address the choke-hold that businesses have on suppliers. This followed the collapse of giant retailers like Nakumatt with Sh38 billion in suppliers' debt.