Farmers meet buyers at the press of a button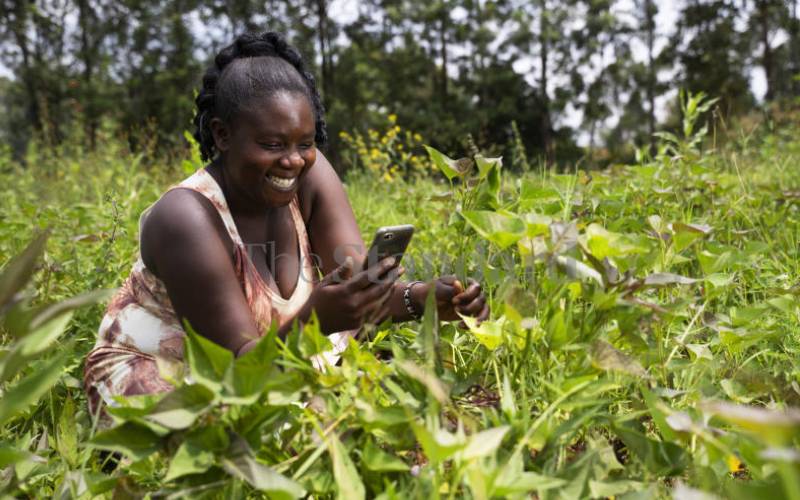 Four years ago, Enock Wasilwa and his wife, Margaret, lost their jobs at Mumias Sugar Company. That was a blow given that they were earning six-figure salaries and living rent-free in a company house.
After weighing their options, they decided to pack up and go back to their rural home in the sleepy Naitiri village in Bungoma County.
"I sat down with my wife and we discussed at length what we can do to earn a living since our main source of income had been cut. We agreed to use our savings to venture into sugarcane and poultry farming back in the village. It was a painful but necessary decision," says Mr Wasilwa.
After settling in the village, they planted sugarcane on five acres that had remained unused for years. They also bought 500-day-old chicks both layers and for meat. After three months, the birds were ready for sale and they started searching for buyers in the village and market.
Plenty to sell, no buyer insight
"We got a few buyers and decided to continue keeping the remaining ones. At some point, it was becoming difficult to feed the mature birds. We had 900 layers, 1,800 birds for meat, and about 3,700 eggs in the house but there was no buyer available. We sold a lot of produce at throw-away prices and gave some away to villagers. We suffered great losses," recalls Wasilwa.
More trouble awaited them.
One day, they went to an agrovet to buy feeds and were shocked to find that the prices had shot up. Then a ray of rainbow shone.
Seeing their frustrations, the owner of the agrovet advised them to join Wefarm, a social network for small scale farmers to get and share knowledge.
Wefarm connects small-scale farmers around the world to the people and resources they need to be more successful, he explained to them. Farmers do not need a smartphone or internet and can still get network, stay connected to vets and agronomists and connect to the market. They tried it and it was a game-changer.
"This platform is like a global world. We took photos of our chicken and eggs, then posted them on the Wefarm platform and a few hours later, clients started making inquiries and orders," says Wasilwa.
"We sold all the birds at Sh600 each and the fertilised Kienyeji improved eggs at Sh20. From the sale, we made a decent profit," says Wasilwa.
The couple used the money to expand their poultry farm, ventured into dairy farming and now own four cows that produce 80 litres of milk per day. They have also ventured into horticultural farming and sell all their produce through Wefarm platform.
Other than the market access, the farmers also enjoy free expert services.
"When our cows got sick, we were frustrated and posted on the website. We took photos and short videos and posted. Within a minute, a veterinary expert came on board and advised us what to do. He referred us to a local vet who came and administered the drugs he recommended," says Margaret.
Jonathan Chepkwony, a dairy farmer from Kericho County says the platform has helped him to sell his milk and heifers at improved prices.
"I am an animal breeder and in mid last year, I had 40 heifers on my farm and no buyers. When I was introduced to the Wefarm platform, I was able to sell," says Chepkwony.
How the platform works
Martha Haile Vice President Wefarm Africa, says Wefarm is a platform where independent farms thrive by connecting with each other.
"The community can connect online or via SMS, and access a trusted marketplace of physical retailers. Farmers can access Wefarm anytime, free, even without access to the internet," explains Haile.
Haile explains that Wefarm has connected its members to local agrovets within the country and the farmers get farm inputs like fertiliser, feeds, and seeds at subsidised prices.
She adds: "We provide space where small-scale farmers can share and get expert knowledge for free, share experiences and challenge one another. Through this, we identify gaps along the value chains and fill them."
Haile says in Kenya, they are connected to more than a million farmers with a majority of them from the agricultural counties, Nairobi, Kiambu, and Nyeri counties. Benard Kutwa, a livestock officer from Bungoma County lauds the initiative saying in the 21st Century, the use of technology was the way to go for any farmer keen on maximising profits.
Want to get latest farming tips and videos?
Join Us