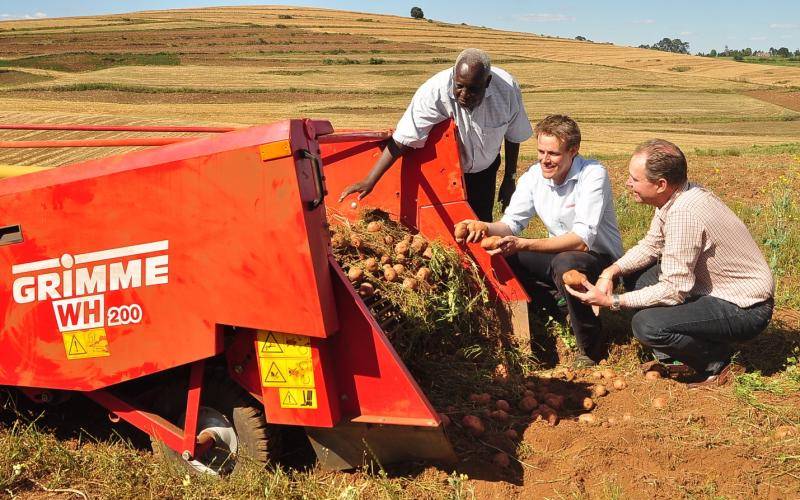 Lucrative as it is, potato industry is yet to achieve its full potential. At present, the average potato yield in Kenya is only three to six tonnes per acre.
Contributing factors for this dismal performance include mono cropping, poor land preparation methods, planting the seed in a furrow rather than in a bed, sub-standard potato seeds among others. But there is hope.
The yield in Kenya can be increased to between to 20 to 30 tonnes per acre by addressing the weaknesses starting with the selection of the seed potato.
Currently as certified seed is scarce, potato farmers are forced to use poor quality seed that continues to limit yield.
Many farmers sell the largest potatoes for cash, eat the medium-sized ones at home and still use the smallest for future planting material. Inevitably, this practice contributes to low returns.
Mechanisation also offers numerous possibilities to potato farmers.
Explaining the benefits of mechanisation, Fergus Robley, the General Manager of FMD East Africa said: "Instead of following the present practice of land preparation, it is important that potatoes are planted in rotation with other crops, and that potatoes are planted in beds with the correct tilth to allow for good and even multiplication of the tubers and easy lifting at the point of harvest."
Working with good soils also goes a long way in guaranteeing high yields and quality produce.
"Potatoes grow well in loose loamy soils and some areas of sandy loam soils where rainfall is higher. The soil needs to be ploughed and free of weeds before using the seed bed former which is also known as the rotary ridger and prepare the soil to give a bed with consistent tilth with good aeration. As a result, the tubers are encouraged to multiply sideways and on a level."
With regard to the greatest loss suffered by the majority of potato growers, Robley said: "Up to 50 per cent of the crop can suffer harvest losses caused by cuts from manual harvesting. This can be reduced to nearly zero by using a potato harvester."
To be fully successful with mechanised potato farming, it is important that quality and proven equipment is used with the necessary training for farmers on the correct handling and maintenance of equipment, so the return on investment is achieved.
To avoid post-harvest losses, potatoes can be kept in a cool dry place for up to two weeks. Subsequently, they need to be put in cold storage which can extend the shelf life for a further two months.