No fishy business: Farmers embrace E-voucher system for fish feed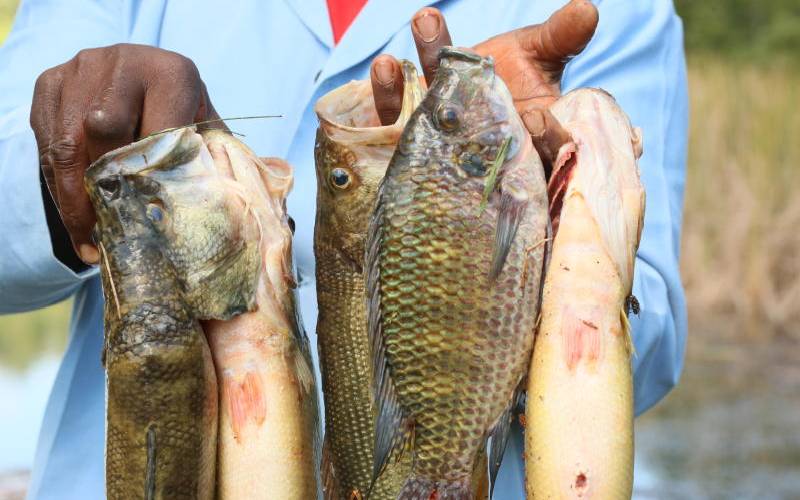 Fish farmers in select counties will now have access to government subsidised feed with the piloting of a project to introduce an Electronic voucher system.
Livestock and Fisheries CAS Linah Jebii Kilimo said the government is introducing incentives in the fisheries sector to increase production.
Speaking during a tour of the Kiganjo National Trout Hatchery in Nyeri County, Kilimo said the introduction of the E-voucher would ensure farmers would access 70 per cent of the feed they require.
"For a long time, fish farmers have been struggling to feed their fish because they are unable to purchase them. This incentive is a clear demonstration of the government's commitment to support the sector," Kilimo noted.
She noted the department in collaboration with the International Fund for Agriculture Development (IFAD) has developed a programme to help farmers increase income, food security and nutritional status of poor rural households.
"We are committed to transforming the lives of rural communities through fish farming," she said.
The CAS noted the country's potential in fish farming, if exploited, would transform the lives of Kenyans, especially those in rural areas.
"Aquaculture helps create jobs, thus leading to industrialisation. This is the reason the government has invested in the construction of dams in arid and semi arid areas besides stocking them with fingerlings," Kilimo said.
She added that the government is collaborating with counties to set up a fish demonstration farm in every county so that local communities can benefit from such centres.
The CAS went on to say that capacity building for aquaculture value-chain would compete the link between producers and markets for farmed fish and create structured markets.
"We are paying special attention to youth and women in these new initiatives. Youth unemployment is high in rural areas and we hope that the new programme will slow outward migration," said Kilimo.
Fisheries PS Micheni Ntiba said there is a need among Kenyans to promote fish consumption through 'Eat More Fish' campaigns and promotion of good dietary diversity.
He said the government will continue to support farmers setting up aquaculture infrastructure across the country.
"The government is keen to support climate-smart and resilient aquaculture production technologies such as Aquaponics and Recirculation Aquaculture Systems (RAS)."
Prof Ntiba singled out the establishment of the aquaponics unit in learning institutions such as South Tetu Girls High School and Naro Moru Girls High School in Nyeri county to entrench fish farming in youth.
He urged farmers to utilise the materials provided for the intended purposes and called for unity in order to achieve the objective of Aquaculture Business Development Programme.
Prof Ntiba said 50 per cent of fish now in the world market was from aquaculture.
"People all over the world are now embracing aquaculture fish where developed countries are now returning to rural areas to engage in this king of farming," said Prof Ntiba.
Want to get latest farming tips and videos?
Join Us