Farmers embrace drones to spray crops with pesticides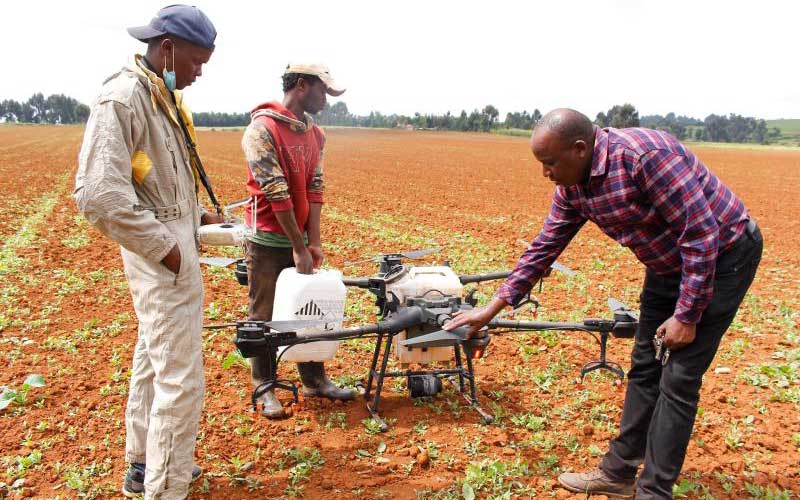 John Gituma, a large-scale wheat, canola and barley farmer in Kisima, Meru, has embraced use of drones to spray crops with pesticides to combat diseases.
Gituma, who owns a 300-acre farm, says he decided to deploy drones for aerial spraying of crops as this cuts costs, time, labour and other production expenses.
"After doing research on the internet about aerial spraying, I realised it is the new solution to increasing my canola, wheat and barley yields. I have been using a tractor to spray my farms, and a lot of crops were trampled by the huge wheels. But with drones, trampling of crops is zero," Gituma said.
When using tractors, a five-litre can costs Sh70,000 which means the spray must be applied carefully. A 16-litre can will spray six and a quarter acres in 25 minutes.
Although it is difficult to use the drone when it's raining, it is handy as it can spray at night. Gituma says with the technology there is no wastage of chemicals and water, and work is very fast.
"To spray a big farm farmers have to employ many workers, but using drones is not only cheaper but faster. They do not destroy crops as tractors and workers do while spraying," he says, as a drone hovers over his farm.
Gituma, who is one of the large-scale farmers in Buuri who plant wheat, barley, canola, flowers and other crops, says farmers have adopted the new technology to boost production.
Clement Mwiti, a large-scale Irish potato farmer, says he uses less pesticides with drones.
Mwiti notes that a drone is able to spray the entire land after an area has been mapped.
Take a quick survey and help us improve our website
Take a survey
"As a farmer I know it is difficult to spray fertilisers and pesticides on bare land, or land with plants. There is always going to be an area which manual spraying does not cover. But with a drone, not an inch is left," he said.
Nicholas Sang, an agronomist who works for Laino Company, says they have been using drones to combat the locusts menace in different parts of the country and want to assist farmers to adopt the technology. The drones are owned by the company, which operates in North Rift.
Sang says it would cost a farmer an average of Sh800 to have one acre sprayed with a drone. The drone, he says, carries a 16-litre container capable of covering a six-acre parcel of land.
Refilled with chemicals
The machine can cover 10 hectares within one hour, he adds.
"Farmers have challenges with pests and diseases. A drone is more efficient and effective, and much cheaper to use for big and smaller scale farmers," Sang notes.
Alfred Mutai, a drone expert, says it is automated, hence will come back to be refilled with chemicals, or if the battery runs low.
"This is the best solution for farmers to eradicate diseases and pests, especially because it is affordable," he says.