Yes, you can treat milk fever in your livestock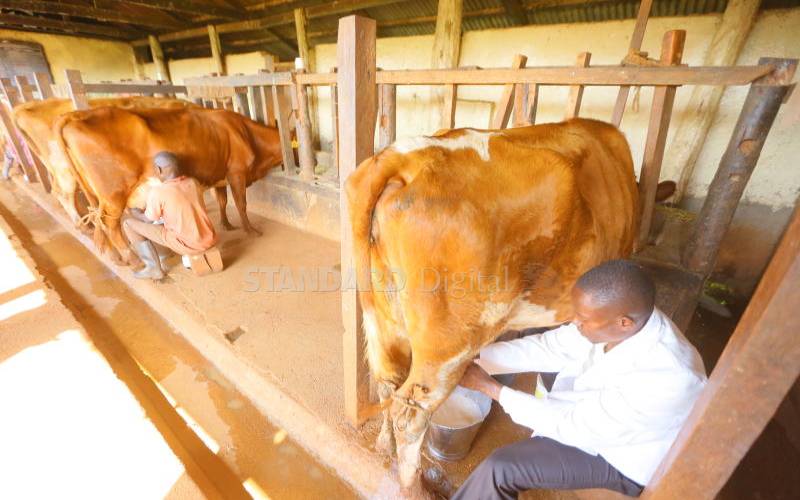 Dear Dr Othieno
I am a worried dairy farmer. Of my six dairy animals, four have suffered from milk fever. What can I do to prevent this disease from recurring on my farm? [David Kamau, Ndenderu, Kiambu County]
Dear Kamau, sorry for the loss of your animals to milk fever. I suppose this was a diagnosis from your veterinary doctor because milk fever shares its clinical signs with many other diseases. Fortunately, milk fever is a treatable and preventable disease.
What is milk fever?
Milk fever is described as temporary low calcium in an animal's blood (medically called hypocalcemia). It is a common dairy disease and affects expectant animals after calving down when demand for calcium is high due to colostrum production. Calcium is normally mobilised from feeds or cow's bones. It is common in dry cows fed grass, rather than conserved fodder. Jersey and Guernsey breeds have a higher incidence of milk fever. Milk fever occurs frequently in second or third calvers as the ability to mobilise calcium diminishes with age. At around calving time, high levels of oestrogen hormone inhibits calcium mobilisation, because birth stress reduces a cow's appetite. Dietary deficiencies in magnesium, diarrhoea also reduces absorption of calcium from the gut.
Disease management
Cows that suffer from calcium deficiency are also more susceptible to other reproductive diseases and conditions like mastitis, retained afterbirth, uterine prolapse and dystocia. This makes prevention through prophylaxis (calcium supplementation), proper feeding and early diagnosis the only effective mitigation against this disease.
The disease occurs in stages as follows: - In the first stage, the animal will have muscle tremors, restlessness, stiff gait, and slightly elevated temperature. Very often this stage goes unnoticed because of its short duration (less than one hour).
In stage two, the feed intake reduces affecting the animals' ability to move. The cows will lie on the stomach with an extended neck or put the head on the flank. Early symptoms of paralysis may also appear, the cattle develop cold extremities and dilated pupils. In the last phase of milk fever, the cow lies on its side, loses consciousness, and falls into a coma. Death may occur if the animal is not treated.
Milk fever can also be classified into typical, refractory or atypical and tremors or sub-acute milk fever. The typical milk fever is an acute form. It affects cows within a few days after parturition, but it sometimes occurs in late lactation or the dry period. This form of the disease responds well to effective and timely treatment.
Take a quick survey and help us improve our website
Take a survey
Refractory or atypical milk fever is also an acute form of the disease which is characterised by little or no response to treatment. The cow may remain alert, eat, and milk but cannot regain her feet predisposing the animal to other secondary diseases. Tremors or sub-acute cows with tremors or sub-acute form of milk fever are easily excited with muscle twitching and tremors occurring. Usually, several cows are involved. Many of these animals may be in late lactation, dry, or recently fresh. Often, there is a magnesium deficiency involved in this form of disease.
Treatment and prevention of milk fever
The treatment of choice for milk fever is slow, intravenous infusion of 8-12g of calcium as soon as possible. This should be done by a vet. The cow will get back to its feet a few minutes after infusion.
Good outcome from treatment is improved through tender love and care of the animal. Sit the cow in a sternal recumbency position and turn her often. She should be turned to lie on the opposite side every two hours. Shelter the cow from harsh weather.
Prevention is only easy with good knowledge of the disease. The critical time for milk fever is around calving. During this time, an animal at risk must be supplied with calcium.
To stimulate the active regulatory mechanisms of calcium metabolism, the calcium content in the feed should be reduced three to four weeks before calving. Vitamin D 3 plays a role in calcium metabolism by ensuring that the absorption from the intestines and bones is increased to meet the high demand. To protect the cow from milk fever around calving, administer oral calcium salts available in liquid, boluses, pastes and gels. When administering liquids, make sure the animal does not choke so that the liquids do not get into the lungs.
[The writer is the Vet of the Year Award winner and works in the Division of Communication and Vet Advisory Services within the Directorate of Veterinary Services; [email protected]]