How ex-taxi man milks profits from dairy goat business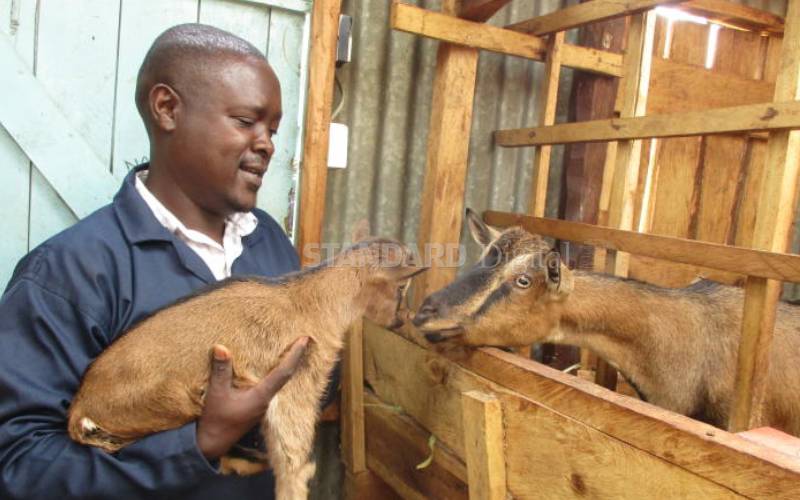 There is urban farming – a vegetable here and another there in a small portion of land or perhaps a balcony.
And then there is whatever it is Kenneth Mbugua, 48, is doing on his barely 30 by 30 feet midget of land in Muchatha, Kiambu County. Mbugua decided to farm goats on account of passion and ease.
"In high school I loved Agriculture. There are two animals I love: goats and dogs," he says.
He has two German shepherds that bark like thunder at visitors. But that is as far as he goes with the dogs. After all you can't farm dogs, can you?
Back to goats. Mbugua's space is tiny. Saying 30 by 30 may not capture it fully. Let's put it this way: I walked from end to end in 12 steps.
Tight and neat homestead
In it, he has erected the family house. Out the veranda there is a tight square patch for his toddler son to play on.
The rest of it he has set up two goat houses, a store and a doghouse storied above some other structure. It is tight and neat.
"How many goats do you have in this space?" The Smart Harvest and Technology team asks.
"About 40," he says. Mbugua, I figured out, does not like counting his animals.
Take a quick survey and help us improve our website
Take a survey
So, I did a rough count and came up with 39. It is possible I missed a few creviced in one of the intricately constructed goathouses.
Even so, 39 goats, in that small space, is beyond impressive.
Mbugua studied accounting in college. It was his father's dream that he chooses accounting. He worked in employment for a year then quit. In 2005, Mbugua made the strange decision to start rearing goats.
His plot is at a corner of a piece of land that belonged to his father in Muchatha – just about 16km from Nairobi city centre.
"I humbly asked the old man to allow me to use this section of land. He let me have it. And that was the beginning of this project."
Mbugua started with three goats. He chose dairy breeds a German Alpine, Saanen, and the Toggenberg.
He chose dairy because as a father of young and growing children he wanted to provide them with nutritious and healthy milk.
"I did not trust the quality of the milk that we were buying. With the goats I no longer worried about that," he says.
In 2008 Mbugua went into taxi business and farmed the goats passively.
But in 2013, with the advent of digital taxi hailing apps, taxi income plummeted and no longer felt like a sustainable income earner.
Mbugua dived into goat business full throttle. Soon, neighbours started knocking at his door to buy goat milk. He needed to expand and have more goats.
But three goats could only produce so much milk. He needed to scale up. But how? One would wonder; gauging from the size of land.
Houses are small and neat
The secret to scaling up lay in architectural design of the goat house.
Mbugua had never gone to farming school. He had never sat in a class where animal husbandry was taught.
But in the age of Information Technology no man is limited. He jumped into online research.
He learnt what a dairy goat needs and designed the house himself based on his findings.
"I got a woodwork guy to actualise my design. I supervised the work myself and instructed him according to my design," he says.
The result was a storied structure with a raised floor and another floor on top. The structure is solid.
On every level, he partitioned the goat house into units that measure about a metre squared.
"Each unit can comfortably accommodate one goat. The animal can move about. And at rest the space is enough for two," he says.
The structure is stilted. Furthermore, the floors are panelled with interspaced timber.
"The spaces on the floor are wide enough to allow droppings through and small enough to avoid the animal's limbs sinking past," Mbugua says.
The design allows the goats to stay in a clean environment – free from droppings – at all times and therefore relatively free from diseases and pests.
Cheap feed strategy
Having solved the housing conundrum the next problem was food: where to get feed for the animals.
On this, Mbugua could have as well solved the problem beforehand. When he was a taxi driver, on his way home from work, he would pass by Ruaka vegetable market – 2km from his house in Muchatha – and pick waste maize husks from vendors.
"I realised that they were readily available. I could get maize husks every day all year round. And I could get them cheaply. Sometimes even for free.
"Goats do not need special food like dairy cows. The maize husks are their main food. But I supplement them with dairy meal.
"The secret to profitable livestock farming is access to readily available food for the animals. With the vegetable market 2km away I can say I have enough supply of feed for the goats," he says.
'Google is my friend'
Even though he was not trained to be a goat farmer, Mbugua took it upon himself to learn the ropes.
He says Google was his friend. "I researched and studied on my smartphone. Every time I needed to find out something about how to handle the goats, I googled. There is so much good information online for farmers. I would then follow up on my research by engaging a vet," he says.
His research led him to have goat farming information at his fingertips. He has developed an authoritative voice since.
Profit-making business
Farming is incomplete if cost-benefit analysis has not been done. That is the bottom-line.
To make sure that the venture is profitable, Mbugua diversified income sources by ensuring that nothing goes to waste at his farm.
"There is nothing in this farm that has no value," he says.
Primarily, Mbugua makes money by selling milk. At any given moment, he has between four and six lactating goats.
"Each goat produces at least two litres of milk per day. I sell a litre at Sh150," he says.
His milk is on high demand. It is bought as soon as it is milked. Therefore, every day, Mbugua pockets about Sh1,500 per day from selling milk alone.
Mbugua also sells goat droppings in bags as manure to local vegetable farmers at Sh300. At the point of doing this interview at least three of the goats were expectant. Mbugua sells three month old kids at Sh7, 000. Clients love his exotic dairy breeds and always place orders ahead of time.
He also charges students and prospective goat farmers who visit to learn more about goat farming.
Sometimes, other goat farmers come to him to serve a goat on heat because he has pure exotic dairy breeds. He charges Sh500 per service.
A few times, he has sold fully-grown goats ready for milking. While the goats are for milk, he says, an old goat whose milk production has gone down can be fattened for slaughter, which is yet another source of income.
Room for growth
Mbugua has now trained his focus on improving the venture. He hopes to diversify income sources further by establishing a value addition business.
"I want to start making yoghurt and cheese," he says.
He also hopes to expand further and have even more goats. When that happens, he says he would establish goat farming courses and exhibition events.
In spite of his big achievements thus far on meagre resources, he remains a very ambitious urban goat farmer.