We process beans that get ready in 15 minutes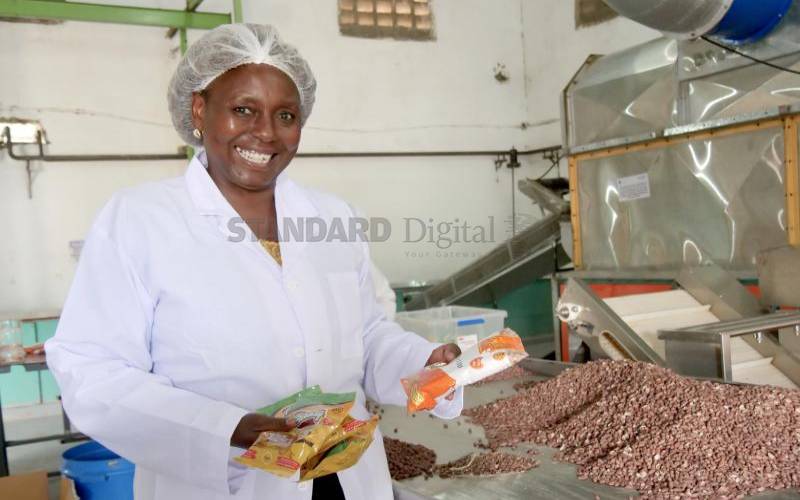 Ms Rose Mutuku is busy monitoring drying beans on a drier inside her mini factory when The Smart Harvest and Technology team visits.
Her company, Smart Logistics Solutions Ltd along Makutano-Kitui Road in Machakos County, processes raw beans into innovative and highly nutritious foods value-added products.
Her decision to venture into value addition of beans was prompted by a frustrating episode as a sorghum farmer.
"Before I started doing this, I was an aggregator and trader of sorghum. I used to buy sorghum from smallholder farmers and sell to major processors," she says.
Though she had good days, it was not a rosy affair.
In 2015, Kenya Breweries Ltd, now EABL which was her major sorghum buyer was hit by excise duty, forcing it to momentarily stop buying from her and other farmers. Stuck with tonnes of sorghum from farmers, Mutuku had to think outside the box. That is when value addition came to her mind.
"I suffered huge losses and the tonnes of sorghum went bad because I could not get a mass buyer. I realised without value addition, there is little to make as a farmer. I had a lot of soul searching and reflection and that is how I ventured into food processing," she shares her journey.
She settled on beans value chain after noticing gaps in the market.
"From my research, I realised majority of farmers grow beans and a significantly high number of consumers eat it because it is affordable and nutritious. But despite the demand, they often lack a market due to a number of factors. I spotted a unique value addition opportunity. Apart from canned beans, there is no other value addition in beans. For instance, how long do beans take to cook?" Mutuku poses.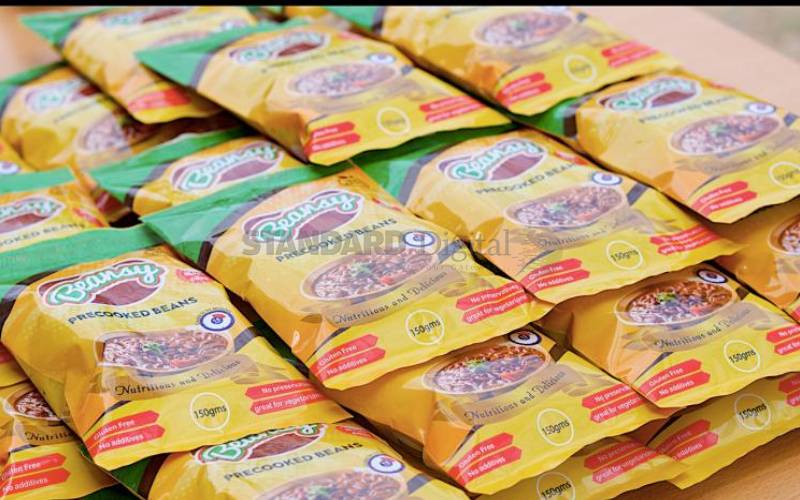 Generally, beans take long hours to cook and this entails time and energy wasting.
The cooking duration was an area of concern and Mutuku set out to work and reduce it drastically.
Mutuku points out that the lengthy cooking also consumes a lot of wood fuel.
"As an African woman, l know you cannot cook beans without wood fuel; either firewood or charcoal. It also takes a lot of water. To prepare 1kg of beans, you require five to six litres of water."
After extensive research, in 2016, Mutuku started processing pre-cooked beans for sale.
"We started with common beans grown by majority of farmers," she recalls.
She was able to reduce cooking time from more than three hours to just 15 minutes.
To actualise her plan, she used makeshift equipment. She would boil and cook beans just the normal way, on three stones, after which she put under shade to dry.
Market research
Through this simple process, Mutuku could process 10-20kg of beans a day. After buying a small processing machine she started making 200kg a week.
Along the way, some beans would go bad by bursting when exposed to wind and sun.
"There was also no uniformity the way we dried the beans amid fluctuating weather. At some point, it was cold, or windy, too sunny or other times no sun at all, especially during rainy days," she says.
She used to pack pre-cooked beans in small clear bags and seal using candles. That did not look attractive. She however sold to women who boiled beans for reselling to other people or makeshift kiosks outside factories and companies.
Turning point
As demand grew, and with the anticipated increase in volumes, Mutuku started looking for an innovation to dry beans in a better and hygienic way and with uniformity.
Around that time, through her business networks, she heard people talk about Global Alliance for Improved Nutrition (GAIN) that focused on nutrition.
The organisation then called for proposals for support and Mutuku applied.
"Though my first attempt failed, the second went through, and qualified for their support," she recalls.
Once on board, Mutuku says, GAIN wanted to understand her product concept and development.
The organisation gave her technical assistance including linking her to a food scientist and expert machine handlers.
After analysing her production processes, the organisation sponsored a consumer study on her product. This exposed her to a larger group of beans consumers.
"I got in touch with many customers who liked our precooked beans. They could not believe that the beans we were selling could be ready in 10-15 minutes," she says.
As part of the package, the organisation gave her financial support to buy bigger and more efficient machine for processing the beans.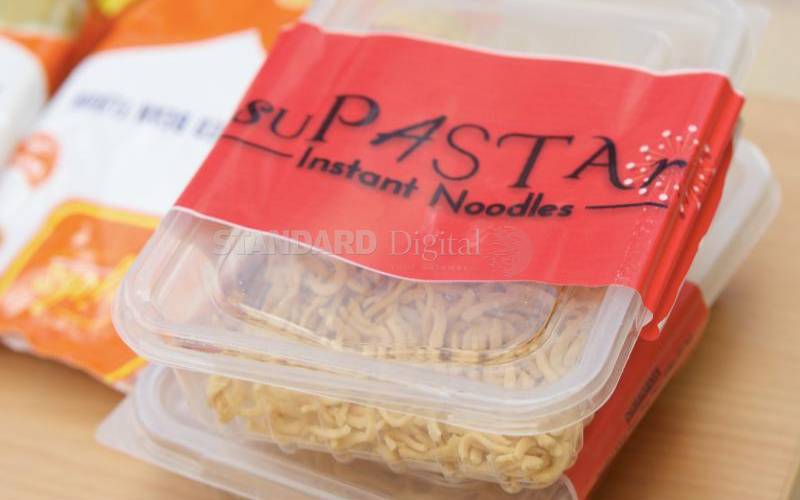 Heavy investment
"From the trainings, I learnt how to operate a sophisticated machine that processes larger volumes of beans," she says.
With the machine, precooked beans are taken through hydrothermal processing by use of hot steam to soften them and then use another equipment with dry steam to remove moisture, after which they return to their original form.
After going through that manipulation process, beans only need to soak in water for 15 minutes to be ready to eat, with low chemicals but highly nutritious.
With new equipment installed in the company, coupled with activation and promotions, demand for the precooked beans grew.
"Ours is to help consumers get food in a quicker, healthier and a safe and very hygienic way," she says.
Mutuku is lucky because her precooked beans have a ready market among the low-income earners.
"My target was low-income consumers because they eat a lot of beans, which is a cheap source of protein."
To boost her business, Mutuku has also partnered with Kenya Agricultural and Livestock Research Organisation (Kalro), which has developed a more nutritious bean-like Nyota that she uses in her food processing.
Today, her company has a capacity to run 3,000kg in a day of precooked beans.
"We have also improved a lot in terms of hygiene, product knowledge, training the staff also to understand nutrition," she shares.
Challenges
Though now the business has broken even, she recalls how at the onset people treated her precooked beans business with suspicion.
"People were initially a bit shy to pick the product, with majority wondering how beans can cook in 10-15 minutes. They did not believe it was genuine beans."
Another challenge was getting precooked beans certified by the Kenya Bureau of Standards (Kebs).
"Kebs did not have a standard for it since they didn't know where to place the product. Later, they gave us a thumbs up and now we are fully certified."
Apart from precooked beans, Mutuku processes other value-added products like instant nutritious noodles-the suPastar, a product of bean flour mixed with wheat flour.
They also process precooked pulses in powder form, which is mixed with water to make soup or stew.
They also make a bean snack, called Keroma Snack for those who do not fancy noodles.
"Here, we mix precooked beans, precooked millet, add mango powder and honey to sweeten, making it a nutritious chocolate bar. This is for men who do not like noodles," she says.
To give back to the community, the company sources beans, sorghum and other African grain crops from small holder farmers in Eastern and Central regions.