Struggling with animal's weight gain? This works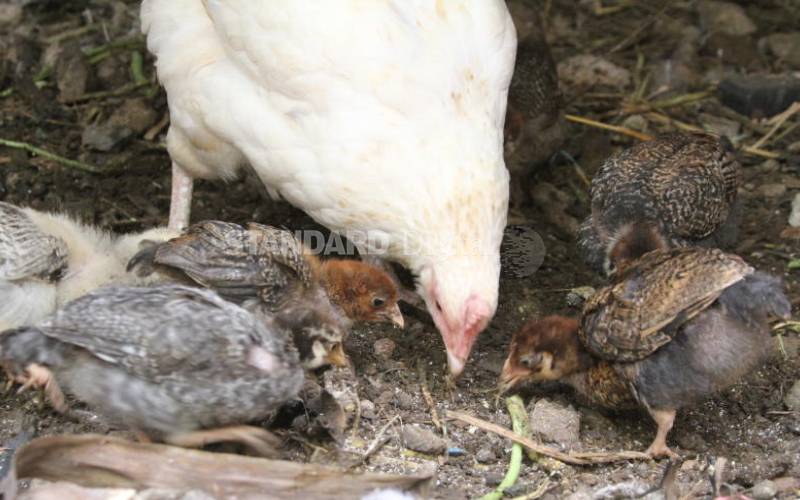 Picture this: You have a small zero-grazing unit or a small poultry unit. You are offering the best quality commercial feed that you can find and also supplementing with all you can lay your hands on but there is not even a slight improvement in production. Production of an animal is dependent on the genetic makeup of the animals yes but the environment which includes feed also plays a crucial factor in production. Try challenge-feeding and decide what is best for your livestock.
Challenge-feeding in dairy cattle is also called lead-feeding because the cow is led to produce more heavily. It is a system of feeding dairy animals by providing more feed than is justified by the level of the individual cow's milk production. This is meant to increase the milk production capacity of such animals optimally up to a point where a further increase in the amount does not lead to a consequent increase in milk production.
Just prior to calving
So as to get the full benefits of challenge-feeding, the practice starts before the onset of lactation and just prior to calving. In many instances, milk production increases especially if a high-energy feed is provided. If the animal is not a good producer, challenge-feeding does not influence milk volumes therefore needs to be stopped. This can only be practised in animals with high production potential.
The practice of challenge feeding
This starts two weeks before the expected date of calving. This early start will condition the animal's digestive system for the increased amount of concentrate and provide enough nutrients to initiate lactation on a higher plane. If not started early and gradually, it can be catastrophic as it can lead to lameness in the challenged animals. For good results, start by feeding the animal 500g of concentrate mixture (dairy meal) per day. The quantity should be increased daily by 300-400g until the cow is consuming 500-1,000g concentrate for every 100 kg body weight per day.
After calving, the concentrate allowance should be increased by 500g per day in the first two weeks of lactation until the cow achieves peak yield somewhere in the second month of lactation on a free-choice basis. After this, the milk yield is tested and the concentrate allowance is fixed accordingly to ensure the new requirements of the animal are met daily.
How to do it
The good news is that challenge feeding can be practiced with poultry too. It involves giving the hens extra feed on two or three days each week, based on need, without changing the daily feed quantity scheduled for the flock. For example, a flock may receive 168 g/bird/day at peak, with an additional "challenge" of 7 g/bird/day given three days each week. This increases feeding time leading to flock uniformity as well as ensuring nutritional adjustment of feed intake per bird.
Challenge feeding should start when birds are at 60 to 70 per cent production and should be discontinued when egg production falls below 80 per cent. For most flocks, therefore, we can expect to practice challenge feeding from about 29 through 40 weeks of age. Maximum challenge feeding should coincide with peak egg output, with lesser quantities given prior to, and after the actual peak. This way one ensures birds are pushed to produce more and therefore generate more profit.
The question therefore is, if you already have a shortfall of feed for your normal, can you practice challenge feeding? This can be practised as long as it makes economic sense but those who are most likely to benefit from this are those that produce their own feed at the farm. Simple formulae can be used to locally make your feed at the farm level. The economic benefit of this however is dependent on the initial cost of inputs.
[The writer is a Research Officer Kenya Agricultural and Livestock Research Organisation]