Why new bean variety is selling like hot cake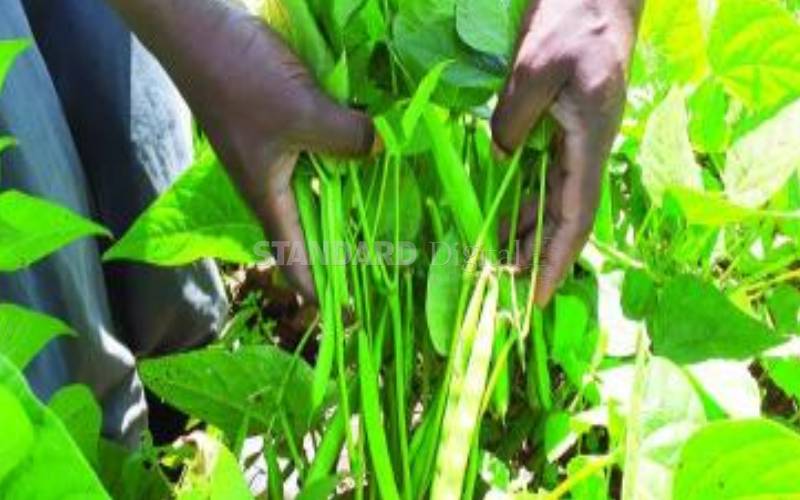 Thomas Asumeri has never looked back since he harvested and sold a new type of beans that was undergoing trials in his farm.
The new bean varieties, Angaza, Nyota and Faida have been developed by the Centre for International Tropical Agriculture.
Asumeri, a farmer in Borabu, Nyamira County, says unlike other bean varieties, the Angaza is fast maturing, resistant to disease and gives more yields per acre.
For better results, experts advise that the beans should be planted with phosphoric fertilisers and a foliar spray made as they prepare to flower. The beans also have to be well sprayed against nematodes and destructive insects.
Positive attributes
Because of their positive attributes, since he harvested them, Asumeri says buyers keep visiting his farm for orders.
"The beans sell like hot cake in the market and traders can't seem to get enough. I sold a kilo at Sh180, about Sh80 more than the ordinary beans," he shares.
From an acre, Asumeri harvested eight to 10 sacks, unlike with the normal bean varieties which used to give him three bags per acre.
Previously, the farmer was planting Wairimu, Rose cocoa, Onyoro and Amini which would fetch him between Sh80 and Sh120 a kilo.
So why are the beans so popular?
Take a quick survey and help us improve our website
Take a survey
Justine Mabeya, a Technology Transfer Officer with CIAT says the new beans are more popular because of their high content of minerals. The beans have high content of iron and zinc, essential in the human body.
The two are key minerals in the cognitive development of children while Zinc is highly regarded for its role in replenishing of male reproductive hormones.
The beans also mature early with farmers having to wait for only 60 days before harvesting.
The three bean varieties, according to experts, are quite different from the existing cultivars.
"They have many broad leaves and the colours of their flowers differ from many of the existing cultivars. They also produce a lot of fat pods that can count up to 20," says Dr Boaz Waswa, a scientist with CIAT.
Hybrid qualities
Waswa adds that the plants have a high ability to fix nitrogen in the soil than the rest in the family.
Josey Kamanda, one of the lead researchers with Technology for African Agricultural Transformations (TAAT) says the new beans have been under research and development since 2018 before they were recently released by the Kenya Agricultural and Livestock Research Organisation (Kalro) through CIAT.
"We developed these three cultivars from other bean varieties not grown in Kenya and which have hybrid qualities of such important minerals. We used the traditional varieties and the exotic ones to develop these special attributes," Josey Kamanda, one of the scientists who developed the beans, says.
Like Asumeri, many farmers in Kisii have embraced the new beans for numerous benefits.
Paul Mokaya, another bean farmer in Mogusii village, about 10 kilometres from Asumeri's home, has been keen on the multiplication of the new seeds for sale.
He has planted them for about four seasons and all along, he has been selling them exclusively to neighbours who have also heard about their market value which is high compared to other bean types.
"Since I started growing these new bean varieties, I have seen a positive change in terms of the yields and sale. I have no regrets ditching the other varieties," Mokaya says.
Because of the popularity, the beans have gained in the areas where they have been launched, Mokaya says he sells all his harvests at the farm gate due to high demand.
Pilot project
At first CIAT, in conjunction with Nyamira County, piloted the bean varieties on Mokaya's farm before letting him do the farming himself.
With success on his farm, he has become the bean champion helping other farmers to improve yields from their farms.
Mokaya is the chairman of Makutano Self-Help Group, an association of farmers in Borabu sub-county, which is now actively involved in growing and multiplying the new bean varieties.
Agriculture Executive in Nyamira Peris Mong'are says the county will help farmers with extension services so as to continue multiplying the beans.
"We are also partnering with other stakeholders like bean manufacturing companies to multiply the seeds for planting so that many growers benefit from it," Mong'are says.
Already, farmers from Western Kenya including Migori, Homa Bay, Nyamira, Kisii, Siaya counties and lower and upper Eastern regions have been sensitised about the new beans and the uptake is positive.