Brewing success: How tea growers use innovation to boost sales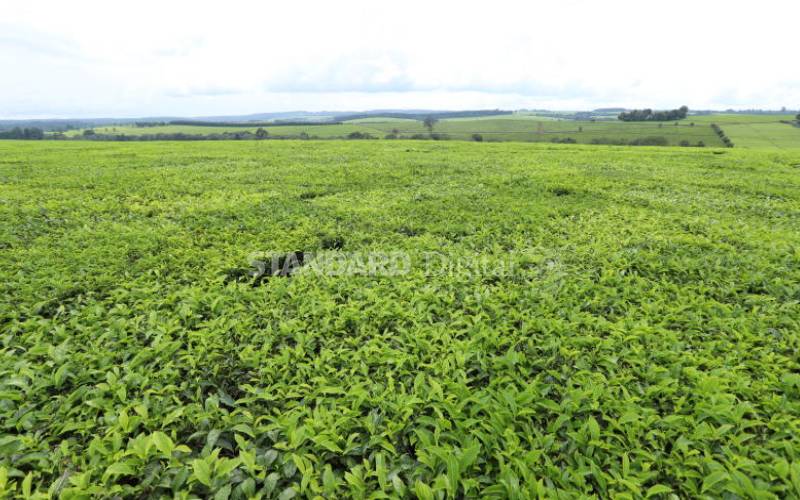 Tea, like athletics, lends authenticity to what makes Kenya unique.
In Kericho, tea is ever-present. The farms, sprawling into the curvature of the horizon, make for beautiful viewing to travelers. It is free tourism.
And of course there is the authentic taste of tea (with milk) that nearly every Kenyan can attest explodes nicely in the taste buds.
Tea was first grown in Kenya in 1903 and the first seeds came from India. Since then, thousands of farmers have grown tea – almost exclusively as a cash crop.
James Finlay is a leading producer, processor and supplier of tea and tea products around the world. The company has farmed tea in Kenya since 1923.
"We have over 5,000 hectares of land under tea," says Wesley Bosuben, the general manager in charge of operations in Kenya.
Bosuben has over a decade and a half experience working with the tea producer. As a result he has a wealth of knowledge on tea. He would qualify as a wonk and a historian on Kenyan tea.
He says: "In the early days tea was processed through orthodox manufacturing which is done through rolling.
"In the 1940s, the CTC (cut, tear and curl) processing was introduced. It was less expensive in the sense that it required less labour and it also allowed automation.
"Today we also make tea extracts: the essential components of tea: excluding dry matter in the final product."
Take a quick survey and help us improve our website
Take a survey
According to Bosuben, tea production in Kenya increased over the years, intensifying competition.
And because of competition tea prices have seen a considerable decline — relative to its original value. Competition essentially made tea less profitable.
For decades, Bosuben says, Kenyan tea was sold at the London Tea Auction. This was replaced by the Mombasa tea auction, in the 90s, which is still in operation today.
But, how the tea got sold was never a big problem. The challenge, Bosuben notes, was the dwindling profit margins necessitated by fierce competition.
It was around this time that the company like its competitors began to diversify its products.
"To survive we had to offer customers more fine-tuned products by doing value addition. In this instance, we focused on the processes used to manufacture and the variety of tea we grew."
Bosuben says that the company increased the production of orthodox tea — a product that had attracted strong liking in some parts of the Middle East and the USSR region.
"We also started producing tea extracts: a type of value addition for lovers of instant tea," he says.
Finlays also diversified the variety of tea they grew. They introduced purple tea and organic tea.
As its name suggests, purple tea spots purplish pigmentation on the leaves. Organic tea is grown without the use of any chemicals, whether fertilisers or herbicides.
Each of these teas can be processed through the three main manufacturing styles which also diversifies the company's reach to clients who wish for specific products.
Apart from black tea (which is the most widely produced tea in Kenya) Finlays also produces white tea, green tea, and purple tea.
This re-engineering to keep and grow the client base happened throughout the tea sector. Brands like Melvins Tea and Ketepa are today available on store shelves in many forms.
"Personally, I love ginger tea," says Linda Lushengo, a self-described tea lover.
Diversification
Paul Mwangi, an accountant, loves Earl Grey tea – by Kericho Gold. His girlfriend, he says, loves the Rose tea – still by Kericho Gold.
A tea lover today is treated to hundreds of options on the store shelves. In fact, there is such a thing as slim tea. Believe it or not, there is also Hangover tea.
The brands are having a field day with tea. So much that anyone who pays attention wouldn't be surprised if someone came up with libido tea or happiness tea. Or maybe these too already exist.
Finlays is a B2B (Business to Business) tea producer. In other words, they sell their tea to retailing companies who blend and mix with other additives to make a final product that then retails to the end user.
"We sell a lot of our tea through the Mombasa tea auction. Most of what we produce ends up abroad. A small percentage is bought by retail companies in the country," Bosuben says.
Finlays works with about 8,000 individual farmers located in the environs of the Finlays tea estates.
Statistics do not favour prospective tea farmers. Kenya is the third largest producer of tea in the world after China (2 billion kilogrammes per year) and India (1.2 billion kilogrammes year).
We produce about 450 million kilogrammes. Yet, the per capita consumption of tea locally is 500g annually. In other words, just about 22 million kilogrammes of tea are consumed in Kenya. "The rest we export," offers Bosuben.
In other words, we are already producing so much tea – many folds over local demand. But if exporting is an option, wouldn't it still be profitable to farm tea?
Here too there exists a conundrum. According to Bosuben, even the world over, tea production has surpassed demand. The world is producing more tea than its population is asking for.
Value addition, he says, continues to be the marketing option for many tea retailers.
"Value addition is done by manipulating the different active ingredients.
"This can be achieved by manipulating the manufacturing process: such as the oxidation process which determines concentrations of components such as theoflavins. Value addition is also done with additives such as ginger," he explains.
Finlays is today doing its best to diversify further into other beverages. They have dedicated at least 20 hectares of land to try out the production of several herbs.
Among them, lemongrass, hibiscus, thyme, Swiss mint and other varieties of mint.
Bottom line, Bosuben acknowledges the development of all these many types of tea boils down to appealing to the end customer.
It is part of the competition – like with every industry – that has come about through innovation. Tea can no longer be sold solely as we all have known it – black tea. This would surely see a company run out by competition.