Ndeiya farmer beats harsh weather, high irrigation water bills through mulching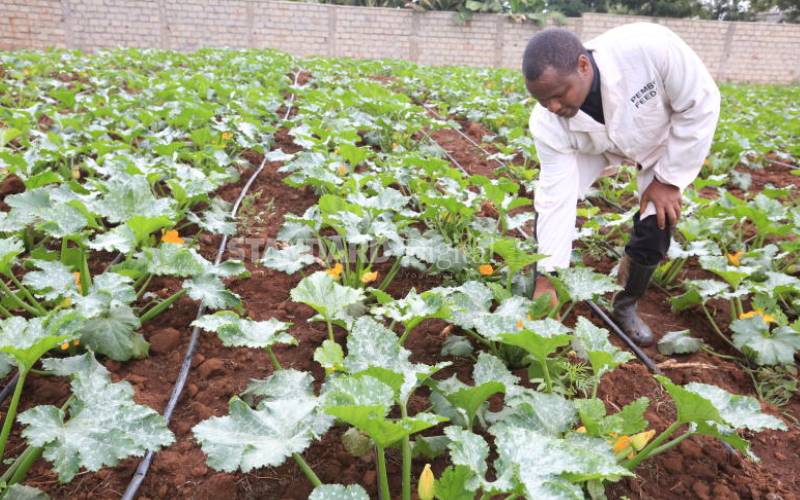 A farmer in Ndeiya, Limuru has devised ways to stop evaporation of water from his farm.
Ndeiya, a semi-arid area, suffers from excessive heat, but Nicholas Nderu, who relies on farming for survival, has successfully applied mulching, which is an affordable and sustainable technology applicable for small- and large-scale farmers.
Mulching is basically the art of applying material to the surface of the soil to conserve moisture. It also helps in improving soil health, but also reduces weed growth.
Nicholas, who plants courgette on two acres, has converted the otherwise unproductive area into a gold mine.
According to Nderu, properly applied mulch requires very minimal labour, but the benefits are immense. "The only labour involved is to pluck out a few weeds and once plucked out manually, the job is done," says Nderu.
He says he owes his farming success to mulching, which has also saved him money in water bills, as the only water available is piped and is supplied by a local water company.
Nderu also uses drip irrigation pipes on the farm, which cost him Sh180,000 to install. The pipes, he says, can run for five years with minimal repairs.
One of his biggest challenges, he says, was getting dry grass to apply around each plant at the exact point where the drip pipe trickles water. The farmer uses shade nets, which help in preventing evaporation.
"Once my seeds have germinated, drip lines do the rest of the job for me. It's not laborious as people tend to think, I allow water to flow early in the morning and late in the evening," Nderu adds.
On average, Nderu spends Sh5,000 on water monthly, but says the profits are worth every coin he spends in running his farm. Most of his buyers are vegetable sellers in Kangemi, Kawangware, Limuru, and Kibera.
Take a quick survey and help us improve our website
Take a survey