Velvet bean helps farmers cut cost of fertiliser usage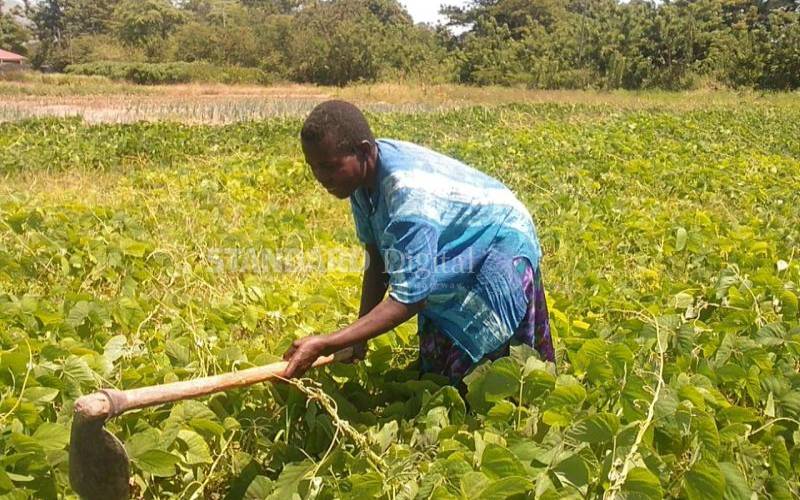 When The Smart Harvest and Technology team visits, Sophia Akello is busy weeding in her farm in Chiga, Kibos village in Kisumu County. She grows Velvet bean, (scientifically known as Mucuna Pruriens) alongside arrow roots.
"I love these crops. They have changed my life. I no longer need to buy expensive fertiliser and herbicides," she says, with pride. But why does she love the plant?
Akello, 53, says she ventured into growing Velvet bean after realising the plant could be used to increase the soil's nutrients. Previously, her soils were depleted of nutrients but that is no longer the case.
Today Akello says her 0.8 acres maize and beans farm is lush, thanks to the Velvet bean.
Akello says last year she noticed that soil in her farms was becoming harder and more compact, and weeds took over a better part of the farm.
Rich with nutrients
But now, thanks to the magic done by Velvet bean, the farm is rich with nutrients and crops are thriving.
Akello says she got wind of the plant from a farmer who attended a Kisumu ASK show. Akello later made inquiries at Kenya Agricultural and Livestock Research Organisation (Kalro) - Kibos for more details on the crop.
"I met an agronomists there who told me the bean was good and was the natural nitrogen fixer in the soil," she recalls.
The Kalro officials explained to her how the plant works and how it is grown.
"They asked me where my farm was and they visited after three months to see if I had followed their instructions."
Research shows that within one year, Velvet bean plant is able to 'fix' up to 150 kilograms of nitrogen per hectare naturally. This means if planted alongside maize, then plants without root nodules, such as maize, can easily benefit as the fixed nitrogen 'fertilizer' is released into the soil by natural means.
Because of this benefit, agronomists in Nyanza have now embarked on aggressive marketing of the Velvet bean to maximise cereal crop production.
According to agronomists Paul Tana and Paul Omolo, the bean is a game changer in crop production. The Velvet bean produces a green matter in abundance and also decomposes easily to create humus that fertilises and colours the soil.
Tana says when it grows, its leaves sprouts and form a velvet on the soil surface like a football pitch.
"Given that it is a legume, it feeds the soil with nitrogen which naturally boost the soil fertility or health. Mucuna Pruriens establishes a thick ground cover that suppresses weeds," says Mr Tana.
To spread the good news, Kalro extension officers have been leading extension campaigns to teach farmers about this plant.
Tana says they started the campaigns after performing a number of soil experiments in various farms in Kisumu County.
Having established that indeed it is beneficial to the soil, they are now encouraging farmers who cannot afford fertilisers to instead grow Velvet plant.
Rather than rely on fertiliser, the plant has been found to be the natural cover crop that reduces soil temperature, thereby increasing microorganism activities.
Like Akello, many farmers in the region have tasted the benefits of the Velvet bean. Kennedy Okeyo, a 35-year-old maize farmer, calls it a "saviour plant".
He bought Mucuna Pruriens seeds worth Sh1,500. He planted two seeds in every hole. Each hole was about 35 centimetres to 40 centimetres apart and each row was the same margin apart.
Two months later, Okeyo found that the cover crop had effectively suppressed all weeds. The soil health had greatly improved. After three months, the farmer harvested 12 bags of maize, which was double the previous harvest.
"I was elated. The production has multiplied beyond my expectation," Okeyo says.
Many farmers have got wind of the 'Mucuna saviour,' otherwise known locally as 'chiemb loo' or soil fodder, just like fertiliser is.
Hundreds of farmers are trooping to Kalro Kibos centre in Kisumu each planting season to buy the seedlings, which cost Sh30 per kilo. But Kalro officials say the bean is not good for human consumption.
Want to get latest farming tips and videos?
Join Us