Farming puts a smile on hairdresser's face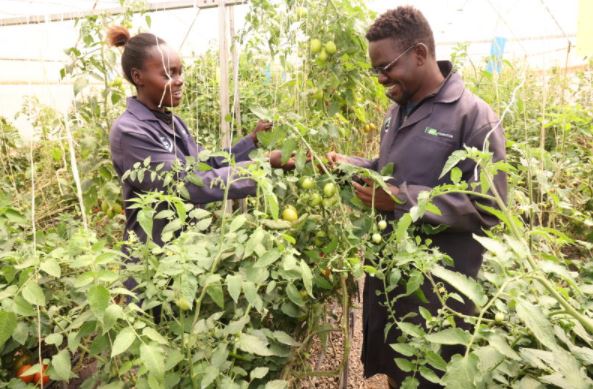 Ruth Mumbi was busy harvesting tomatoes inside her greenhouse when Smart Harvest visited her Greentalos Enterprise farm recently.
Hers is among tens of greenhouses located at the Young Africa Hydroponics Farming site in Ngong-Kibiko area in Kajiado County.
Holding several tomatoes in her hands, Mumbi says: "It is not easy waiting for the fruits to mature after three months. I have learnt to be patient."
It is the same patience, or lack of it that drove her to venture into farming. After attending King Solomon Primary School in Kiambu County and Ruiri Girls Secondary School in Meru County, Mumbi trained as a cosmetologist at a Thika college.
After training, she opened a salon in Thogoto, Kiambu County in 2019. But the business failed to bring in customers as she had anticipated.
"I had thought as soon as l started the salon, customers would come in droves and I would make money. I got frustrated when this did not happen. But at 19, I think l was just young and impatient. If l had waited, I believe things would have been different," she says.
Seeing that the salon business wasn't living up to her expectations, Mumbi, now 21, started thinking of doing something else. That was when she thought of venturing into agriculture.
She says she knew people who were making money from growing crops or rearing livestock.
"People must eat and that means there is a ready market for any foodstuff, provided you do your research well," she says.
Her mother advised her to enroll at Miramar International College in Kikuyu where she learnt hydroponic farming for three months from December 2019 to March 2020.
Take a quick survey and help us improve our website
Take a survey
She says the college required students completing the course to partner with one another and register a company. That is how she founded Greentalons Enterprises.
"After registering the company, you forward your name to Kenya Commercial Bank for funding and the bank decides where to allocate you a plot and the type of crop to plant. That is how we ended up at the Young Africa Hydroponics Farming site in Ngong-Kibiko," she says.
Mumbi says initially, she had an interest planting capsicum. But she was advised to plant tomatoes, which is more marketable in the area.
After she was allocated land, Mumbi was given an Sh800,000 loan in June 2020 to purchase seedlings, pay for a greenhouse (one had already been constructed), pesticides and chemicals, fertilisers and other farm inputs.
Instead of using the normal soil, Mumbi says they used pumice or volcanic soil in the greenhouse. She started by treating the medium (the pumice) by washing it.
"As opposed to the normal soil, pumice doesn't get your hands dirty. It also makes it easy to control pests and diseases that are easily found in normal soil such as bacteria wilt," she says.
Pumice properties
She says pumice is highly porous, with good water and air holding properties that provide a proper environment for growth of crops.
She says Miramar College propagates the seedlings the students plant. She uses organic fertilisers to grow crops.
When she planted her first tomatoes in August last year, Mumbi didn't encounter a lot of challenges, making her believe everything was smooth.
But the following month, she noticed her tomatoes were being attacked by a moth known as Tuta absoluta, which according to experts can destroy crops on an entire farm.
That was when what she learnt in college became handy: "I used organic pesticides and installed sticky traps to control the pest. Within a shortest time, the situation was under control."
She harvested her first crop in November last year, getting 250 kilos, which she graded into grades one, two and three.
She says grades one and two go for Sh60 per kilo while grade three sells at Sh20. She says she made about Sh10,000 from the first harvest.
"That was not so bad, especially for a beginner," she says.
Today, she harvests tomatoes once a week.
She says she has made around Sh130,000 for the three months she has been harvesting.