Job search pain pushed graduate to dairy business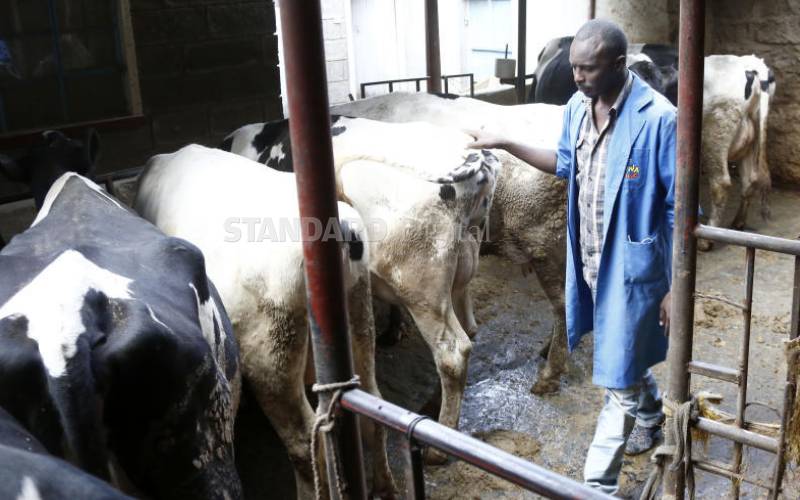 After completing his electrical engineering diploma course at Kisumu Polytechnic, 36-year-old Josphat Gititu started looking for a job.
Securing a white-collar job proved hard, and he opted to look after his father's dairy cows.
While taking care of his father's stock, he was invited for a dairy farming training organised by Food and Agriculture Organisation (FAO) of the United Nations. After the training, he was inspired to venture into dairy farming.
Gititu was gifted two dairy cows by his father, which he sold and bought a Friesian dairy cow. Today, he has 13 dairy cows.
He rears the cows on a plot measuring 20 by 30 metres at White House Estate in Nakuru town.
Patience pays
"Farming was never my dream venture, but it has turned out to be lucrative. I have no regrets doing it," he told Smart Harvest during a visit to the farm.
Each dairy cow produces 25 litres of milk daily. He sells the milk locally at Sh60 per litre.
He pasteurises the milk before selling it. "There is readily available market for milk. The high demand encourages me to do more to produce sufficient amount of milk to satisfy my clients," he says.
Gititu says feeding is vital in dairy production as it determines quality and quantity of milk produced.
Take a quick survey and help us improve our website
Take a survey
He feeds the cows ad libitum (continuously) in the morning, noon and evening on large quantity and high quality feeds, and ensures they drink adequate clean water.
The dairies are given salt that is hung on the feeding troughs to supplement minerals and boost their appetite.
On the farm, salt bars are hung at paddock hedges for the cows to lick while water troughs are supplied with clean drinking water for the dairies.
"To get high quality milk in great quantity, you must give dairy cows feeds in right amounts, supplemented by minerals," he says.
Each cow on the farm feeds on an average 16 kilos of silage daily, supplemented by 30 kilos of sunflower and cotton seeds.
To supplement feeds for the dairies, he grows hay on a four-acre parcel of land in Solai, Subukia sub-county, in Nakuru County.
He normally harvests the hay and preserves it for the dry spell.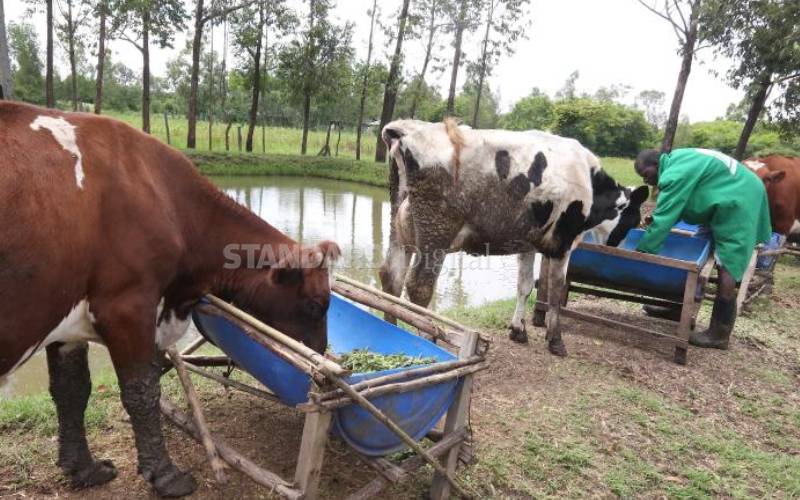 At the farm, hay is mixed with maize jam supplemented with dairy meal, maize germ, soya, cotton, sunflower and wheat bran.
The herd is fed on dry matter to avoid wastage and for maintenance purposes. Dry matter contains less water.
During milking, he feeds the animals at least three kilos of dairy meal.
"I feed my dairy cows with dairy meal in the morning and evening to boost milk production," he tells Smart Harvest and Technology.
He regularly vaccinates the livestock to prevent diseases like mastitis, pneumonia, and anaplasmosis, especially during rainy season.
Diseases like East Coast Fever are managed through regular dipping practices, including deworming, after every four months.
Gititu has a veterinary expert who visits his farm to vaccinate his herd, and advises on best farming methods.
"Farming cannot succeed without knowledge. I get guidance from experts who not only vaccinate the animals but also advise me on feeding, hygiene and record keeping," he says.
The farm also acts as a training field for upcoming farmers and students undertaking veterinary courses.
He says heifers are inseminated after 18 months. He says natural breeding methods can be used, but advises farmers to avoid inbreeding.
The farmer buys semen from an agrovet in Nakuru at Sh3,000.
But at times, the quality of semen supplied through Artificial Insemination is substandard, an issue that affects breeding, he says.
"I am a victim of substandard semen. On several occasions, I have bought infertile semen that results in death of calves immediately after birth. At times, the cow does not conceive leading to losses," he says.
He cites poor quality feeds in the market as a major challenge in dairy farming.
"Farmers are falling into the hands of crafty feeds manufacturers who sell products that are of poor quality at high prices," he says.
The other challenges, he says, are high taxation on animal feeds and fluctuation of milk prices.
He urges the government to provide an enabling environment for investors to create employment for youth.
Gititu's future plan is to increase his herd to produce enough milk for clients that are increasing in the cosmopolitan town.