Top four dairy breeds in Kenya: The good, the bad and the ugly
Ask any Kenyan the different dairy breeds they know and top on the list will be Friesian. Today, I will shed more light on this breed, focusing on its positive and negative attributes.
Friesian
This breed is also known as Holstein Friesian, it is the largest dairy breed of cattle. It originated from northern Holland and Friesland. Its chief characteristics are large size and black and white spotted markings, sharply defined rather than blended.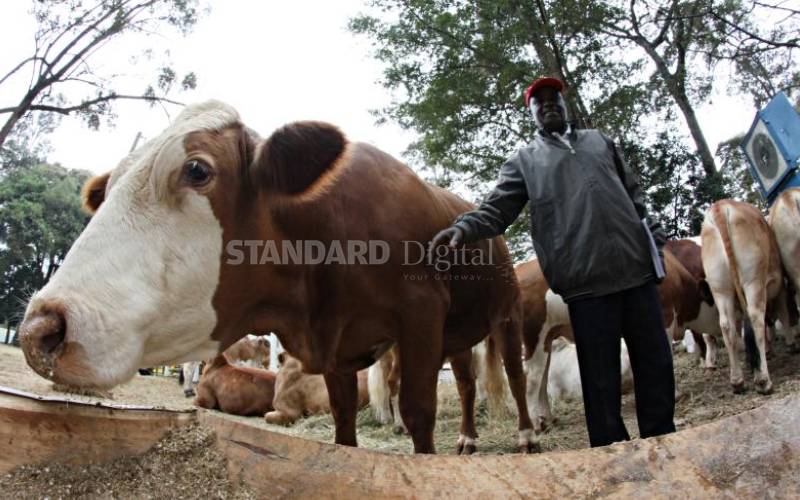 These cattle are believed to have been selected for dairy qualities for about 2,000 years. For this reason, they are top notch milk producers.
The breed was first brought to Kenya by the colonial government for milk production in the then white highlands where it was valued highly for its milk-producing ability.
Because of this, it became the most popular breed and the most known to farmers. However, despite the milk production prowess of this breed, the breed is susceptible to infections in the tropics such as East coast fever among other tick-borne infections.
Nightmare disease
Tick-borne infections pose the worst nightmare to a farmer who keeps Holstein Friesians. The pure Holsteins are only suitable to be kept in highland areas because of low heat tolerance of the breed. The only requirement to keep this breed is sufficient feed.
An adult pure Friesian in good health is a heavy feeder and can feed on 90-110 kilos of fresh feed per day to produce 40-60 litres of milk per day but the milk has low butter fat content. Without proper balanced nutrition, the production levels will remain low and the animal in poor health.
In order to adapt this breed to the tropical climates, there have been successful attempts to cross Friesians with local breeds or other dairy breeds, this gives forth a hardy animal but brings down production.
The most innovative way is to utilise the Friesian breed to build a dual-purpose beef breed by crossing Friesians with beef bulls. Such beef breeds get a large body frame with good muscle cover leading to good carcass weights at slaughter. If you do not have sufficient feed and a feeding plan, this is not your breed of choice.
The Guernsey
The colour of the Guernsey varies from yellow to reddish-brown with white patches. They have a finely tuned temperament, not nervous or irritable. Physically the breed has good dairy traits and the cow weighs 450kg to 500kg while the bull weighs 600kg to 700kg.
They have an attractive carriage with a graceful walk, a strong back, and broad loin, strong, attached udder extending well forward, with the quarters evenly balanced and symmetrical. This helps with the breed having low risk of getting mastitis.
Heifers generally come into milk at about two years of age. The average weaning weight of heifers and bull calves is 75kg. The Guernsey is also meant for high potential and transitional areas from the high potential zones.
They are slightly more tolerant to high temperatures compared to the Friesians and are also high feeders. The ideal Guernsey breed consumes about 75-90 kilos of feed to produce 30-40 litres of milk per day. On diseases, the breed is equally susceptible to tick-borne diseases like the Friesian. Not many farmers can differentiate the Guernsey from the Aryshire.
The adult Guernsey is bigger than the Ayrshire and the Ayrshires tend to have darker colour on their heads and around the eyes.
Ayrshires
This breed is originally from Scotland. It weighs about 450 to 550 kilos and is considered a medium-sized dairy breed. Ayrshires are red and white, and purebred Ayrshires only produce red and white offspring. The red varies from reddish-brown mahogany like colour that varies in shade from very light to dark.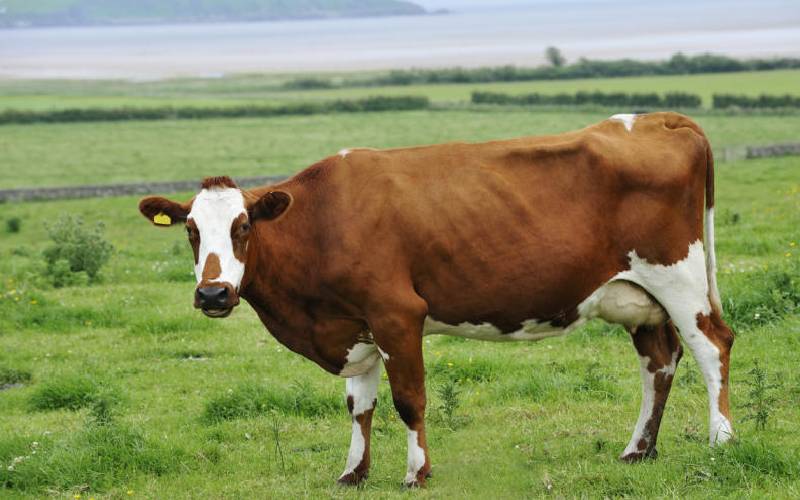 This breed produces 20-30 litres per day with an average daily feeding need of 60 kilograms of fresh fodder. Crosses of this breed are common in Kenya and are widely adapted to medium to high potential areas. Ayrshires can do well in central Kenya highlands and parts of the Rift valley. They are also very susceptible to diseases in the tropics but not like the Holstein Friesians. They respond better to treatment and with lowered risk to mastitis.
Their milk has an average butter fat content and can be used for production of cheese among other products. Other traits that make Ayrshires attractive to farmers include the vigour of Ayrshire calves, which makes them easy to raise with higher calf survival rates. Ayrshire bulls also make quality beef carcasses.
Jersey
This breed is closely associated with Jersey Islands. It is typically light brown, though this can range from being almost grey to dull black. They can also have white patches which may cover much of the animal.
A pure Jersey will however always have a black nose bordered by an almost white muzzle.
The Jersey is a hardy breed that adapts to a wide range of climatic areas with good resistance to various infections. The Jersey also has hard black feet, and is much less prone to lameness compared to other dairy breeds.
The breed in Kenya is kept widely in the coastal counties and can survive in the western belts of Kenya under hot climates.
A purebred Jersey weighs averagely 350 kilos with a daily milk production of about 22 litres per day on about 60 kilos of forage per day. The jersey produces quality of milk unlike quantity with the highest butter fat content of 5.3 per cent.
The milk is ideal for making butter, cheese thus offering greater nutritional value. For this reason, Jersey milk commands a premium price in many markets.
Jersey cows have little or no calving problems, greater fertility, a shorter calving interval, and earlier maturity. They also stay in the herd longer than any other dairy breed due to their hardy nature. It is a good breed to invest in if you have access to the market niche or would want to do product value addition at the farm level.
[The author Dr Moses Olum is a research officer at Kenya Agricultural and Livestock Research Organisation]