How I manage my thriving poultry unit on small plot in arid area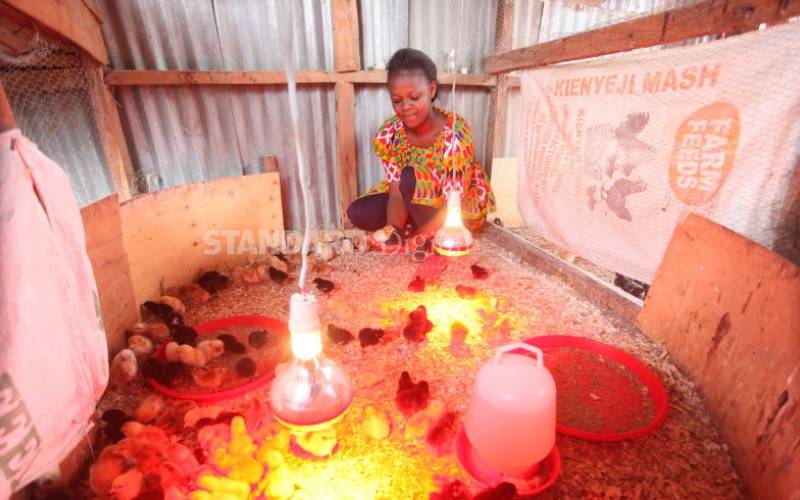 In 2010 Jane Kimani graduated from high school. Her ambition was to move on to college and study law.
"But my parents did not have the money. As it was they were already doing their best to provide for us. Even getting me to high school felt good enough," Kimani says.
Kimani left home for Othaya, "to hustle" She got a job as an attendant at an Agro vet on a meagre salary.
In 2015 she got married and moved to Kitengela in Kajiado to start her new life – on an eighth of an acre.
To keep herself active (and useful) she opened a cosmetic shop. A few years later she came to the conclusion that the venture was not profitable and therefore needed to pull the plug on it.
"I ended up selling off the business," she says.
Thus began Kimani's journey towards farming. Up until then she had not contemplated a career looking after chicken.
"At the time I just needed to get rid of the business and save myself the energy and the trouble it was putting me through."
To get to the plot of land where Kimani lives one has to navigate curves and meanders, past three or four corners, in a bumpy seven-kilometre drive on a dirt road off Kitengela – Namanga highway.
"This is Jalyn Poultry Farm," she says, ushering our team into the miniature compound that serves both as her home and a booming poultry enterprise.
Take a quick survey and help us improve our website
Take a survey
Kimani loves be active and useful. Clearly, she wouldn't have been content with just being a stay-at-home wife. She needed to find a replacement for the cosmetic shop.
The idea to start a poultry farm just dawned on her out of the blues. "I started planning immediately."
However, she notes, her mind could have easily tagged onto it subconsciously since her father too had been a poultry farmer.
Unchartered territory
"My father's poultry venture was our source of living. It fed me and took me to school. So, maybe the idea had all along been in my mind and was only coming to fore at that moment," she says.
There was only one problem: Kimani had never been a farmer before – let alone one with granular knowledge of poultry farming.
It was unchartered territory. But the young lady was ready for the adventure.
She took it upon her to actively learn the ropes through Google, YouTube and other online sources. She also attended free trainings offered by companies such as Ultravetis and Hychem.
Long story short, Kimani is now the CEO of a poultry farm whose turnover – selling chicks – is over 700 every week.
At any given moment the farm is host to at least 1,500 chicks. She farms improved Kienyeji chickens. The breeds are: KALRO, Rainbow Rooster, Kenbro and Kuroiler.
She is a breeder, and also sells chicken for meat and eggs (for cooking).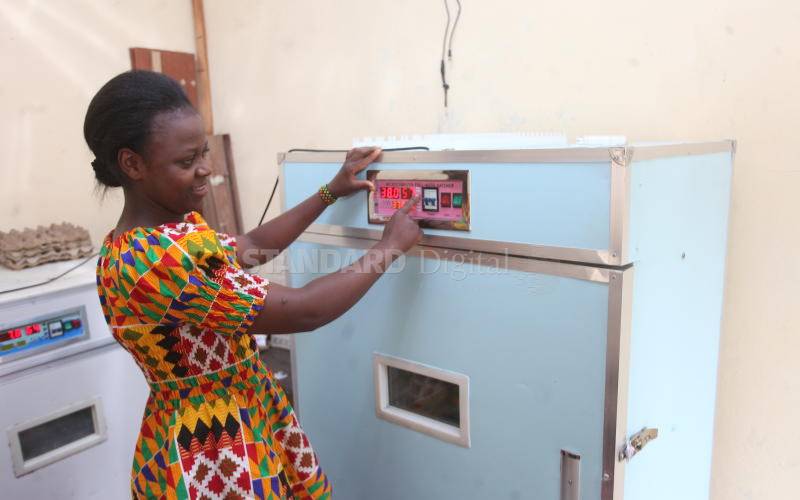 How much is she making? "That's a secret," she says, smiling.
"Are you making a loss?" we prod some more. "No. I would have closed if that were the case," she says, still smiling.
One thing is for sure: she is having a good time running the farm. Kimani shared the following lessons – learnt on the job – with us.
1. Poultry does not need a large space: Jalyn Poultry Farm is located inside an eighth of an acre.
At the time of this interview there were at least 1,500 chicks and chickens at the farm; all of them in their respective chicken houses – going by age.
"Each house has age mates: chicks that hatched the same day. I do not mix them," she says.
She has built the poultry structures in storeys: to allow some chickens to stay on top compartments and others in the lower sections: therefore conserving space.
In fact, one may think that the farm has little to no left space but a quick survey suggests that she could add structures to host 1,500 more chickens if she wanted to.
"The space I have is more than enough to do this and do it profitably," she says.
Of course, if one has the largesse to go even bigger they would need larger than an eighth of an acre.
2. Diseases are the biggest threat to any poultry establishment: You are at risk of losing everything through diseases, Kimani says.
"I started the farm with 100 chicks. Each one cost Sh100. I lost 70 by the time a month was over. They would just fall and die," she says.
Chicks are highly vulnerable to diseases, Kimani explains. They need to be kept on strict vaccination routine.
"On day one they receive the Mareks disease vaccine. On day five they receive Newcastle vaccine. These are followed by Gumboro vaccines at two weeks and then at three weeks," she says.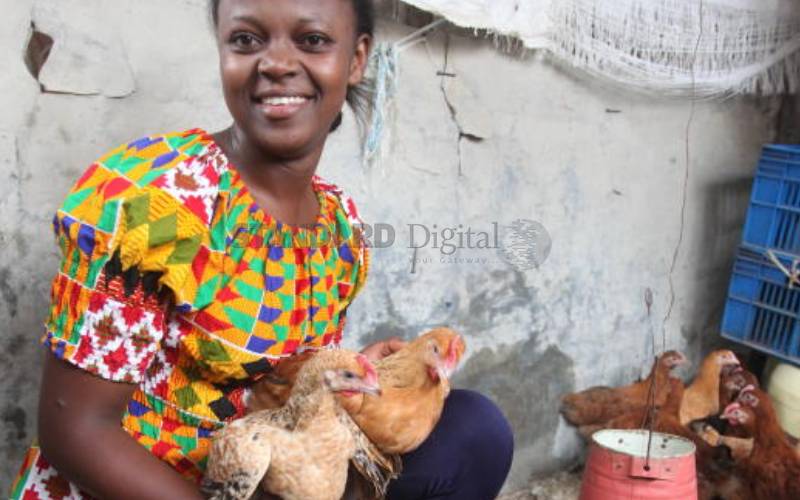 "At four weeks they receive a second Newcastle vaccine – with IB (Infectious Bronchitis) and at six weeks they get the fowl pox jab.
"Vaccination for fowl typhoid is done at eight weeks. Deworming is done at three months and finally a boost of the Newcastle vaccine every 2 to 3 months until the chicken is sold for meat."
These diseases, Kimani says, are lethal and have the potential of wiping out a whole flock. "A farmer should therefore never miss to follow vaccination guidelines," she says.
3. Hygiene is paramount: In line with the need to keep diseases at bay, vaccination alone is not enough, she says. Chickens are highly susceptible to pathogens like bacteria and viruses.
It is thus important that a farmer reduces the chances of the chickens getting sick from pathogens in the environment. The nature of poultry is that a disease quickly spreads through the whole flock fast.
To further mitigate against diseases, Kimani has instituted farm protocols that sees anyone coming into the farm disinfecting their shoes before going in.
She also insists that she, alone, is allowed to handle the birds. Even so, there is a disinfectant hanging at the door of every chicken house for her to spray on her hand before touching a bird.
She also says the farmer has to clean the chicken coop at least once every week and replace old sawdust (beddings) with new ones.
4. Chicken feed is important for the birds to grow faster: The most expensive input in a poultry farm is feed, she says.
A 50Kg bag of feed goes for Sh2,700. Kimani needs three bags per week for her flock. This amounts to Sh8,100 per week.
"The feed (which is available in most agro vets) is important because it has the right nutrients to keep the birds growing at a good pace.
"Free range chickens grow slowly because of the quality of what they eat. But when fed with commercial chicken feed they grow a little faster but also in a healthy way," she says.
By three months, with chicken feed, a bird would be nearing the 1Kg weight mark.
"Beyond three months the chicken fattens further. But usually by six or so months it is ready to be sold for meat," she says.
5. To make good profits diversify revenue sources.
Kimani owns egg incubators in which chicks hatch. She then sells the chicks – usually at Sh100 per chick. She can also sell a farmer fertilized eggs – ready for incubation for chicks to hatch.
She also makes money from selling Kienyeji eggs for cooking. The big hens lay eggs. She collects then packages the eggs for sale.
"The other way I earn revenue is by selling live chickens for meat or – when a client orders – I deliver slaughtered and ready-for-cooking chicken."
Lastly, she conducts trainings to prospective poultry farmers. By converting the farm into a school, Kimani is able to pass on knowledge at a fee.
She was not willing to share how much money she made but she admitted to making profits and not losses.
She markets her products on social media and does deliveries in Kitengela and Machakos.