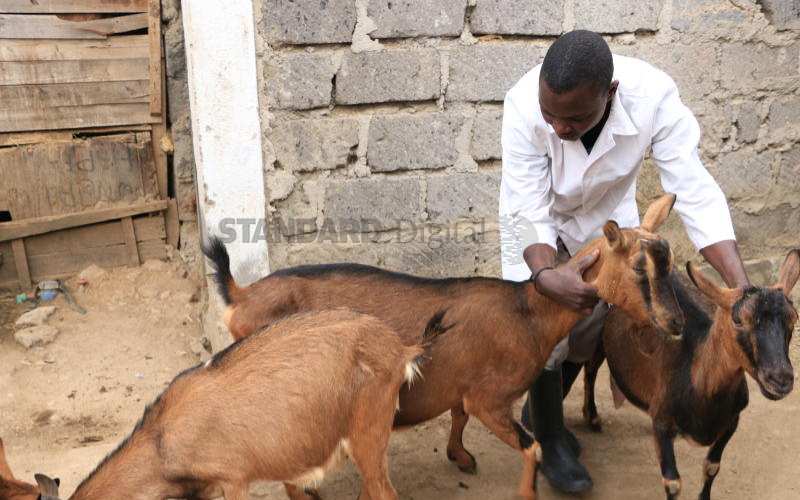 Dear Daktari
I run an animal farm in Kitui where I keep poultry, beef sahiwal cattle and galla goats. My concern is this: whenever I restock galla goats from Garissa, I usually experience high death rates as a result of pneumonia. This is evidenced from the completely destroyed lungs noted whenever animal is slaughtered. The otherwise healthy goat collapses and dies a month after purchase. What could be the problem?
[Mwengi Mulatya]
Thank you Mulatya for reaching out. While I may not be able to tell what exactly is killing your goats based on information you have provided, I will try hypothesis. I however advise that you get in touch with a local vet to do a thorough examination of the goats.
From the info you have shared, two possible diseases come to mind - pasteurellosis and enterotoxemia or the overeating disease. These diseases are all triggered by stress. Fortunately, they are all preventable through vaccination and good animal husbandry practices.
Pasteurellosis
Pasteurellosis is a bacterial disease that affects sheep and goats of all ages and is a common cause of death. It is associated with stress linked to practices such as weaning, castration, mixing herds, change of feeds, stressful weather conditions like strong winds, poor air quality, high humidity and transportation. Pasteurellosis is an opportunistic disease and under stress conditions immunity is lowered creating fertile grounds for attack.
Pneumonia is a major clinical sign in pasteurollosis and the main cause of death. Other clinical signs include fever, laboured breathing, loss of appetite, nasal discharge, red eyes, depression and coughing.
Prevention
To keep pasteurollosis at bay, reduce activities or situations that stress the animals. For instance, do not mix shoats of different ages and if kept in confinement, ensure the unit is well-ventilated. Observe bio-security measures to avoid introduction of disease-causing micro-organisms on your farm. For your case, isolate new animals and keenly observe for any clinical signs and call a vet to treat in good time. You can also vaccinate against pasteurollosis. Treatment with antimicrobials and anti-inflammatory drugs works.
Enterotoxemia
Like pasteurollosis; enterotoxemia is a frequent and fatal disease of shoats of all ages and preys on stressful conditions to attack. Enterotoxemia strikes the healthiest in a herd and is mostly triggered by a change in diet. Clinical signs of this disease include lethargy, signs of stomach pains like belly kicking, laying down and up or on the sides and panting.
Due to quick progression of the disease, farms will say the animal died without any clinical signs complicating treatment. Prevention is thus better than cure. Vaccination is highly recommended. To stay safe, avoid sudden changes in diets; instead make the process gradual.
For your case, stress might have come via their translocation from Garissa to Mwingi and Kitui and a probable change in diet or mixing with a new herd.
[The writer was the Vet of the Year Award winner and works in the Division of Communication and Vet Advisory Services within the Directorate of Veterinary Services; [email protected]]