Sand dams project gives farmers new lease of life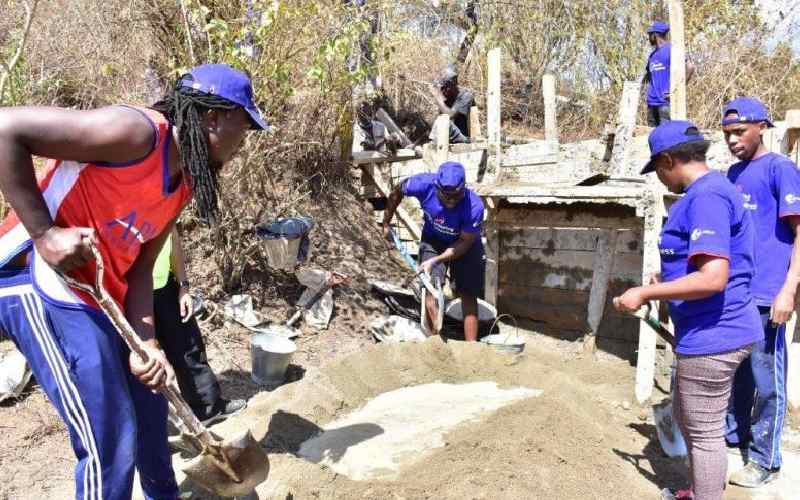 The ongoing construction of sand dams in drier parts of Ukambani will save residents endless hours used to fetch water for domestic use and agriculture.
Every year, over 100 such dams are constructed in Machakos, Makueni and Kitui counties.
A sand dam is a reinforced rubble cement wall built across a seasonal sandy river. The simple, low cost and low maintenance technology helps to retain rainwater while recharging underground water aquifers.
According to research by the Rain Foundation, an organisation that assists vulnerable communities access water, the sand behind the embankment contains between 25 to 40 per cent water.
"The sand filters the water and the lack of an open water surface reduces contamination and evaporation and prevents water-borne parasites such as mosquitoes and snails from breeding," states the document, Building Sand Dams-A Practical Guide.
Precious liquid
In most cases, a well is usually dug through the sand to extract the precious liquid trapped below. However, water can also be harvested using the normal scooping method.
For Mary Kioko, a single mother in Makueni County, the daily trek in search of water has not only been physically draining but it has also interfered with her economic activities.
"I am forced to wake up very early in the morning and walk for two hours in search of water. By the time I am back at 11am, I am worn out to do other chores including selling mangoes in Wote town," says Kioko.
Kioko says she is forced to ask her son and daughter, aged six and eight years respectively, to skip school and fetch enough water for the week so that she can get the time to go to the market. This has affected her children's education.
Take a quick survey and help us improve our website
Take a survey
"My children's education has deteriorated as they grapple with house chores and going to school. The situation is bearable now with the construction of a sand dam near our home," she says.
Residents of Kalamba Division in Makueni County have taken advantage of the dams to try their hands in agriculture.
Through Kithuia Self Help Group, they collectively plant seedlings and grow them together to earn a living.
According to the group's chairman, Reuben Mutiso, each member is allocated a day where he or she will look after the seedlings, a task previously difficult due to lack of access to water.
Ashok Shah, chief executive of Apollo Group and one of the firms financing the construction of the dams, says access to water in the larger Ukambani area will help residents diversify their agricultural activities.
"Sand dams provide the water and time necessary for people to productively farm. A year-round water source enables farmers to invest in improved agricultural techniques such as inter-cropping, crop diversification, zero-grazing and seed banks. Such activities facilitate the production of a secure and diverse supply of food, even during periods of drought," says Shah.
Since 2009, APA Apollo Foundation has contributed over Sh40 million in the construction of over 20 sand dams in arid and semi arid regions helping about 15,000 people access water.
According to the Water Project Organisation, sand dams are the most cost-effective method of water conservation in dryland environments.
The organisation says by recharging the aquifers, sand dams provide a self-perpetuating form of water cycle and soil conservation besides providing enough water to establish tree and vegetable nurseries.
"Conserving water and soil on farms increases soil fertility, reduces time spent collecting water, and increases the time available to farm, learn and innovate," the organisation says.
In Kenya, arid and semi-arid Lands (Asals) make up 89 per cent of the country's surface area. The area covers 29 counties with a population of over 16 million people.
The arid counties include Baringo, Garissa, Isiolo, Mandera, Marsabit, Samburu, Tana River, Turkana, and Wajir.
The semi-arid ones are Embu, Kajiado, Kilifi, Kitui, Kwale, Laikipia, Lamu, Makueni, Meru, Narok, Nyeri, Taita Taveta, Tharaka Nithi and West Pokot. For decades, these areas were marginalised as they were seen as unproductive. Negative news on cattle rustling, drought, insecurity and poverty often hid the economic potential of these regions.