Soil acidity: The nightmare denying farmers high yields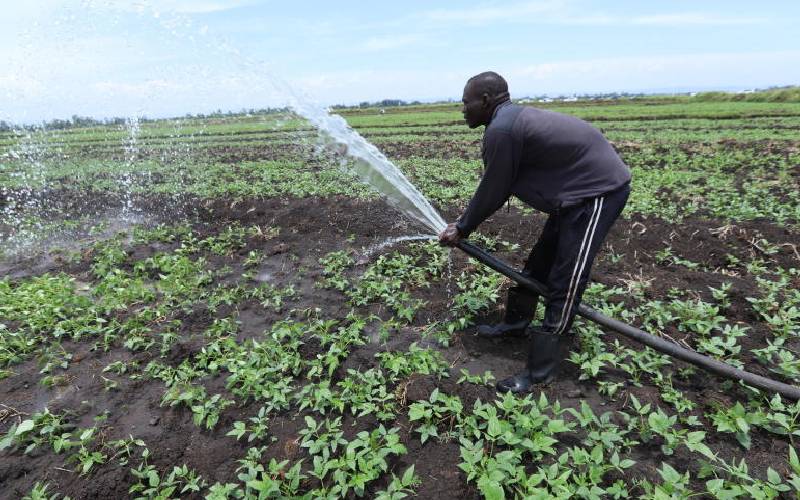 Did you know that too much use of conventional fertilisers have the opposite effect — making your soil barren?
Dr Anne Muriuki, a soil scientist with Kenya Agricultural Research Organisation (Kalro) concurs.
"It is true that overuse of conventional fertilisers increases soil acidity. Ammonium-based fertilisers have the greatest potential to acidify soil," Muriuki says.
A 2014 analysis of soils in Kenya, captured in a report by Kalro (known as KARI back then) found that acidity levels in most farms were higher than the recommended levels.
The report, titled 'Soil suitability evaluation for maize production in Kenya' blamed this on continuous use of inorganic fertiliser: in particular, DAP (Diammonium Phosphate).
The team of scientists who carried out the study recommend massive liming to neutralise the acidity. A few counties, like Nyeri, decided to implement that recommendation.
Neutralise the acidity
"We allocated Sh50 million for liming in the 2017/18 budget," says James Wachihi, the County minister in charge of agriculture.
"Our soils are still largely acidic: liming is still continuing – until our soils will achieve the optimal pH for food production."
High acidity in the soil (low PH) block's plants ability to uptake nutrients available in the soil, says Dr. Muriuki.
"The best soils have an optimum pH of about between 6.0 and 7.0. Anything outside these makes the soil hostile and unable to provide nutrients to the crops."
Gideon Munene Karuri from Kirinyaga has been a farmer for more than 40 years. In the 80s and 90s, he used fertilisers like everyone else.
"At some point, I noticed that the crops weren't producing as much as I was used to," he says. He tried using even more fertiliser but nothing was happening.
Ditched fertiliser use
Twenty years ago, he gave fertilisers the boot.
"They weren't helping at all. And though I had never done a soil test I suspected that my farm had become barren as a result of using fertilisers for so many years," he says.
Dr David Amudavi is an agronomist with years of experience teaching agricultural extension.
He is also the executive director of Biovision Africa Trust (BvAT) and project coordinator of the AU-led Ecological Organic Agriculture Initiative (EOA-I).
He says: "The solution is farmers need to go back to the basics. For thousands of years plants have grown on earth without inorganic fertiliser.
"There is only one reason why fertiliser and other agro-chemicals are heavily used in farming today: to generate money quickly.
"The problem with this farming that is purely steeped in profits is that it does not put much consideration into future fertility and usability of the soil."
Amudavi says farmers will need to practice sustainable farming if they want their soils to maintain fertility over long periods of time.
"Sustainable agriculture involves use of farmyard manure, well prepared compost, intercropping, agroforestry, mixed farming (animals and plants), mulching, crop rotation and organic farming," Amudavi says.
These are the practices that Phyllis Nduva, the chair of Makueni Fruit Joint Cooperative Ltd, is adhering to at her 40-acre farm, in Wote.
"I stopped using fertilisers a long time ago out of choice. I realised I did not need them for crops to do well. And I was also wary of modern diseases like cancer that are all so common now.
"For over two decades, I have grown my crops without fertilisers. I use manure from the farm: which comes from organic waste like animal droppings and foliage," Nduva says.
Nduva grows mangoes and oranges (fruit trees) in large scale. She also grows cowpeas, beans, green grams and maize and a slew of other staple crops like sorghum and millet. She has 12 cows, 14 goats and more than 50 free-range chickens.
"I have paddocks in the farm on which the animals graze. I collect their droppings into a compost heap and let it break down into manure. I have a separate heap for chicken droppings.
"It is this manure that I use to boost nutrient content of the soil. From my own assessment, there is no much difference between the harvest I am getting today and what I got many years back when I was using fertilisers," Nduva says.
Every year she produces about 20 tonnes of mangoes from 600 trees – which is no mean feat for a farmer who prides herself as a zero-agrochemical user.
Organic farming
About 50km from Nairobi, in Kimende, Moses Gichioya – a former livestock officer – retired to his home in Magina village to do organic farming.
Just like Nduva's farm in Makueni, Gichioya's too is self-sustaining. He says: "There is nothing that goes to waste in this farm: everything is for use or recycling into the environment."
Gichioya is a mixed farmer. He rears cows, pigs, sheep and chicken. He grows many species of crops: barley, maize, arrow roots, spinach, passion fruit, parsley and amaranths.
He has allowed a lot of weeds – like stinging nettle and Brassica – to grow naturally.
The weeds aren't exactly weeds because they make a good meal of traditional vegetables.
"I feed my animals with produce I get from the farm. My cows eat grass – and other forage – from the farm. I use droppings from the animals and other organic matter from the plants tin the farm to develop manure. Some I use to mulch."
Gichioya's farm is lush green and the crops look exuberantly healthy in spite of going organic. But if there is one thing that the 2-acre farm is outstanding in is agroforestry.
All the crops that Gichioya has grown blend into the shadows of eucalyptus, plum trees, lucern trees, guava trees, grevillea and other indigenous tree species.
In the village, Gichioya is most prominent for practising organic agriculture and for being a herbalist.
"Nearly 100 per cent of the trees you see in this farm – and the herbs – grow naturally and have great medicinal value," he says.
Gichioya is primarily a subsistence farmer. The food he produces in the his farm is for family consumption. Just a small portion goes to the market to earn him and his wife some money.
"There are so many diseases today that I do not want to compromise on the food that my family eats," he says.
Karuri too moved from using fertilisers and today only uses manure from his farm – and certified organic ferilisers.
"Using fertilisers has short term gains. But in the long term the soil starts losing its ability to support growing crops.
"Also, I no longer believe in using chemicals in farming because plants and animals should be able to grow and exists in an ecologically balanced environment. I don't see myself ever going back to fertilisers," Karuri says.
Rectifying high soil acidity requires time and many resources. Liming is by far the fastest method of lowering soil acidity.
Yet, a tonne of lime goes for Sh4,000. An acre may need as many as 20 bags. This brings the costs to Sh80,000 – that is too high for the average farmer.
Continuous fertility of soil is important, says Amudavi. Without the fertility of our soils, he says, the country will become food insecure.
Soil test
Amudavi notes that more than 70 per cent of Kenyan farmers do agriculture in small scale – mostly subsistent.
"These farmers don't have large swathes of land on which to produce food. If their land becomes acidic and loses fertility they really don't have many options," he says.
Dr Muriuki advises farmers to conduct regular soil test then seek opinion of soil scientists on the type of fertilisers they should use.
Soil tests in Kenya cost between Sh1,500 and Sh2,500.