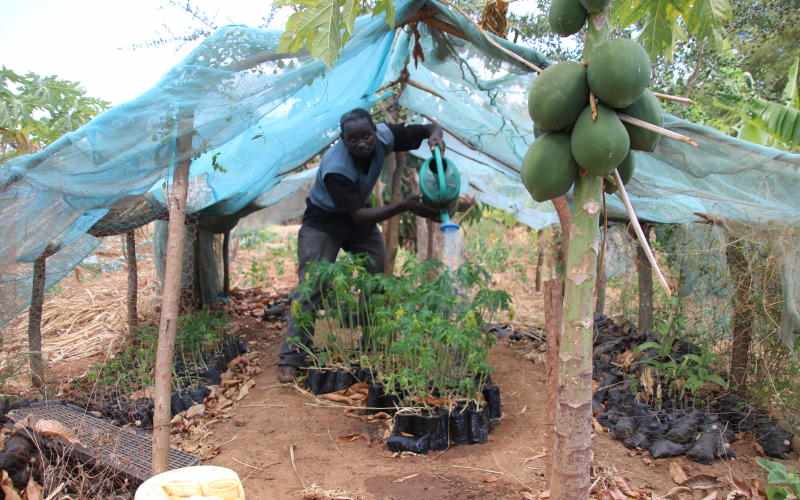 Mbuvi Kithina, a farmer from arid area in Ndiani, Kitui County, always desired to grow pawpaws to meet the high demand but lack of water held him back.
On his 10-acre farm, he still tried to grow a handful of pawpaw trees and other vegetables on less than quarter space.
"The major setback was lack of water. If I needed water, I had to trek more than 4km and dig very deep in dry riverbeds to access it. After you draw the water, again, getting it to the farm was also a nightmare," he tells Smart Harvest and Technology.
At times, he hired donkeys to help him carry water in jerry cans. But this came with extra transport costs.
"It was a tough balancing act; use more donkeys to carry more water with huge transport cost or carry few jerry cans and do little irrigation, leading to just minimal production. Either way, l was missing on great opportunities," he recalls.
The water problem is a common issue in the area blocking many aspiring farmers from actualising their dreams of venturing into agribusiness.
What kept him going is that every time he harvested even some little produce, he got a ready market in Mwingi town.
Kithina, 48, says rain was such a rare occurrence, and the times it came, it was song and dance in the area.
Water conservation
Luckily, for Kithina and other locals in the area, their prayers were answered when an international NGO, ADRA Kenya visited the area in 2017 and intervened on the water issue.
Stella Wanjau, Program Director ADRA Kenya says before solving the recurrent water issue, they did study and found that the household income was around Sh2,700 per month.
The study showed that poverty level was around 69 per cent in Mwingi Central Sub County compared to the national level of 45.9 per cent.
"We also realised the coping strategies being used in the area such as charcoal burning, selling firewood, harvesting of sand were destructive to the environment and non sustainable," she says.
According to the organisation, the livelihoods of local people could only be improved through climate smart farming, environmental conservation and improved skills in crop production.
With that background, the NGO started by rehabilitating the land and training local people on climate-smart water capture, reforestation and soil enrichment techniques.
"We focused on rehabilitating the land and making them productive again, because most of the soils had lost viability due to increased degradation," she says.
Kithina was trained in land preparation, nursery preparation, planting, nurturing of crops in the field, including managing pests and diseases.
Some of the strategies they were taught are construction of sand dams to provide water for residents to use at home and agricultural activities.
The organisation built six sand dams, six model farms and irrigation systems that acted as practical sites for learning.
After training, Kithina who is also member of Ndiani Youth Farmers was given drip pipes, water pump, water tanks, seeds and fertilisers to boost crop yields.
The organisation also linked the farmers with agronomists who assisted in technical information.
With plenty of free pawpaw seedlings, Kithina increased his pawpaw farm from half an acre to three acres today. He says in the next one year, he would have five acres under pawpaws.
His farm now has 25 healthy looking pawpaw fruits, in different stages of development.
From the initial nursery preparation training, Kithina nowadays prepares own nursery, before transplanting.
He explains once the seeds are sowed they take around two months in nursery before they are transplanted.
He uses water from the sand dam to irrigate his pawpaw farm, almost a kilometre away.
He explains the sand dam was constructed across a seasonal river near his farm. The barrier holds sand and water on the upstream reservoir, thereby raising water table in the river bed as well as in the river banks on either side.
"To access the water, we dig shallow wells where it is found easily, and transfer to the farm using water pump," he explains.
He has increased his farm to three acres and also supplies fresh produce to Embu, Thika and Nairobi counties.
"The smallest fruit from my farm costs Sh50, while largest goes for at least Sh200. The proceeds from pawpaws pays his bills including school fees for his children.
He harvests weekly and on a good week, he pockets an average Sh10,000.
He advises that, to be a successful pawpaw farmer, one should acquire proper skills and knowledge such as nursery preparation, seed selection, management of pests and diseases, agrochemical use.
Though the worst is behind him, he still faces some hurdles.
For instance, poor infrastructure such as bad roods makes moving of his fruits from the farm to the main tarmac road difficult.
"Road from my farm to the main tarmac is very bad and some fruits especially the ripe ones get pressed against each other and go bad," he regrets.
Another problem is when fuel prices are high, it becomes expensive to pump water into his farm.
"The area is dry and you have to pump a lot of water and this means a lot of money to buy fuel."
There are seasons he spends a lot of money on chemicals to fight mites and blight, which Kithina describes as the biggest threat of pawpaws.
For maximum yields, Kithina also intercrops with other crops such as cabbages, Sukuma wiki and spinach.