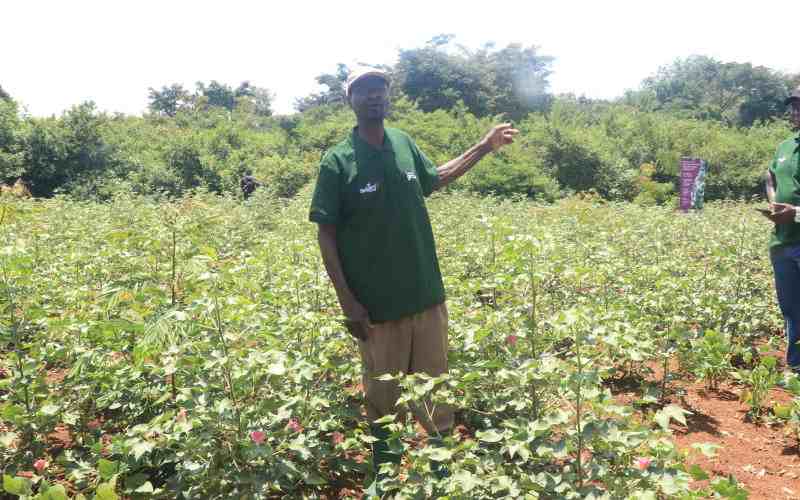 Kenya can bridge cotton shortage if local farmers embrace large scale Bt cotton farming.
According to Principal Researcher of BT-Cotton Charles Waturu from Kenya Agricultural and Livestock Research Organisation (Kalro), Kenya produces 10,000 bales of cotton annually against the national demand of about 140,000 annually.
The high demand for cotton follows the national government's move to revive collapsed ginneries.
Dr Waturu said the new variety is resistant to drought and pests and is high yielding.
But the Bt cotton offers a perfect way to bridge this shortage.
"Farmers are going to reap big from the new variety of the cotton since it is high yielding and the cotton is very white and germination is almost 90 per cent," he said.
Speaking during the launch of the Bt cotton early this year, Cabinet Secretary for the Agriculture Peter Munya said 1,000 demonstration farms will be established in various parts of the country for cotton growing.
So far, just 230 demonstration farms have been set up.
According to Rivatex Managing Director Thomas Kipkurgat, the mill receives 10,000 bales of cotton daily but this is nowhere near the demand of 100,000 bales.
"We spend Sh100 million every year to buy raw materials from Tanzania and Uganda. There is need to spend that money locally by planting a lot of cotton," said Kipkurgat.
Some farmers in Busia have embraced farming of the new cotton variety. One such farmer is Christopher Nduguli from Bukiri in Samia sub county.Last year, he planted the indigenous seeds on his four-acre land but suffered huge losses because of low yields.
With the Bt cotton, Mr Nduguli is optimist he will fetch good money from his harvest.
"I have not seen any pests attack my cotton since I planted in
July, but aphids are very stubborn," said Nduguli. Bt cotton is a genetically modified organism or genetically modified pest resistant plant cotton variety, which produces an insecticide to combat bollworm. Bt cotton was created by genetically altering the cotton genome to express a microbial protein from the bacterium Bacillus thuringiensis.Francis Opailo is another farmer in Apegei, Teso South constituency, who has adopted Bt cotton farming. He used to farm cotton until the collapse of Malakisi and Nambale cotton ginnery forced him to ditch the cash crop for maize.