Killer chemicals: Are they the next big dilemma for farmers?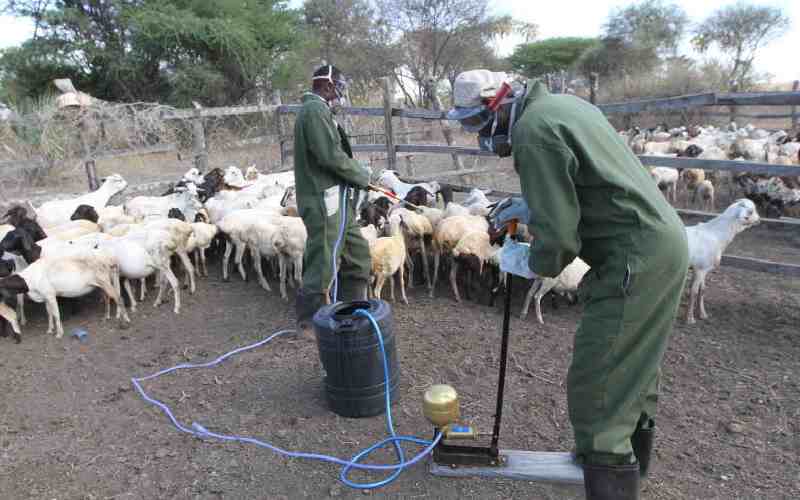 When Odete Nyang', a livestock farmer in Ogera village in Oyugis, Homa Bay County, lost 21 sheep hardly a day after spraying them, he quickly blamed his loss on 'bad eyes' from neighbours.
What began as a simple routine exercise against flies, mice, ticks and lice had turned into a nightmare for this seasoned rural farmer, who also keeps chicken and goats in his two-accre farm.
"I have sprayed my animals for eons. It can't be that they died from the chemical I used on them. I always do this and nothing like this ever happened," he said, contracting an expert finding by a local vet that the animals had succumbed to the burg killer spray.
Same week in the nearby Rangwe sub-county, Jacob Otonde lost 11 sheep one morning. His noticed their carcasses were distended. Area Assistant Chief Alloys Odhiambo kicked off investigations. A veterinary officer would later confirm the animals had ingested a poisonous substance at the farm.
There were locals who were ready to consume meat from the animals, oblivious of the dangers to their health. Crooked slaughter houses too wanted to come to the farmers' 'rescue' with good offers only that they wishes were thwarted by public health officials.
Kenyans will remember the horrid story of some poultry farmers in Thika and Murang'a who were administering antiretroviral drugs (ARVs) on chicken in a bid to fatten them. Veterinary experts reported similar cases in Zimbabwe and Uganda where slaughtered chicken were being dipped in embalming fluids — used in morgues — to keep them fresh for weeks.
These tales raise the spectre of dangerous business practices and preventable livestock deaths linked to limited information and knowledge among farmers and consumers. Not many farmers know much about what to use to treat or control which infections let alone proper antibiotics use, a trend that leaves humans and farm animals exposed.
This month, a global new survey raised the red flag yet again, saying close to 82 per cent of farmers and consumers still under-estimate the amount of antibiotics and other chemicals used on farm animals and the implications on human health. Some 131,000 antibiotics are used in farming annually, with a high cost on human health.
The survey, 'Antimicrobial Resistance: Global Public Polling' reveals how antibiotics are misused to prop-up low welfare practices such as raising of fast-growing meat chicken, rabbits and routine mutilation of piglets. Some farmers give antibiotics to cattle to gain weight faster while using less food. However, most of these animals live in stressful conditions that lead to infections and diseases.
In Kenya and 14 other countries surveyed, there are concerns that the next 'pandemic' sitting in the Covid-19 shadow could originate from farm animals as overuse of antibiotics on them reaches alarming levels and the dangers being transferred to humans, according to the study.
The poll showed 88 per cent of respondents in 15 countries were concerned about the possibility of antibiotic resistant organisms (superbugs) coming from farm animals.
Looming health crisis
Superbugs, which enter the food chain and the environment, are strains of bacteria adopted after coming into contact with an antibiotic. The bacteria then become resistant to the antibiotic. Experts say it is a ticking time-bomb that could make the current public health crisis from Covid-19 worse if antibiotics are ineffective in treating secondary infections. Some resistant bacteria cause pneumonia, urinary tract infections and skin infections.
The findings are contained in the poll released last week by the World Animal Protection (WAP) conducted to understand people's knowledge and attitudes towards antibiotic use, the resultant antimicrobial resistance (AMR) and possible pandemic risk from farm animals.
More than 15,700 people in Kenya, Australia, Brazil, Canada, Denmark, India, Indonesia, Mexico, Netherlands, New Zealand, Spain, Sweden, Thailand, United Kingdom, and United States took part in the survey between August and last month.
The study sought to explore sentiments towards the use of antibiotics in farming, the role of retailers in ensuring responsible use of antibiotics and to gauge concerns around their impact on human health.
From the report, it emerged governments have an obligation to enact minimum farm animal welfare laws and standards, and to monitor and report on antibiotic use in farm animals and restrict their use in farm animals unless for treatment.
Retailers and other food outlets, the survey suggests, should ensure animals in their supply chains are treated well, and antibiotics are used responsibly to help stem preventable animal deaths and dangers to consumers of animal products.
"Food is the essence of life and preserving access to safe and nutritious food will continue to be an essential part of the response to the ongoing Covid-19 pandemic," said Victor Yamo, WAP's Farming Campaigns Manager.
"This is a risky business - when superbugs are passed from animals to people, they make us less able to fight disease. Currently, 700,000 people die each year from infections that cannot be treated by antimicrobials and by 2050, this is expected to rise to 10 million people each year," Yamo said during the virtual release of the poll.
The poll said 70 per cent of respondents were concerned about the adverse effects of superbugs to their health while 66 per cent were concerned with the impact of superbugs contaminating meat. Some 71 per cent of respondents say producers need to do more to manage the rise in antibiotic resistance in farm animals compared to 69 per cent who believe government need to do more.
At least 82 per cent say producers should altogether stop using antibiotics for growth promotion while 85 per cent supported the use of antibiotics to treat sick farm animals. Some of the widely use antibiotics include penicillins, cephalasporins, sulfa, ouinolones and tetracyclines. Tetracyclines top the list of widely used antibiotics in cattle besides monensin and tylosin.
According to the Global Antibiotic Resistance Partnership (GARP), up to 70 per cent of imported antibiotics end up being given to chickens, pigs and cows yet between 40 and 80 per cent of the antibiotics are classified as unnecessary or highly questionable.
While organic meat and poultry products offer good alternatives and reduce the risk of superbugs, the use of organic systems do not make antibiotics unnecessary, experts say. Part of the problem in Kenya, pharmacological expert Paul Okinyi says, is that farmers seem to be in a hurry to get returns from animals.
They engage in self-medication for their animals, without seeking an expert's advice. "In most cases, they get information about drugs from friends and family and not vets. We've had cases of some famers giving ARV's to chicken in trying to fatten them. It's time to scale up regulations," Okinyi of Nobble Drug Limited, says.
According to CDC, animals carry bacteria (germs) which can include antibiotic-resistant bacteria that can spread between animals and in their environments such as on farms, in animal markets, and during transport. Animal waste also carries resistant bacteria.
Dr Azegele Allan, a deputy director for Veterinary Services at the Directorate of Veterinary Services has previously warned that "treatment should only be instituted after clinical examination of animals by a competent veterinary practitioner."
According to the World Health Organisation (WHO), reduced antibiotic use in food producing animals is associated with up to 24 per cent lower antibiotic resistant bacteria in people.
From 2016, WHO has been mobilising collection of data in 57 low- and middle-income countries as it seeks to put in place a structured method for monitoring antibiotic use. "Reliable data on antibiotic consumption is essential to raise awareness of appropriate antimicrobial use," the UN agency says.
Want to get latest farming tips and videos?
Join Us