How I make livestock feed, oil from avocados
It was in 2002 when Stephen Githongo, 73, started farming his three-acre estate at Menengai West in Rongai Sub-County, Nakuru County, after retirement.
Prior to that, he had planted two avocado seedlings and 18 years later, Githongo is benefitting from his two trees that produce hundreds of avocados annually.
Furthermore, the farmer is not only using the avocado flesh but has found a way to maximise every part of the fruit as a food supplement for both his family and livestock.
Today he is not only making avocado oil for domestic use using the fruit's flesh, but he is also using both the seeds and the skins to feed his 60 chickens, 10 sheep and five cattle.
The chickens, goats and cattle have been feeding on what most avocado eaters and growers consider to be waste products.
The 18 years Githongo spent on his farm came in handy as he discovered how useful the avocado products were to both livestock and human beings.
"I knew the importance of avocados when I started planting but I didn't know that I would be able to use its products myself, since I was getting old," he said.
Working for an oil company, Elianto, for eight years in 1980s helped prepare him for his farming. After that, he took to operating machines at other farms including planters, harvesters, and millers.
However, Githongo's drive to make avocado products started early last year when he discovered that almost all his fruits had gone to waste after harvesting.
"The market was so saturated because as much as I had avocado, other farmers harvested as much or more than me. In the end, the majority of the fruits got spoilt," he said.
With Sh500,000, he bought a multi-purpose miller from another farmer and decided to venture in processing avocado seeds and skin to be used as animal feed supplements.
He not only decided to marsh and dry the avocado flesh to increase its shelf life, but has made crude oil that he has been using as herbs and for cooking.
The process of making the animal feeds takes about four days.
"After harvesting my fruits I remove the seeds and peel off the skin then dry them in the sun for about two days," he said.
After they dry, he uses the miller and makes concentrates for his livestock.
When The Standard visited his home, he was mixing the products with milled maize, which he gave to his chicken.
"Look at the way they are fighting each other for the food. It is sweet, palatable and rich in nutrients," he said. As his sheep also showed interest and joined in the party, he had to send them away.
The products from the avocado seeds and skin are used as concentrates for the cattle. They replace sunflower and omena products, which are expensive and scarce in the market, he said.
Githongo says some of the concentrates sold in the market are of poor quality and some pose a danger to animals because they are not proportionally mixed.
"With the current economy, you cannot trust every animal food sold in the agrovets in Kenya. I trust mine because I make it myself," he said.
The farmer says since last year, his chickens have been laying healthy eggs and his cows producing more milk.
The results, he says, saw neighbours flock his homestead to have a glimpse of what has been happening.
He now sells the seeds and skin products for Sh100 per 10kg. "I sell it expensively because both the raw materials and the products are mine."
His two trees produce about eight sacks in high season (June and July) and five to six sacks in low seasons (November and December). The farmer claims that the trees never run dry.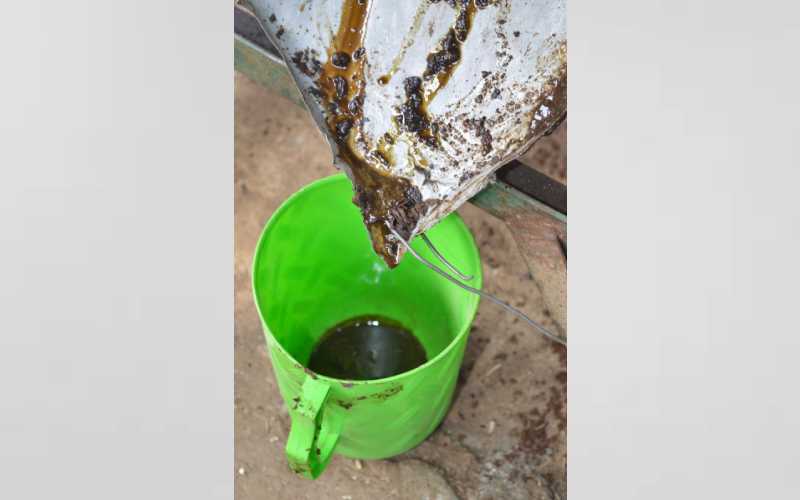 The products from the fruits' seeds and skins form 60 per cent of the whole produce. "I not only have food for my livestock but for other farmers, with what they consider wastes."
Researchers from the University of Texas Rio Grande Valley conducted a study where they ground about 300 dried avocado seeds into powder.
Using gas chromatography, a process that analyses chemicals, they found 116 compounds in the oil and 16 molecules in the wax.
The molecules, they discovered, can treat several diseases including arthritis, cancer, heart disease and slow the growth of tumours.
The seed contains fatty acids, dietary fibre, carbs and a small amount of protein.
Avocado flesh is mashed and dried for about three days. A machine Githongo owns is heated to 80 degrees and used to obtain between 60 to 80 per cent avocado oil.
The process takes about an hour for three sacks after which the crude oil is filtered to obtain almost pure oil that he uses to cook.
"Sometimes I mix (the oil) with water and drink as it has medicinal value," he said.
"The challenge is that the process is time-consuming, uses a lot of diesel and I need a lot of money to process the oil."
Although the avocado oil is still in the piloting stage, he plans to obtain a licence and sell it to cosmetics shops and herbal clinics.
A visit to cosmetics shops in search of avocado oil was like searching for a needle in deep seas.
Shop attendants explained that the oil, which can be used as lotion for sunburn, remedy for skin disease and for softening the skin, was very scarce and expensive.
Githongo is self-contained and has food and water for his livestock. He has constructed a pond that harvests surface and rain water.
He pumps 2,500 litres of water from the pond to a tank and treats it for his animals.
Githongo also uses water from the pond, which is eight metres deep and 20 metres wide, to irrigate his farm during dry seasons.
"I spend less in agriculture but I gain more. It is my treasure," he said.
The Sh10 avocado has been turned into a useful fruit that can be used as food for animal and humans, medicine and for commercial purposes.
Want to get latest farming tips and videos?
Join Us