How I grew my seedlings business plant by plant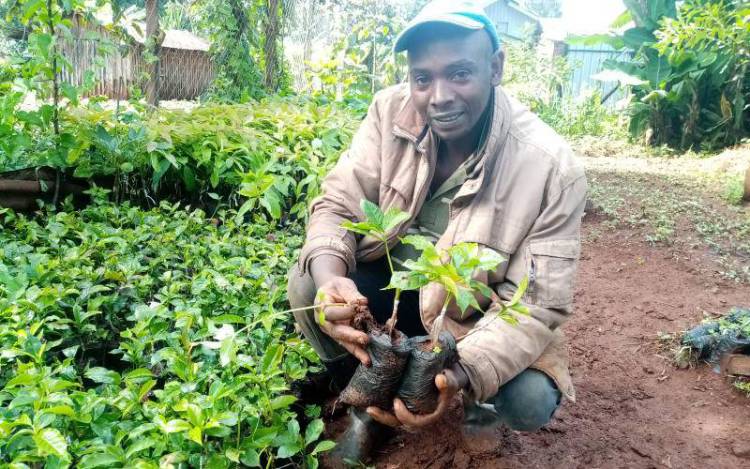 The onset of heavy rains and planting season has seen a number of farmers seeking quality seedlings. This demand has opened new doors for business for some farmers.
Dickson Mwaniki, who runs Hedijoy Orchards in Kangaita village Nyeri County, is one such farmer. Four years ago, Mwaniki and his wife established a seedlings business and it has flourished tree by tree.
"Business is booming. It is planting season, so the phone calls and orders keep coming. I have to keep my phone charged and my gate open to receive clients who come to buy various seedlings," Mwaniki says.
Now a master seedlings planet, Mwaniki says he acquired the skills from his father who run the same business for more than 20 years.
With Sh15,000 for capital, he set up a small nursery behind his house where he started marketing himself online on a popular site OLX. During planting season like now, he can sell an average 1,000 seedlings a day from various fruits with a stock of over 20,000 seedlings ready for sale.
"The cost of a quality golden hass avocado seedling is Sh150, macadamia is Sh400, while the tree tomato seedling is 100 per piece."
High yielding
To maintain order, he has arranged the seedlings with clear labels with those ready for sale easily accessible while the new seedlings are kept safely at the back of the farm. A walk across the farm reveals a variety of seedlings from macadamia, to avocado, tree tomato, pepino melon, coffee, lemons, oranges, grapes, and passion fruits. He knows each by the look of the leaves.
"It is almost impossible to list every seedling type I have on my farm, the list will take up your whole story," Mwaniki says.
In the middle of the farm is a greenhouse used for grafting the seedlings, most of which are tree tomato and avocado seedlings.
"Today's farmers want high yielding and fast maturing crops and this means they cannot rely on the traditional seedlings which often take up space, and years to mature often leading to losses for the farmers," he notes.
He says the success of any tree or nursery business is built on trust and integrity of the seller which can only be built over time.
"When a farmer buys seedlings from you, he is putting a great deal of trust on you and therefore it is imperative to deliver quality," Mwaniki explains.
Therefore, creating a network of farmers who trust and spread the word is key for securing a market for your seedlings.
Though now established, one of the key challenges he faces is producing quality seedlings.
"The grafting determines the success of the seedlings and it is important that if the seedling is weak it should be left on the farm and only the strongest seedlings are sold to clients," Mwaniki explains.
Constant water supply is also key to thrive.
Want to get latest farming tips and videos?
Join Us