How we beat the high cost of farming chicken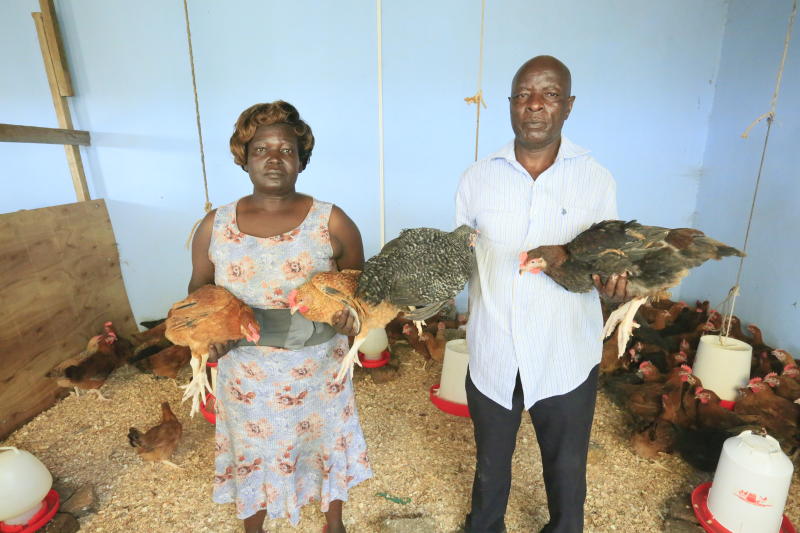 From ultra-modern chicken house to quality blankets for their chickens, Joseph Chituyi and his wife Elizabeth Akwabi run a model poultry farm at Emasatsi village in Kakamega County.
The couple, determined to do things differently when they first ventured into poultry business some years ago, said their plan was to make poultry farming their source of income so they had to give the venture their best.
"We wanted to run a successful poultry business that would guarantee us sustainable income to cushion us from financial difficulties in retirement, that meant giving it our best," says Mr Chituyi, a former police officer.
Elizabeth, a house wife, made sure everything ran as it should on the farm. She observed all essential management requirements including bio-security, proper feeding and vaccination as recommended by the vets.
"There is no way I would enjoy the warmth of best blankets and let my chickens spend in the cold, usually we cover the brooders with these blankets to keep them warm at night," said Elizabeth.
She explained that expenses that go to blankets and the pots that hold burning charcoal inside the brooders can easily be recovered from the business.
In 1990, the couple bought two pure kienyeji hens at Sh500 at a nearby market.
"My wife convinced me to buy them while escorting me to the bus stage," noted Chituyi.
The birds would later inspire them to embrace poultry as a business venture.
They gave up on broilers after finding them too expensive to raise. "We also dropped exotic layers because they are labour intensive."
Take a quick survey and help us improve our website
Take a survey
Elizabeth shared how she managed to increase her flock gradually from the two hens.
"I could buy fertilised eggs from a renowned poultry farm and give them to the hens to hatch, the approach gave me more birds that would become part of our parent flock," she added.
But it was not until 2015 when the couple started taking poultry farming seriously owing to its huge potential.
"We bought 152 chicks from Kuku Limited in Elmore town and successfully raised 140, a month later, we placed another order for 218 chicks," said Chituyi.
One of their greatest challenge then was paralysis which killed some of the chicks.
They were advised by a vet to vaccinate the birds against Marek, a highly contagious disease in poultry and this fixed their problem.
"He said the disease makes birds suddenly develop general body weakness, limb paralysis with chickens between three weeks and 30 weeks at high risk," said Chituyi.
Dr Luvodicus Okitoi, in charge of Kenya Agricultural & Livestock Research Organisation (KALRO) Kakamega centre explained that this is one of the diseases they encourage farmers to vaccinate their chicken against as it is capable of wiping out a whole flock.
Like many other poultry farmers in rural areas and with no access to electricity, Elizabeth and Chituyi said vaccination has been their biggest challenge.
Sometimes, vets would demand Sh50 to vaccinate one chick and farmers like Chituyi and Elizabeth would wish to store vaccines in refrigerators and administer it within one to two hours once reconstituted in order to cut down on costs involved.
"But without electricity, it is a big challenge to do that, we have installed a solar panel which is not so effective especially during the rainy season," they added.
Occasionally, they invite vets to inspect the birds but they have also learnt how to administer vaccines on their own.
The couple requires 50kgs of crambs to feed 100 chicks every week "and the quantity increases as the chicks continue to grow and gain weight," said Elizabeth.
Going forward, Elizabeth and her husband plan to start formulating their own feeds.
"We have a grinder and a mixer that will help us start formulating the feeds once our farm has constant power supply," says Chituyi.
So far, they have already gotten a farmer to supply them with sun-flower from Uasin Gishu County, one of the ingredients required in formulating the feeds.
"We have also started planting soy bean and maize on our farm in preparation for making the feeds," he noted.
They also plan to set up a hatchery where farmers from the county and other areas can buy chicks for rearing.
"We have plans to install modern cages for easy management of our layer flock, it is part of our expansion projections," added the farmer.
Currently, the couple is contended with raising birds for sale. At between three weeks to four weeks, the chickens are ready for market.
"We sell each at Sh600 but the price could be higher during festive seasons due to high demand," said Chituyi.
More often, hotels in Kakamega place orders in advance and usually buy the birds in large quantities.
"Poultry farming is a lucrative venture, a farmer needs not to put up a permanent structure like ours to be able to rear chickens, they can erect a mud structure and rear their birds so long as they observe hygiene and other essential requirements to prevent diseases," added Elizabeth.