How cancer fear pushed family into bee keeping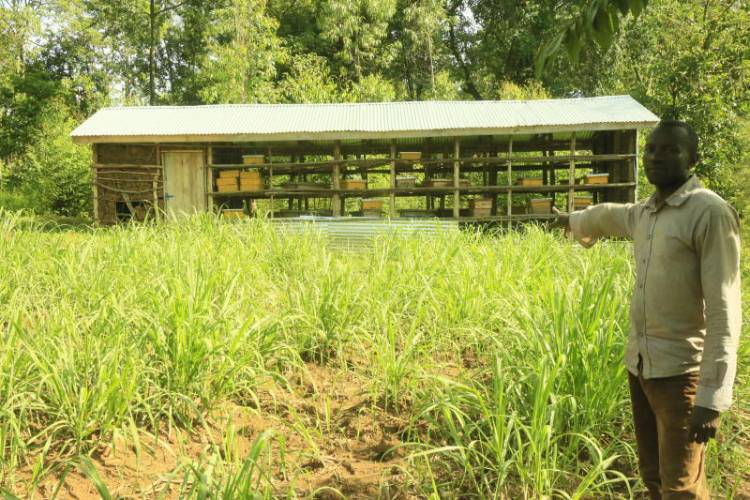 Laban Mwanzo and his family use honey produced on his farm to sweeten their morning tea.
It is part of the reason Mwanzo started beekeeping in 2017, around the same time harmful sugar laced with mercury allegedly infiltrated the local market.
After days of soul searching driven by fear that the contaminated sugar posed a cancer threat, Mwanzo was clear about what he would do to mitigate the situation – bee farming.
"I began with two beehives which would give us enough honey at home, until the day experts paid me a visit and advised me to go full throttle into honey production," he says.
A team from Jungle Honey Limited visited Mwanzo to conduct lab tests on honey produced on his farm to ascertain its quality.
Ready market
"Within one week, the results were out, Jungle Honey Limited called to congratulate me, saying my honey was the best. They guaranteed me a ready market in case I wanted to go large scale," he recalls.
He also likes honey because of the medicinal value associated with it and the fact that it it can be used as a food preservative.
Mwanzo put up an apiary on a section of his 17-acre land at Ingavira in Kakamega North where he stocked 250 beehives.
Take a quick survey and help us improve our website
Take a survey
"I was also advised on the best beehives to use."
Surrounding the apiary is a plantation of sugarcane, over 20 large fish ponds, a modern fish hatchery and a thicket of indigenous trees and wild flowers from where the bees get water and pollen.
In 2018, the beehives gave Mwanzo 125 litres of honey, which he sold for Sh62,500. He sells a litre at Sh500.
"After deducting expenses, I remained with a profit of Sh30,000, it made me think it was not a bad business after all," he says.
Production shot to 250 litres at the second harvest, giving Mwanzo 125,000. He is preparing for a third harvest this year.
Mwanzo has to pay skilled honey harvesters to do the job.
Apart from honey, he sells honey combs at Sh50 per kilo "because they are used to make candles and wax" he explains.
Mwanzo, a crop expert, uses double lockable beehives, which he bought at Sh5,000 each from Jungle Honey Limited.
The apiary is 200 metres away from the fish ponds to minimise disturbance from people touring the farm.
According to Mwanzo, the beehives are easy to maintain and the design makes it hard for invasion by moths and other predators.
"Their unique design also guarantees me clean honey compared to others and it is made in a way that it separates honey with the larvae," he says.
The bees were active when Smart Harvest team arrived on the farm, making it hard to move near the apiary. From a distance, one can see the hives arranged on shelves about 14 metres high.
More hives are arranged on tables in a structure that resembles a chicken coop.
Challenges
"We designed the apiary in a special way to ensure the beehives are well protected from direct sunlight and rains. Bees feel at peace in such a serene environment," says Mwanzo.
Whenever he harvests, he retains some of the honey for his family and neighbours.
Like any other enterprise, Mwanzo's venture has not been without challenges. He cites regular inspection of the hives and lack of knowledge as major hurdles he has to deal with.
"I have been trained to manage the bees but sometimes I find the task overwhelming because the farm is expansive," he says.
Sometimes moths invade the hives and lay eggs on the honey, thus compromising quality of honey.
It is also possible for the bees to ran amok at slightest provocation.
"The insects can be dangerous when they feel movements around the apiary, sometimes we are not able to move even 200 metres closer," says Mwanzo.
Going forward, he wishes to expand the farm and embark on value addition, which will see him generate a broad spectrum of honey related products.
"I would like to convert this into a demo farm where locals can get skills on how to rear bees and benefit from the business. The insects are of great benefit even if kept on a small area," he says.
Mwanzo says a farmer can easily earn over Sh6,000 per harvest from about five hives, which would take negligible space on the farm.
"Since experts have confirmed that we can produce high quality honey, the county government can train farmers and introduce beekeeping as one of the agricultural programmes meant address food insecurity and poverty."
He believes bee farming is a niche with high potential in the county.
"Farmers can even be introduced to sting less bee farming because some may fear the honeybee, which can be deadly if mishandled."